This content was published: December 21, 2016. Phone numbers, email addresses, and other information may have changed.
PCC campuses host Winterfests to have fun and raise money, food for charity
Photos and Story by James Hill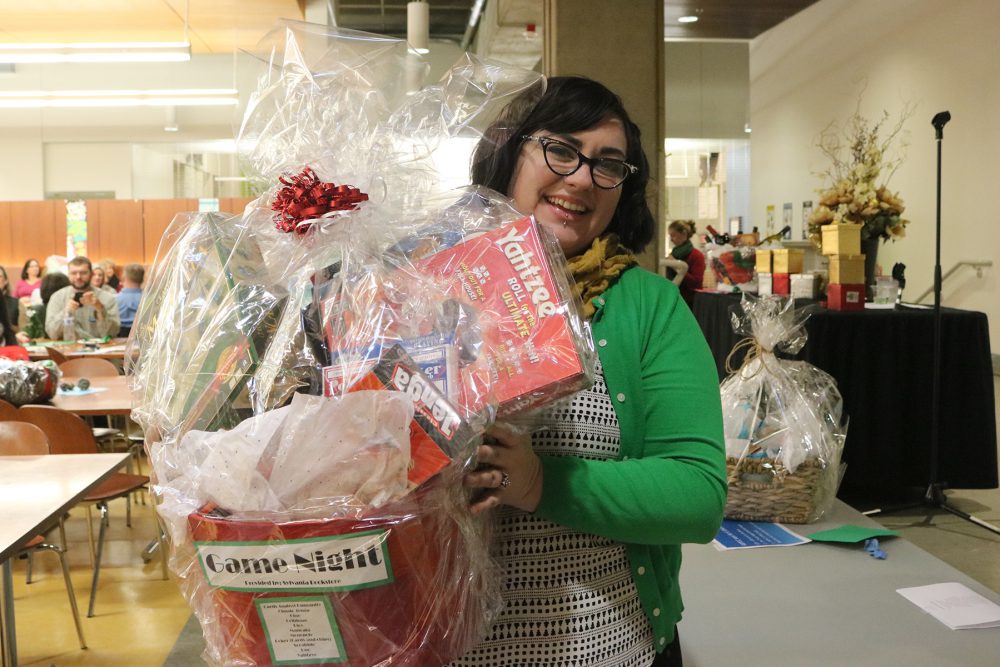 Every December, PCC campuses get into not only a festive mood but a giving one, too. Staff and faculty get together to host Winterfests to enjoy food, drink, prizes and most importantly donating food or cash to good causes. The following is a round-up of what transpired around the district at each main campus. Congratulations to all who donated and had fun doing it.
Cascade Food Nook Gets Timely Donation
Cascade celebrated its annual Winter In-Service in the Student Union, where faculty and staff enjoyed a full holiday meal with all the trimmings, heard updates from campus leaders, and took part in a drawing for several gift baskets – as well as an array of pies — assembled by this year's event organizers.
"The theme of this year's Winter In-Service is 'service to the community,'" explained Alyson Lighthart, dean of the Math, Science, and PE division and lead organizer of the event. To this end, proceeds from the gift raffle – exactly $100 – was donated to the Cascade ASPCC Food Nook to help needy students this holiday season.
Rock Creek Raises $527 for Oregon Food Bank
Whether you won a scented candle or a snowman made from log rolls, there was something for everyone at the Dec. 13 annual Winterfest event at the Rock Creek Campus. Approximately 170 faculty and staff purchased holiday lunch tickets, donated wrapped items for the raffle and contributed 357 pounds of food and $527 in cash for the Oregon Food Bank.
Sylvia Gray Entertains Sylvania Party-goers
The Sylvania Campus enjoyed the holiday season with a fundraiser for ASPCC's Food Pantry and Neighborhood House at its annual Winterfest on Dec. 4. The campus raised $788 in cash donations and collected 382 cans of food, which was split between the two organizations.
Departments at the campus created gift baskets that were raffled off by Sylvania Campus President Lisa Avery and English and World Languages Division Dean Dave Stout. Participants were also entertained by history instructor Sylvia Gray, who lent her talents to play holiday music on the piano, while music instructor Julianne Johnson-Weiss led a group of faculty and staff in carols.