This content was published: December 5, 2016. Phone numbers, email addresses, and other information may have changed.
Lisa Féinics is ensuring the educational futures of current and former foster youth
Photos and Story by James Hill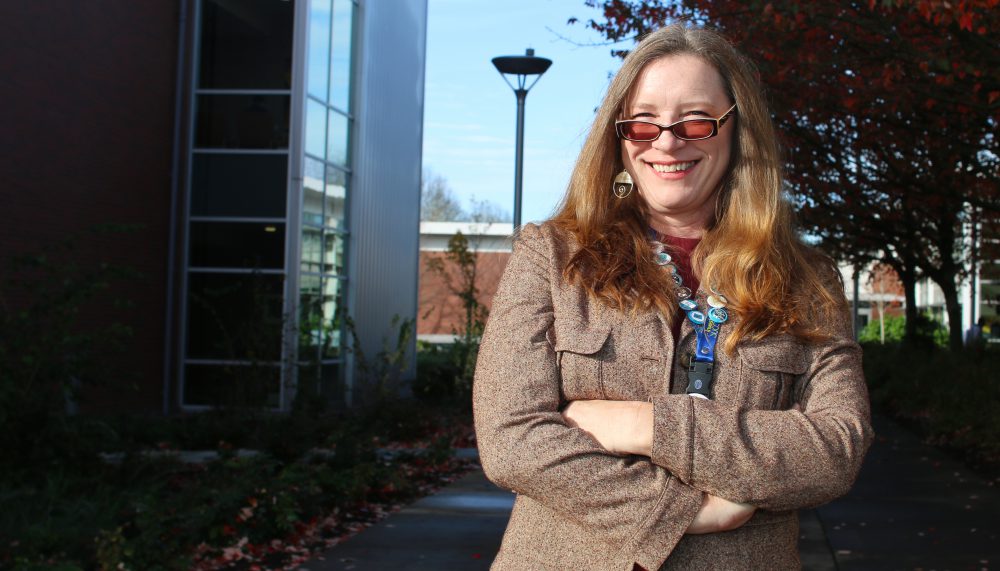 Lisa Féinics is the perfect person to run PCC's new program that assists current and former foster youth. That's because she was one.
The new coordinator of the college's Fostering Success Program spent almost a decade in foster care in California. It was a typical story that's become all too familiar – a childhood of abuse and neglect, a mother at 17, high school dropout, foster home runaway, and a homeless youth.
"It was a hard path, full of abuse and unhealthy relationships," she said. "After running away at 16, I dropped out of school, but my daughter's birth motivated me to get my GED. At 18, I started college, but as a very atypical student. That's why I know firsthand how hard it is to get a college degree without family support. Fortunately, I did not end up a negative statistic like many former foster youth, which is why it feels so great to help others with lived-experiences in foster care achieve their full potential.
"I found my life purpose and I can relate to the students in ways others can't," she added.
The Foster Youth Challenge
Oregon is not immune to the challenges of serving foster youth. Each year, more than 600 youth age out of foster care and need a system to help them succeed in life. National research shows that about half of youth in care complete high school by their 18th birthday. However, 84 percent of students want to go to college but only one in five actually attend, with less than three percent eventually earning a degree or certificate.
"We're really trying to raise awareness across the state," Féinics said. "Oregon has lagged behind most other states in providing college support programs for foster youth."
Enter PCC's Fostering Success Program that Féinics leads. The program connects students who are current or former foster youth to many different resources at PCC such as academic advising, counseling, career planning, and tutoring. This fall term, PCC added a box in the application process and as a result almost 300 students have self-identified as having experience with the foster youth system.
For Féinics, PCC is a perfect fit.
"When dealing with these students building skills is so important for their academic success," she said. "I can tell them what they don't want to hear. I have been there and know what it's like to live in tent with a baby, have nobody to count on and want your life to be different. It was all on me. That's a huge burden when you are still a teen. However, if you don't take on the responsibility of change, life does not get better.
"I use my background mostly for advocacy for people who don't understand what that extra support means for foster youth," she added. "We have lots of support on campus, but part of my job is getting people to understand that these students need more because their experiences have made it difficult to seek out services. If nobody has helped you before, it takes time to learn that others want to help and can be trusted."
Author and Champion
Yes, her background is a qualification, but she has an educational résumé to support it.
Féinics, who had been working with foster youth in Michigan before joining PCC, graduated with a doctorate in Neurobiology and Behavior from the University of Washington in 1998. For a number of years, she worked as both a scientist and an educator at biomedical research institutes and universities in the United States and abroad, including The Scripps Research Institute, the Southwest Foundation for Biomedical Research, the University of Aruba, and the University of Michigan-Flint.
Féinics wrote the book, "Alternate Ending: An Inspirational True Story About Beating the Odds," which follows Féinics as a foster kid trying to find love and support while nobody believed in her.
"Lisa has been remarkable in terms of the connections she has made," said Neal Naigus, programs manager for CLIMB. "The students really relate to her. She's been very effective."
Coming to Fruition
Years ago, Naigus, under the direction of retired PCC President Preston Pulliams, led the grassroots effort to establish the the college's Fostering Success Program. It started with stakeholder engagement and partnering with local nonprofits as well as the Department of Human Services. Today, he's working with the PCC Foundation to find stable funding so the program can continue beyond this academic year.
"We want to build awareness and sensitivity to the needs of foster youth," Naigus said. "We want to have this be a safe place to go. We're slowly building on a network where we have people who can step in and provide the support they need. Being a foster friendly institution will be a part of the fabric at PCC."
To build this awareness, Naigus and Féinics have presented to college faculty, the PCC Board, state legislators in Salem, and more, to help them understand the importance of this work.
"Although we are talking about a program that supports foster youth for many of the students, that's not how they want to be seen," she added. "They don't want to feel that their history defines them. We want to promote a positive mindset because they want to be seen as just another student. Maybe some things are harder because of their history, but these students are capable of success."
For more information on PCC's Fostering Success Program, call (971) 722-6355.
Interested in helping? Donate to the program's crowd-funding initiative for Fostering Success.