This content was published: October 24, 2016. Phone numbers, email addresses, and other information may have changed.
High school students find their way to career technical programs at Rock Creek
Photos and Story by Janis Nichols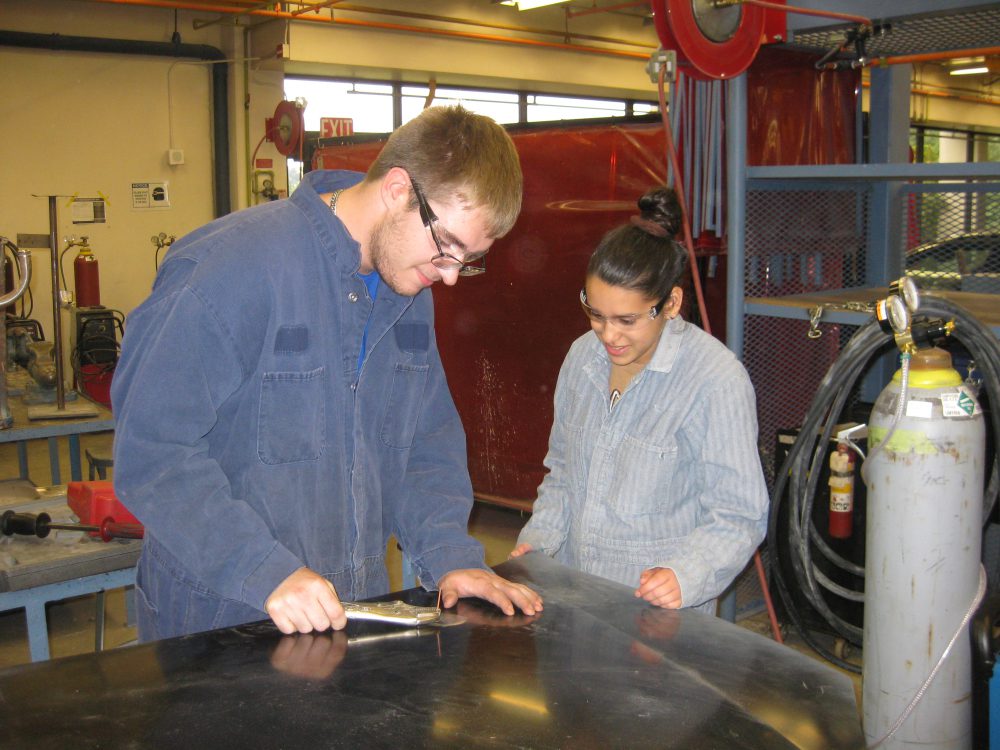 Talk to employers who need workers skilled in auto collision repair, diesel technology, welding or aviation, and they will share that there is a critical need for qualified employees. Match that demand with a new experimental program that partners PCC's Rock Creek Campus with the Beaverton School District, and the result may be the answer to a national employment crisis.
The Early College Career Encounters-Transportation experiment invites eligible Beaverton juniors and seniors to explore five career technology education programs as possible alternatives to four-year degree programs.
"Students are encouraged to attend community college as a way to earn a four-year degree," said George Warneke, Auto Collision Repair Technology Program instructor and co-coordinator of the Encounters Program, "but they are not being told to investigate career tech programs. We simply don't get many CTE students directly from high schools, and we hope to change that."
As of the start of fall term, 20 Beaverton School District juniors and seniors who are eligible to leave their high school campus early to travel by bus to Rock Creek. Two days a week for 11 weeks, these students immerse themselves in five CTE programs like Auto Collision Repair Technology, Auto Body Painting, Diesel Service, Aviation Maintenance, Aviation Science and Welding.
"This first cohort is built around the transportation theme," said Andrew Cronk, Early College High School administrator. "This is a win-win for Beaverton students and for PCC, because PCC can offer CTE experiences such as aviation and diesel mechanics which currently are not available to BSD students."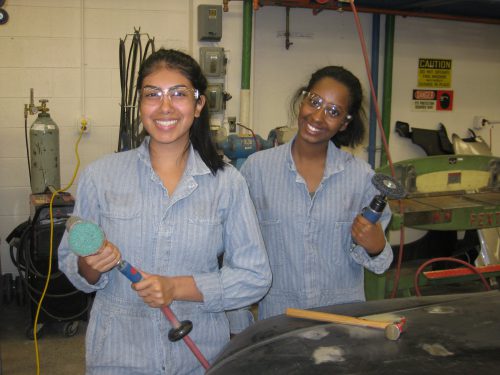 According to Cronk, it was not uncommon for early release students to lose up to five years before connecting to a CTE program. However, with this pilot program, students "aren't flopping around like salmon on a hot rock," said Cronk.
"With Career Encounters, students get their foot in the door, get their G number, learn how to enroll in Distance Learning courses and how to register, and come next year, be ready to apply for Oregon Promise," he said. "Career Encounters allows our students to jump start their career decisions."
The two-hour classes engage the students in hands-on activities. In addition to learning the basic skills of the program, they are required to research information about these careers, employment opportunities, wages and required technical expertise. This kind of exposure to CTE programs encourages high school students to think about careers, not only jobs.
While the concept is obviously attractive, the fact that the Beaverton School District is paying for all student expenses practically guarantees the success of this pilot program. This includes tuition, tools, required clothing like leather boots and coveralls, lockers, and transportation to and from Rock Creek.
Students earn one-half credit toward their applied arts requirement and two full credits as a college elective. Drawing from five or six schools in the district, the plan was to have 20 Beaverton students start in September, another 40 for winter term, and 60 more students for spring term.
"We know this program will be self-promoting," said Warneke. "The students and their parents will sell this program for us."
And while this year's Career Encounter students had to navigate the challenges of the PCC enrollment process mostly by themselves, the long term goal is to have high school counselors walk their students through registration.
For Warneke, this new program is very personal.
"I was valedictorian of the St. Helens High School Class of 1976," he said. "I had always wanted to be a teacher, but the traditional four-year degree path didn't excite me. I remember attending a campus open house at Rock Creek in 1976 and that's when I discovered auto collision repair.
"To make a long story short, I took my instructor's place when he retired. I became the teacher I always wanted to be," added Warneke.