This content was published: September 14, 2016. Phone numbers, email addresses, and other information may have changed.
Gregg Meyer named director for new training facility for advanced manufacturing
Photos and Story by Katherine Miller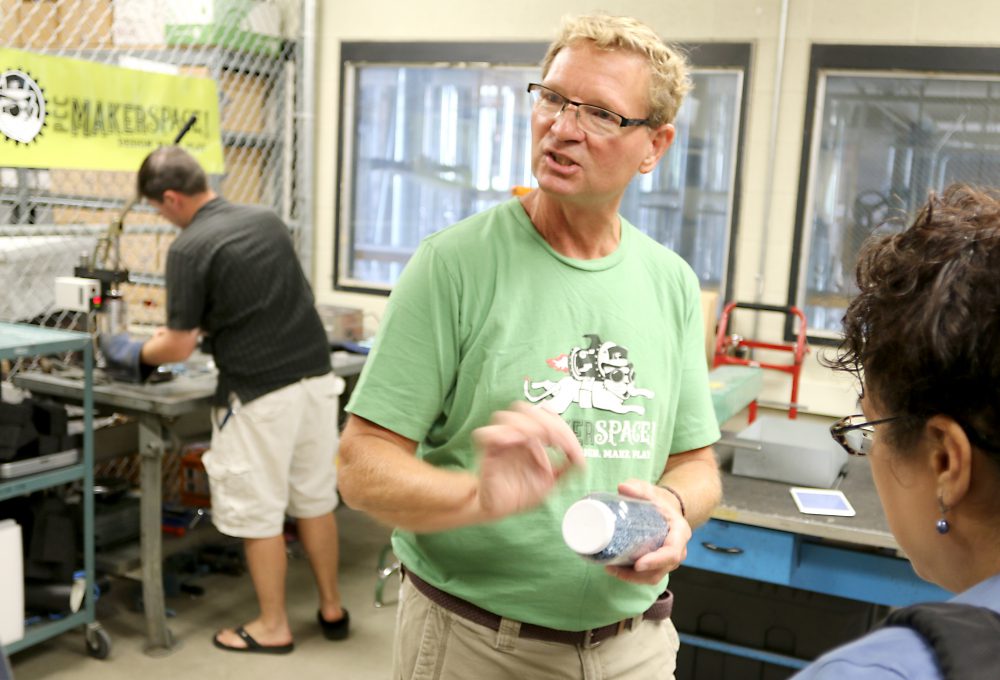 Portland Community College announced it has named Gregg Meyer as the temporary director for its training center as part of the new Oregon Manufacturing Innovation Center (OMIC), a world-class facility that will pair advanced manufacturing research and trades-based training in order to meet the critical demand for skilled workers.
OMIC will combine on-the-job training with classroom and lab instruction in an apprenticeship type model. Students can complete an apprenticeship program and/or an associate degree or college certificate and continue on towards advanced degrees in engineering fields.
The PCC-led training center is teaming up with a complementary research and development center, to be utilized and supported by local four-year universities (Oregon Institute of Technology, Portland State and Oregon State), as well as large-scale industry partners.
The college is currently finalizing the purchase of a 20-acre site near the Scappoose Industrial Airpark in Columbia County, where it plans to build a 25,000-square-foot building in time to open fall 2018. In the meantime, PCC is determining how to begin training in a temporary location as soon as 2017.
The research and development center will be housed in an existing nearby building that the Oregon Institute of Technology has committed to purchase. It will have about 25,000 square feet for research and development and 10,000 square feet for classroom, business and office use.
Prior to serving as the temporary director of the training center, Meyer has been PCC's interim dean of Math and Industrial Technology since last summer. Previously, he worked for more than 20 years at Hewlett Packard in design, research and manufacturing. He was also a journeyman machinist and completed his apprenticeship at Stanford Research Labs.
"I see my role more along the lines of a conductor than director given OMIC is a complex, dynamic, highly integrated endeavor," said Meyer. "How many opportunities to build a college campus from the dirt up does one get in a lifetime? Answer — few."
Durable-good manufacturing is responsible for more than 25 percent of Oregon's GDP and provides more than 10 percent of its private sector jobs. These jobs often pay wages above the state's median. However workers in metals and machine manufacturing are aging into retirement at a time when the industry is forecasting significant growth and demand for labor.
OMIC is modeled on the Advanced Manufacturing Research Centre (AMRC) in Sheffield, England, a partnership between Boeing and the University of Sheffield that helped transform a depressed region with a renowned facility that today employs 2,000 people. AMRC has become a model for research centers worldwide, and OMIC will be the first of its kind in the U.S. supported by Boeing.
"AMRC in Sheffield and OMIC both aim to strengthen their regional economies by reinventing manufacturing in a manner that prioritizes ingenuity and technology over the abundance of low-cost labor that drove the infamous offshoring movement of the late 1990s," said Meyer. "Re-shoring is seen a pathway to reversing a trend that cost industrial nations like the U.S. and England countless jobs, jeopardized national security, and exacerbated social and environmental justice on a global scale."
While OMIC and AMRC have similar goals, Meyer explained that Oregon's facility will need to serve a broader geographic region, as well as a more diverse population that includes students of color, women and the economically disadvantaged.
In addition to securing a director and building site, PCC has been engaging with industry partners to better understand their workforce needs. PCC is also working with its educational partners to align curriculum and map out the various pathways toward advanced careers in the industry.
OMIC is being funded by $7.5 million from the Oregon Legislature and $9.4 million in bond funds approved by voters in 2008 for the creation of an educational site in Columbia County. Additional sources potentially include private and public investors and federal grants.