This content was published: August 29, 2016. Phone numbers, email addresses, and other information may have changed.
Rachel Hodgson is parlaying medical assisting degree into nursing career
Photos and Story by James Hill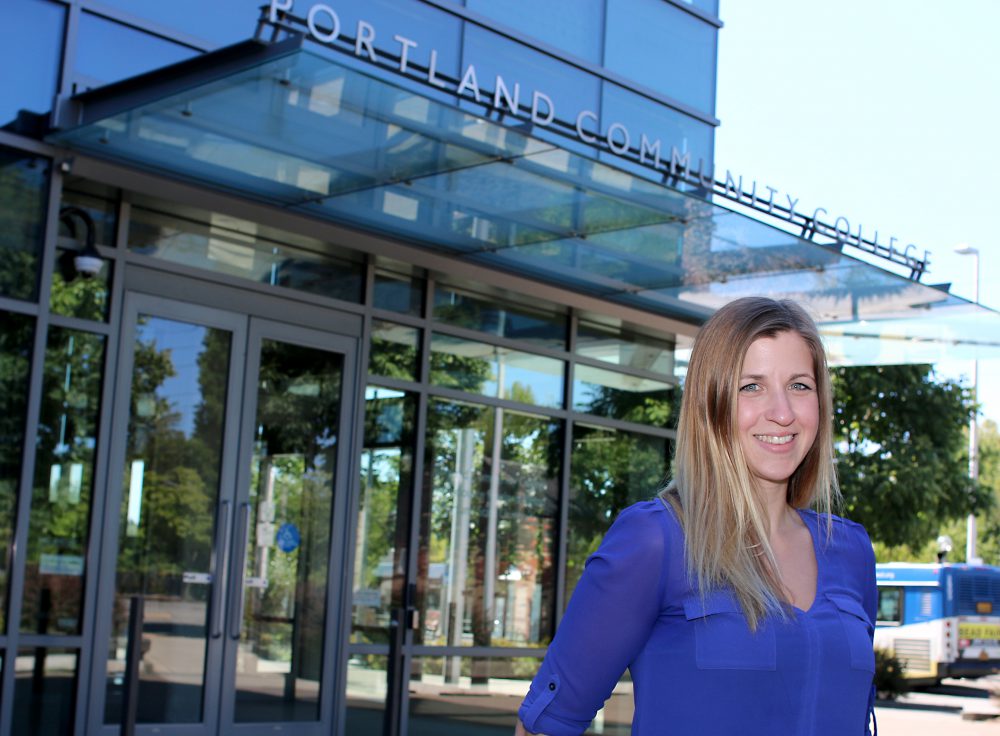 Without an important family member, Rachel Hodgson might never have found the road to her dream career as an emergency room nurse.
Hodgson lived in Northeast Portland with her grandmother who worked as a medical assistant. Her career in health care inspired Hodgson to enter one of the most high-pressure fields in health care.
"I tend to thrive in high-stress environments," Hodgson explained. "I feel being an emergency room nurse is a really good fit, and I can't wait to work those 12-hour shifts."
Hodgson isn't there yet. She's completing requirements for her associate degree and pre-requisites for a nursing degree. She plans to enroll in either PCC or OHSU's nursing programs in fall of 2017.
It was PCC that helped get her started on the road to nursing a few years ago. In 2013, Hodgson heard about the college's respected Medical Assisting Program led by program chair and instructor Virginia Chambers. She enrolled, taking classes at the Willow Creek Center in Washington County. In nine months, Hodgson was able to earn her medical assistant certificate, crediting the program for getting her ready with the skills critical for the industry.
"It was an awesome experience," Hodgson said of PCC. "Virginia is an amazing teacher. The training and support we received were very useful, and I felt prepared when we started our clinicals. The classes were really hands on, and I especially enjoyed the EKG training."
Medical assistants perform administrative and clinical tasks to keep the offices of physicians and other health practitioners running smoothly. They work with patients to ensure they receive the care they need while providing health professionals with vital patient information. PCC's program has a 95 percent graduation rate and 82 percent of its graduates find employment. Satisfaction rates with employers and students is at a perfect 100 percent.
Hodgson said that sounds about right.
"Every term they go over your progress in your classes so you know where you stand and are prepared," she added. "We were all close-knit. All of the students in every single class created a great support system which was key to my success. The program prepared me more than I needed."
It wasn't always smooth sailing. She said the hardest part of the training was learning how to draw blood.
"The first time I did it my hand was shaking with the needle during a blood drive we hosted," Hodgson recalled. "But Virginia told me to stay calm and got me through it."
Once through the hard part and done with her certificate, Hodgson soared. She placed in the 95th percentile on the certification examination conducted by the Certifying Board of the American Association of Medical Assistants.
But she didn't always think she would get through the training. Halfway into her studies, her father had to have emergency triple-bypass heart surgery. It forced Hodgson, a single mother of one, to balance school with home life and work as she filled in for her father at his HVAC company.
"It was a really nervous time for me," she said. "I was able to have flexible hours with my tests so I could go to the hospital and visit with him."
That was then, this is now.
Hodgson got through the rough patch (her father made a full recovery), and she found work as a medical assistant at Kaiser Permanente after graduating from PCC. Two years later she transitioned into Kaiser's Worksite Health & Wellness Program where she performs critical outreach in the community. Hodgson regularly visits with employers, such as Boeing and Intel, to administer health services and screenings like blood draws, vitals and measurements, as well as speak about preventative care. She recently participated in PCC's annual health fair at the Willow Creek Center.
"Rachel was an excellent student and held superior academic scores, but was terrified of public speaking and now that is what she does," said a proud Chambers.
Hodgson is now ready for the next challenge: nursing school. And Chambers is her biggest advocate.
"Rachel is a true inspiration and possesses the kind of skill that allows her to navigate any situation and maintain a professional and positive attitude," Chambers added.