This content was published: June 27, 2016. Phone numbers, email addresses, and other information may have changed.
With PCC's help, Five Star Guitars wins National Small Business Person of the Year
Photos and Story by James Hill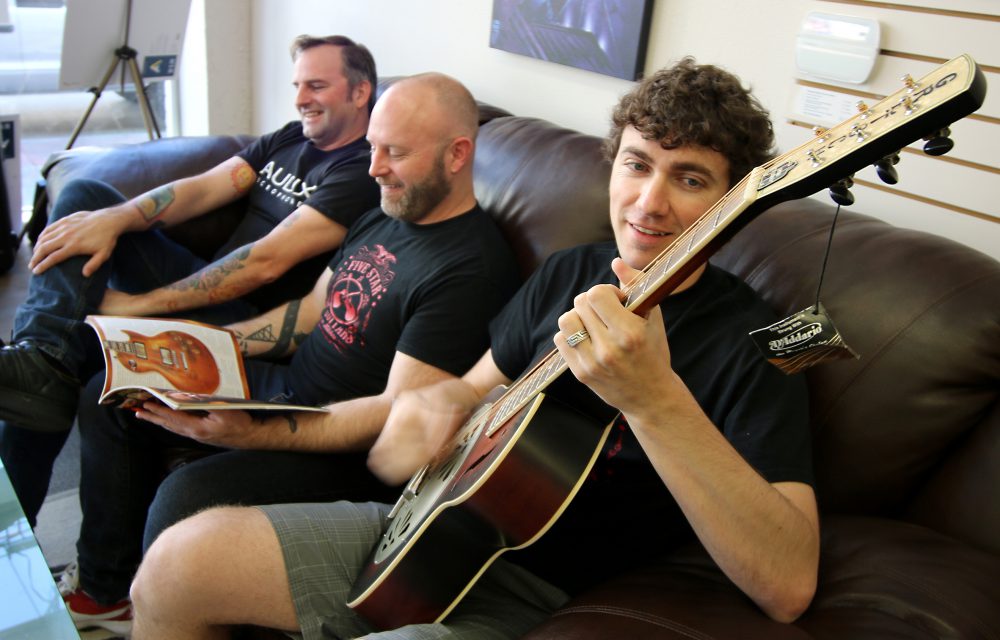 This announcement is music to their ears.
The owners of Hillsboro's Five Star Guitars, clients of a partnership between Portland Community College Small Business Development Center and the city of Hillsboro, have been given the 2016 National Small Business Person of the Year Award. The Small Business Administration announced the awards this spring, selecting small business that have staying power, growth in employees and sales, innovation, response to adversity, and community contributions.
Five Star Guitars, owned by Jeremie Murfin, Geoff Metts and Johnpaul Simonet, have served thousands of customers and musicians since 2012 at locations in Hillsboro and Tanasbourne. The store serves beginner to pro musicians by stocking major guitar brands and finding rare or vintage instruments. Five Star Guitars also offers private lessons, full service instrument and amp repair, and custom tuning.
"We are really excited about this award," Metts said. "It's a huge honor. It's a big deal for us to represent this industry, since we're the first music store to win it in the 60 years of the award. The significance is not lost on us, and we want to make the most of it."
Five Star Guitars earned the designation after it participated in the 2015 Retail Small Business Management Program at PCC's Willow Creek Center. The program is 10 months long and focuses on strengthening retail businesses through education and one-on-one advising.
"The Retail Small Business Management Program has been an invaluable experience that directly contributed to the success and growth we have seen in recent months," Murfin said. "We've had unprecedented growth, added staff, and risen in our industry quicker than we ever thought possible."
In addition, Hillsboro's Economic Development Department provided a partial scholarship from the City's Enterprise Zone Program to Murfin, as well as to other qualifying small businesses in the downtown area.
"A strong economy is an essential part of a healthy city," said Mark Clemons, Director of Hillsboro's Economic Development Department. "Small businesses are vital to Hillsboro's economy, job creation, and culture of innovation. Five Star Guitars is a great example of how our small businesses benefit from the partnership we created with the PCC Small Business Development Center, helping entrepreneurs and employees take their business to the next level."
The PCC Small Business Development Center has helped thousands of businesses over the past 30 years, combining one-on-one advising with programs taught by business experts and giving their clients the resources they need to grow their businesses.
"Small business is the backbone of our economy, and we know how hard small business owners work," said Tammy Marquez-Oldham, director of the PCC Small Business Development Center. "This award gives us the opportunity as business advisors to celebrate our clients and to recognize their hard work."
Hillsboro's Economic Development Department works with businesses, helping to foster employment opportunities and a higher quality of life for local families by supporting business growth—whether in the historic downtown or the heart of the Silicon Forest.