This content was published: May 2, 2016. Phone numbers, email addresses, and other information may have changed.
Architectural Design and Drafting students win Rainier city prize
Photos and Story by James Hill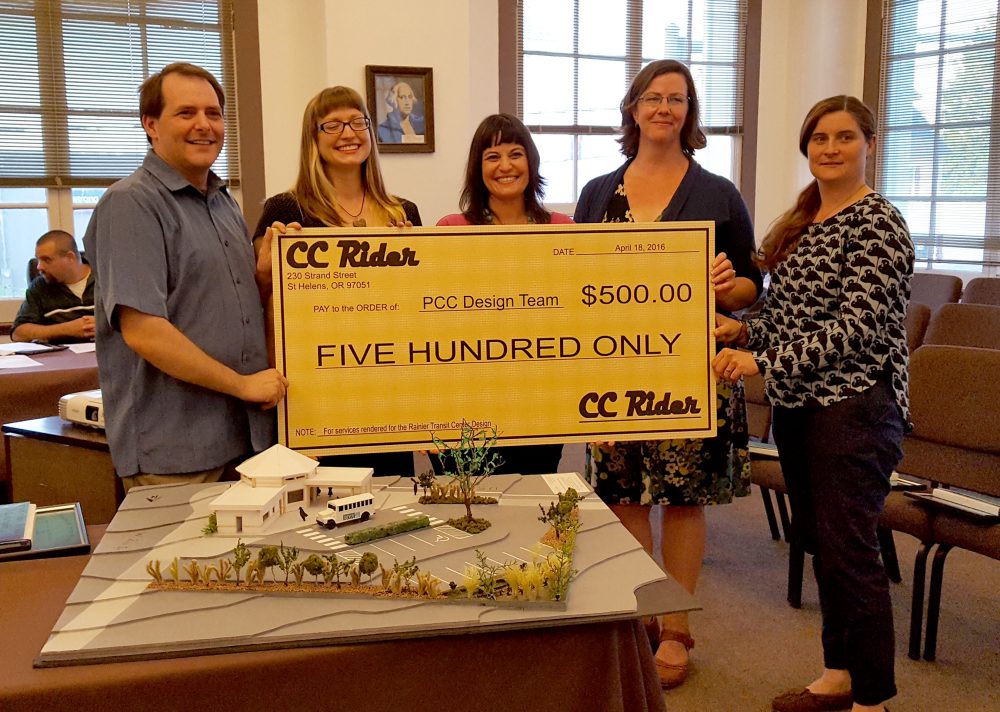 PCC's Architectural Design and Drafting students, along with Landscape Design and Interior Design, entered a contest to design the city of Rainier's transit center and won the competition.
As a result, students earned a $500 cash reward plus three-day passes for transport to Astoria or Newport, then for unlimited round trips from Yachats to Astoria on transit buses CC Rider, Sunset Empire, Tillamook Transit, Lincoln County Transit and Benton County Transit. On April 18, the students presented their project and design process to the Rainier City Council.
"They did an amazing job of connecting their design concepts to the past, present and future of the community of Rainier," said Arlene McCashew, student resource specialist for the college. "This project demonstrated student initiative, creativity, collaboration and service to the community. We are so proud of our students!"
There will be a meeting of firms interested in submitting a proposal for the design and architectural work for the Rainier Transit Center. The firms will be asked to incorporate elements of the student's design in their proposals.
"Our students will someday see their design ideas come to life," McCashew said. "The students have also been asked to present to the Columbia County commissioners as well."
Congratulations to students Doug Eaglebear, Vanessa Golding, Corinne Dermond, Vanessa Morgan and Jodee Perry for a job well done.