This content was published: February 24, 2016. Phone numbers, email addresses, and other information may have changed.
Partnership with elementary school encourages students to get dirty hands, ask questions
Photos and Story by Janis Nichols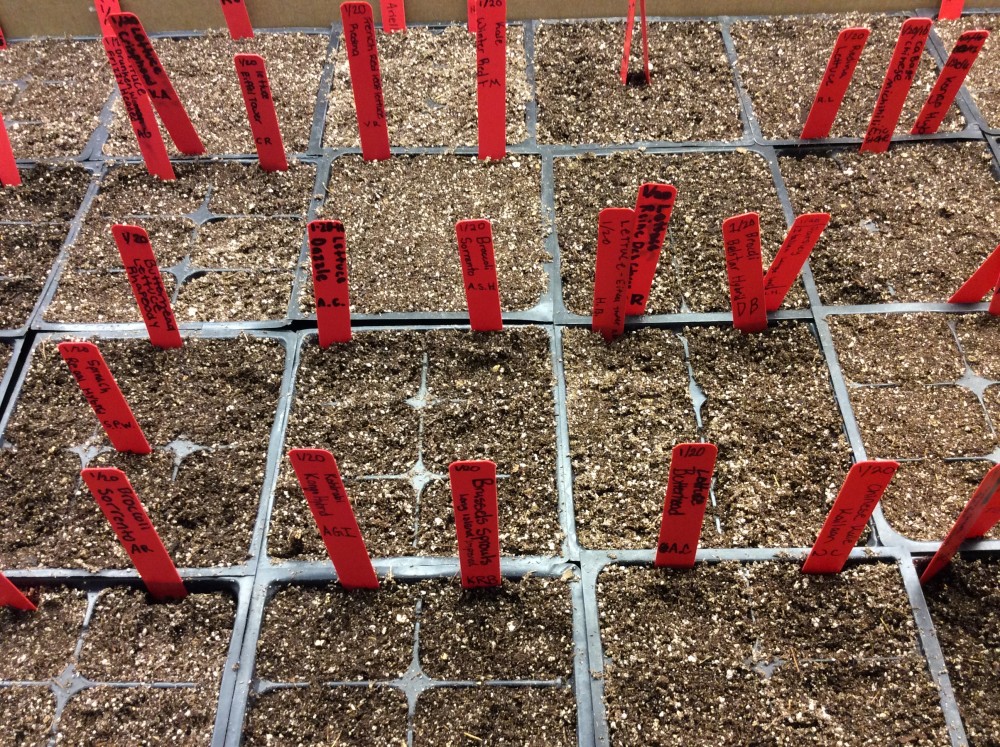 Most young children believe that food comes from the grocery store. You only have to drive there, grab a cart and work your way up and down the aisles. No dirt involved.
The Food for Thought Expedition, a partnership between PCC's Rock Creek Campus and Springville K-8 School, hopes to transform 105 seventh and eighth graders into conscious consumers who will not only make healthier food choices later in life, but will understand the role food plays in the global society.
"When we plan an expedition, one important piece is a set of guiding questions that help us shape our work," said Sarah Manuel, one of two teachers at Springville leading the class. "For our Food for Thought Expedition, our questions are 'How do my food choices affect my body?' 'How do my food choices affect my community?' and 'How do my food choices affect my world?'"
The expedition was intended to influence the daily lives of students, involve them in community service and provide opportunities for interactive learning. The hands-on part takes place in the Learning Garden on the Rock Creek Campus. Once a week, beginning last September, the students walk from Springville K-8 School next door to the campus garden to plant, harvest, maintain raised plant beds and experience the joy of healthy, productive dirt.
"In addition to the hands-on work students look at plant cells under the microscope, design experiments to explore variables of plant growth and read and watch movies about where the food they eat actually comes from," said Brian Torres, who also teaches the class. "My favorite part of the expedition is watching students have that 'aha' moment when they realize that they are really far removed from what they eat and have very little idea of how the food they eat is made. Watching students get their hands dirty in the garden is priceless."
And Sarah Manuel's favorite part of the project?
"I have a lot of favorites," she said. "Working in the garden with the kids is an absolute joy. Whenever we spend time at the garden, the kids are excited, curious, and inspired. This past week, Brian took a group of seventh graders to the garden, and I have been hearing stories from those kids for the rest of the week about how excited they are about Brussels sprouts. It's wonderful.
"Another aspect of this partnership that I have found particularly exciting is how this work brings out different strengths in the kids," she added. "Kids who are quieter in the classroom speak up in the garden. Kids who can be more reticent socially come out of their shells in the presence of dirt, plants and animals."
Nora Lindsey, instructional support technician for the Foods & Nutrition Program, said it's a terrific program. She has taught seed classes at Springville and the students have come to campus to learn about propagation, transplanting and harvesting.
"In November they planted garlic in the garden," Lindsey said. "In May, we will invite them into the new Food Lab in Building 5 for their graduation event."
All involved agree that the PCC-Springville partnership is thriving.
"We hope to continue this project with our seventh grade students as a yearly expedition," Torres said. "We hope that each year we can add a new experience; perhaps students can create a cookbook and sell it at the farmer's market or lobby for better food in the cafeteria. We want our students to know about the opportunities that college can provide.
"Working with the entire staff at Rock Creek has been extraordinary," he added. "Their enthusiasm and excitement for the project has been amazing right from the start. They are powerful advocates for the importance of food education and the power of the garden in influencing the lives of all students. Their creativity and energy have inspired us to be better teachers."