This content was published: February 22, 2016. Phone numbers, email addresses, and other information may have changed.
Rock Creek March Choral performances sure to please while raising needed funds for programs
Photos and Story by Janis Nichols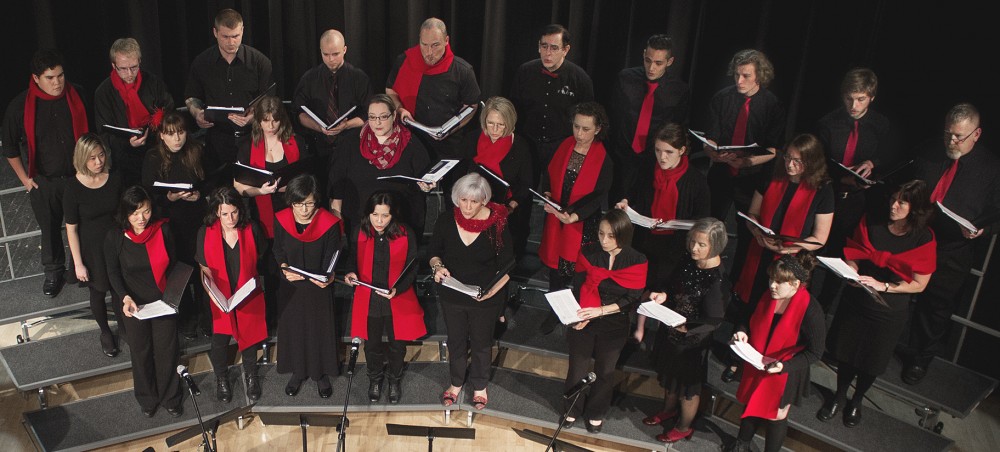 Two free March concerts at Portland Community College's Rock Creek Campus are sure to please choral music aficionados.
As part of the campus' Music Program, the PCC Rock Creek Chamber Ensemble and Jazz Choir with special guest Hashem Assadullahi will perform at 7 p.m., Wednesday, March 9, in The Forum (Room 114), Building 3. Admission and parking in the event lot behind Building 9 are free.
The Chamber Ensemble will perform a variety of music from classical to jazz, Americana to Afro-Cuban. Compositions by Bill Frisell, John Scofield, Beethoven and Bach will be featured. The jazz choir will present such favorites as "It Don't Mean a Thing" by Duke Ellington, Hoagy Carmichael's "Georgia On My Mind," and "Chega de Saudade" (No More Blues) by Antonio Carlos Jobim. New York-based saxophonist and composer Assadullahi will play some of his own compositions, too.
But that's not all.
The PCC Rock Creek Choirs is presenting the music of choral composers René Clausen and Joan McMillen at 7 p.m., Friday, March 11, also in The Forum.
Clausen is an American composer, conductor of the Concordia Choir, and professor of music at Concordia College in Moorhead, Minn. While Clausen has become a popular composer in the choral world, the choir will sing lesser known compositions. The choir will also sing several selections from Joan McMillen's Journey of the Raindrop. This work focuses on story telling gathered from native traditions honoring the sun and sky.
The proceeds from this concert will help fund the PCC Rock Creek's Choir Program as well as raise awareness. Tickets are $10 for adults, $5 for seniors and children under 16. Admission is free for PCC students. Tickets (cash or check only) are available at the door. Donations for the choral program are appreciated and will also be collected at the door.
The choirs are under the direction of Pollyanna Hancock-Moody and are comprised of students and members of the community. The Rock Creek Campus offers vocal classes as well as a community choir on Thursday evenings. All singers are welcome.
For more information about any of these events or programs, contact Rock Creek Music Program Chair Jason Palmer at (971) 722-7869, or email jason.palmer@pcc.edu.