This content was published: December 14, 2015. Phone numbers, email addresses, and other information may have changed.
Cascade Campus gymnasium basketball court named in honor of PCC legend
Story by Abe Proctor. Photos by James Hill.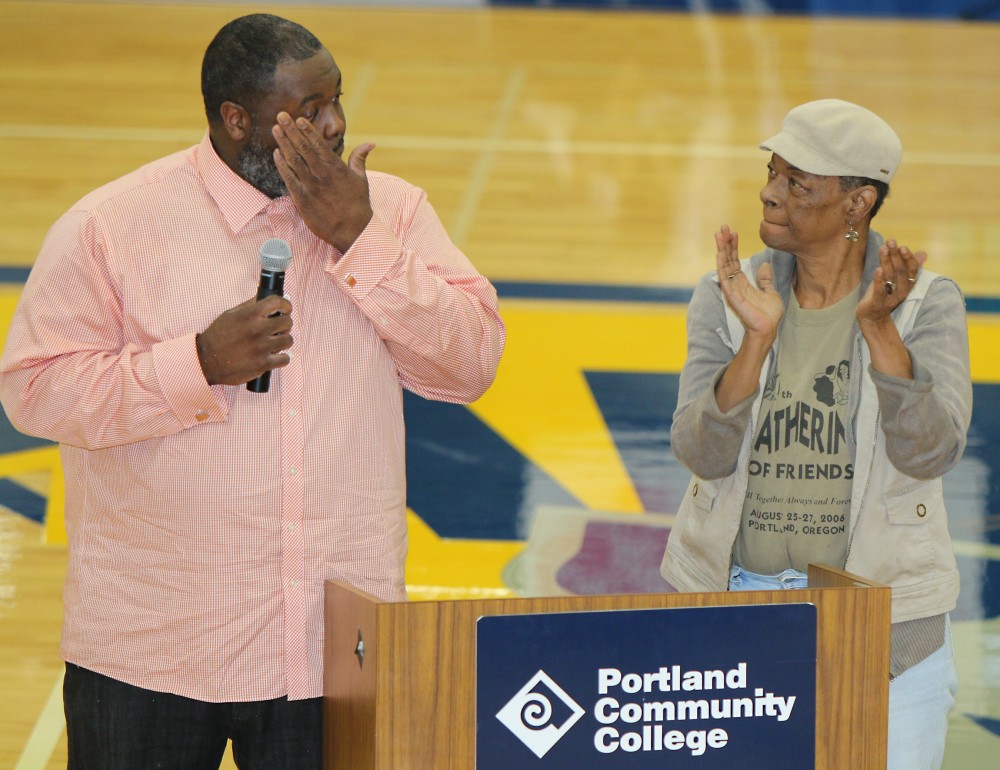 An enthusiastic crowd filled the gymnasium at Portland Community College's Cascade Campus on Dec. 2 to pay tribute to a dearly departed North Portland icon. The basketball court at Cascade, home to the PCC men and women's basketball teams, was officially renamed in honor of the late PCC Board member Harold C. Williams Sr.
A group of PCC and community dignitaries, including Williams' children, Natasha Butler and Harold Williams Two; PCC Board Chair Deanna Palm and Board Member Jim Harper; PCC Interim President Sylvia Kelley; and Cascade Campus President Karin Edwards, officially dedicated Harold C. Williams Sr. Court during a brief ceremony. Board member Kali Thorne Ladd, who holds the seat previously occupied by Williams Sr., offered her prerecorded comments via video. The evening's proceedings were capped by the unveiling of a plaque honoring Williams Sr., which will hang outside the entrance to the court.
"My father believed that a man should have the love, respect, and admiration of his family, friends, and peers," said Harold Williams Two during the dedication ceremony. "He had those things, and he was an example to the whole community of what a man should be."
Williams Sr. was a beloved figure in North and Northeast Portland, with a long history of activism and advocacy on behalf of residents from traditionally underrepresented communities. As a PCC Board member from 1991 to 2012, he was a prime mover behind the successful passage of PCC's bond referendum in 1992, which transformed Cascade into a comprehensive community college campus; and again in 2008, when PCC passed another bond referendum which expanded the campus into its current configuration, and helped PCC's Southeast Campus achieve comprehensive status.
The Oregon Legislature honored Williams Sr.'s life and achievements with a special joint resolution in 2012. A framed copy was presented to Butler and Williams Two during the dedication ceremony.
"Harold was a force to be reckoned with, and PCC's board of directors misses his tireless community outreach as an ambassador for the college, helping to spread the word about the value of a PCC education and the doors that open because of it," said Palm, who is PCC's board chair.
Williams Sr. was also a champion and tireless supporter of PCC Basketball, helping to save the program from the budgetary axe on several occasions.
"This court, which we name in his honor today, is truly the court that Harold built," said Edwards, the Cascade Campus president. "We owe him so much, and it's fitting that his name is inscribed here to forever remind future generations of the vision and leadership of Mr. Harold C. Williams Sr."