This content was published: November 6, 2014. Phone numbers, email addresses, and other information may have changed.
Diamond Pride alumni newsletter highlights latest Bond Program milestones
Photos and Story by Amy Mintonye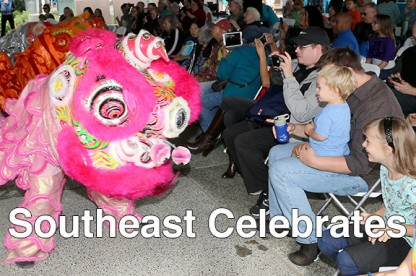 November 6, 2014 
There's a lot happening at PCC. Check out the new issue of the Diamond Pride, the college's alumni newsletter.
Features include a spotlight on Southeast Campus' grand opening event, an estimated crowd of 1,500 people gathered in October to celebrate the transformation of the center into a full-service comprehensive campus. The campus expansion and improvements were made possible through the voter-approved 2008 bond program. There's also an update on the exciting bond-funded renovations happening at the Sylvania Campus, where the stunning new atrium is taking shape in the Campus Center's remodeled east entry. And don't miss the big names in the news at PCC, including President Barack Obama and Congressman Earl Blumenauer.
Sign up now to read the latest happenings at PCC in Diamond Pride.
PCC's 2008 voter-approved $374 million bond program is increasing opportunities for residents to access quality, affordable higher education close to where they live and work. Additional classrooms, updated equipment and technology, and advanced workforce training programs are helping to pave the way for future employment options. For more information, visit www.pcc.edu/about/bond/about