This content was published: April 22, 2013. Phone numbers, email addresses, and other information may have changed.
Cascade Campus community safety group honored by Police Bureau
Photos and Story by Abe Proctor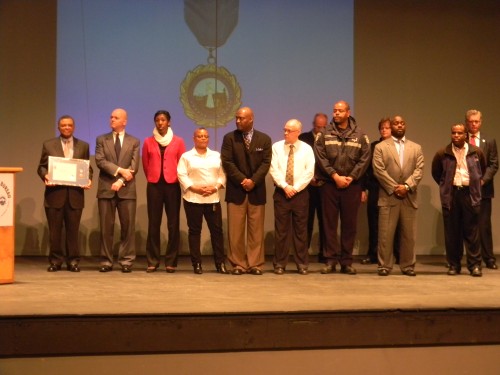 The Albina-Killingsworth Safe Neighborhood Commission was honored by the Portland Police Bureau with a 'Commendation Medal' on April 16 for its successful efforts to make the neighborhood surrounding the intersection of North Albina Avenue and Killingsworth Street a safer place to live, work, and study. The Commission, based out of Portland Community College's Cascade Campus, is made up of local residents, business owners, and educational institutions and government agencies such as PCC, Jefferson High School, POIC, the Police Bureau, and TriMet, among others.
Pictured from left in the front row are PCC-Cascade Campus President Algie Gatewood (holding award); Humboldt Neighborhood Association Chair Paul Anthony; PCC Board member Kali Thorne Ladd; Celeste Carey, of the city's Office of Neighborhood Involvement; JHS Vice-Principal Ricky Allen; PCC Public Safety Director Ken Goodwin; PCC Public Safety Sgt. John Thompson; POIC's Val Polk; and PCC Public Safety Lt. Derrick Foxworth. The award was presented at David Douglas High School during the Police Bureau's annual awards ceremony.