This content was published: September 27, 2012. Phone numbers, email addresses, and other information may have changed.
PCC asks students and staff to get registered to vote
Photos and Story by James Hill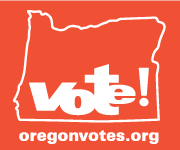 PCC's student leaders are hard at work registering voters for the Nov. 6 presidential election.
Deadline to register is Tuesday, Oct. 16. Students, staff or faculty can stop by any of their campus student government locations to register for this election:
Cascade (Room 03, Student Center)
Rock Creek (Room 128, Building 3)
Sylvania (Room 101, CC Building)
Southeast Center (Room 151, Mount Tabor Hall)
Voter registration forms can also be picked up at PCC Libraries, Bookstores and Registration Offices.
Or, simply visit the Secretary of State's Elections website.