This content was published: October 3, 2003. Phone numbers, email addresses, and other information may have changed.
Architectural Drafting Students Design Charter School
Photos and Story by James Hill
by James HillKurt Larson was searching for a challenge in his architectural drafting class at Portland Community College. Jo Sigmund, one of three co-founders of The Emerson School, gave him one.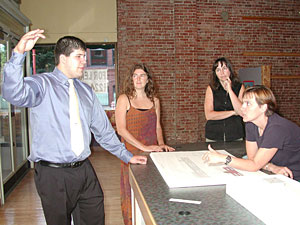 "It was more of a challenge than anything I've done,"he said. "It was more real life and is something that would actually be built rather than something hypothetical."Larson is referring to a unique service-learning project that he and two other students undertook last spring term. He designed building plans for a future charter elementary school for Portland Public Schools.Two years ago, Sigmund and two other parents who are also educators were looking for schools for their kids and decided to create their own after determining they were not satisfied with what was available "What we expect as educators is to challenge, engage and excite, things all kids should have in a learning environment,"Sigmund noted. "So we decided to throw our hat in the ring."The Emerson School, which opens this fall in a leased building in the River District, is working with the Portland Development Commission to secure property for a brand new facility. The kindergarten through fifth grade school will contain classrooms that blend together two grades at each level.Larson wants to build his own architectural firm some day and is no stranger to architectural drafting, as his dad was an architect. He also took four years of engineering and drafting at Benson High School. He plans to transfer to the University of Oregon in the fall 2004. Larson said he began by outlining everything Sigmund wanted and then sketching his ideas. He had to take into consideration the types of classrooms she wanted, office space, cafeteria, and gym and formulate a plan that worked with city codes and ADA standards. All this and fit it into a space that is roughly 100 by 200 feet."That's a very small footprint and a lot of things that have to go into it,"he said. Larson credits the PCC class for his preparation for such a detailed and challenging project. "Denise (Roy, PCC architectural drafting instructor) was a big help,"he said. "She basically taught me the tools to find out things on my own."As students worked on the future of Emerson, first-year student Matthew Abelman worked on the present. Abelman planned the current remodeling of the 5,999-square-foot warehouse space (338 N.W. 5th Ave.) that will house the school temporarily until a new structure can be built. He used the experience with Emerson as his service-learning project for class, however his work was so impressive Emerson founders hired him to complete the plans."It has been an intense learning process,"said Abelman, who is currently busy working on schematics as the space is being readied for fall classes. "I went from academic people helping me to jumping into the breach, working with construction companies, managers, and finding materials."PCC architectural drafting instructor Denise Roy invited the founders to meet with her class and discuss their needs for the buildings. "We were thrilled,"Sigmund said. "The entire Emerson program is based on students doing research in-depth on a variety topics, especially ones they are interested in. The idea of having PCC students doing a real-world project was a great fit for us."The students made scale models by creating three-dimensional views on the computer and then drafted pinpoint architectural drawings of their plans. They then made scale models and presented them in class. The school will keep the drawings and models for future reference. The results have impressed Sigmund. "It was great,"she said. "They thought of things we never thought of. It was a creative use of our space. They knew our program was untraditional and they designed with that in mind."