This content was published: January 17, 2003. Phone numbers, email addresses, and other information may have changed.
Cascade construction boosts minority businesses
Photos and Story by James Hill
by James Hill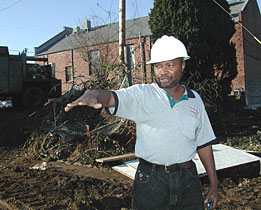 PCC's Minority, Women and Emerging Small Business (MWESB) effort is an outreach program set up through the 2000 construction bond. The program networks with key organizations and businesses in the community to help spread contract money to underrepresented workers and companies. With this initiative, the construction managers and general contractors on PCC construction projects must try to reach a target goal of 20 percent in hiring women, minority or emerging small businesses for the construction projects, and 17 percent apprentices. Two minority sub-contractors who are working on the Cascade expansion project detail their work:Demolition can be artistic or just like war. Depending on whom you talk to.According to Mike Martin, tearing down a building may look easy but there is an art to demolition. If one asks Martin, owner of Northwest Infrastructure, you get a sense that there is much that doesn't meet the eye. In his latest effort at the Cascade Campus, across from the library on North Killingsworth Street, everything has a purpose and a process.His company is a newly formed demolition and utility company in north Portland. "Once we gut the building we save everything of worth,"Martin said. "We bring it down and separate it. It's about a month's process."The real artistry comes in the form of just how to drop the roof. Martin's crew first prepares the large support beams of the building for lifting by clearing away debris around them. A trackhoe then comes in with straps that wrap around the circumference to raise the beam up out of the building. When that happens, the roof or floor collapses neatly to one side.From there, the crew demolishes the interior walls. Once the buildings are gutted, Martin's crew arranges the debris into specific piles to either be thrown away or recycled. He estimates that 90 percent of the debris is recycled. This includes wood pillars, beams, and concrete. Once everything is separated, he calls in scrap collectors who load the material and haul it off for recycling."The recycling process is quite an art form,"Martin said, scanning the numerous piles of insulation, metal, wood and concrete slabs. "I love it. I love to manage. I love the heavy equipment. I love my job."Through a bid process, Martin's company won the right to demolish the structures, mostly commercial, at Cascade. Martin, an alum of Ockley Green Elementary School, has been in the demolition business for nine years and is a recognizable figure in the north Portland area. "People from the community stop by and can see I'm just doing my job. It puts a face on the work here."An African-American, Martin is just one of many examples of the college's commitment to diversity on its construction projects. During its multi-campus construction, PCC is reaching out to the community through its Minority, Women, and Emerging Small Business (MWESB) program. The coordinator, John Persen, networks with key organizations and businesses in the community to create a broader base of successful small businesses in the college's district."It's a good opportunity to improve programs that increase diversity and bring unique opportunities for workforce and small business development that only Portland Community College can bring to the table,"said Person.Alexander Adebawo's American Building Construction is another state-certified minority business enterprise that is contracting with PCC to complete the remaining demoliton work on the same block. Adebawo, however, believes demolition is more like a war game, each worker looking after each other to ensure a safe mission."On every project the priority is to do the work safely, then the performance and execution in a timely fashion,"said Adebawo, who works on roughly 10 projects every year. "Construction and demolition is very much like a war game in that respect to us."Adebawo founded his company in 1995 after graduating from Portland State University. He originally came to Oregon from Nigeria where his entire family was in the construction business. His company not only does demolition but also does remodeling, roofing and other phases of construction. He says working in the Northwest offers challenges he doesn't see in Nigeria."The culture and construction rules are very different,"he said. Adebawo, no stranger to PCC, removed a modular building from the campus in 1998. He can hardly contain his enthusiasm for working on his second PCC construction project."It's exciting to work for PCC,"said Adebawo. "Demolition is worthwhile because it paves the way for something new that is helpful to the community. Without an education, people who are poor have no tools to break the cycle. PCC helps people break that cycle and give them an opportunity to do something good with their life."