PDF Document Accessibility
There are three ways to create a PDF, either converting a source file, like a PowerPoint or a Word document to a PDF, scanning a hard copy of a document to PDF, or creating the document in Adobe Acrobat Pro.
Converting Office Files
Mac users, Word 2016 on a Mac can create an accessible PDF, but unfortunately previous Mac versions of MS Office cannot be converted to an accessible PDF. Contact the IT Service Desk about getting a Work at Home copy of MS Office 2016.
How to save an accessible PDF in Office
Scanning to PDF
Scanning with Knowledge Center (KIC) kiosks in the library:
Place the document on the scanner bed.
Touch Scan on the interactive touch screen. Then answer the copyright notice/question.
An image of the scanned page will be displayed on the screen.
For multiple pages, repeat steps 1 through 3.
With the default settings, the KIC scanner will create an accessible (and searchable) PDF.
There are multiple options to output the document:

Save to USB Drive: To save the document to a flash drive.
Send via email: To send the document to yourself or other recipients.

NOTE: When select, a virtual keyboard will be displayed on the touch screen for you to enter the email address. To send multiple email addresses, add a semicolon (;) to separate between each email address.
(This information published in the KIC Help Desk Guide.
Correcting OCR Errors with Adobe Acrobat Pro
In the Tools panel, under "Recognize Text", click on "Find First Suspect"
Acrobat will now go through and identify any word conversion it is unsure of and allow you to manually correct them.
The pop-up window shows you the picture of the suspected word.  The text on the page shows you Acrobat's interpretation of the suspected word. To fix spelling, click on the word in the page, enter the correct text, and then click Accept and Find to move to the next suspect.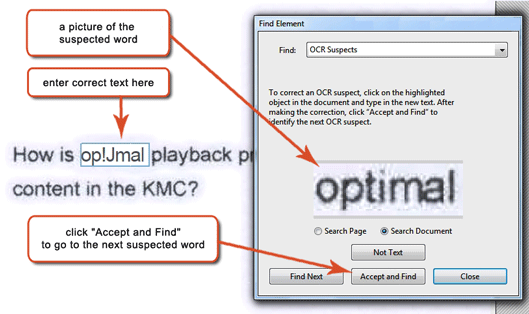 Proof reading in Acrobat
To save as a PDF, go to File > Save.  For other file types, go to File > Save As and choose from Word, HTML, plain text, and others.
Using Adobe Acrobat Pro
The Make Accessible action ensures that the PDFs you create in Adobe Acrobat Pro are accessible by meeting WCAG 2.0 and PDF/UA standards.