PDF Document Accessibility
Creating the PDF
There are two ways to create a PDF, either converting a source file, like a PowerPoint or a Word document to a PDF or scanning a hard copy of a document to PDF.
Converting to a PDF
Mac users, Word 2016 on a Mac can create an accessible PDF, but unfortunately previous Mac versions of MS Office cannot be converted to an accessible PDF. Please refer to: Ways to make an accessible PDF on a Mac (if you have an older version of MS Office). Or contact the IT administrative assistant about getting a Work at Home copy of MS Office 2016.
Convert/save-as an accessible PDF from a Microsoft 2016 Word or Powerpoint document: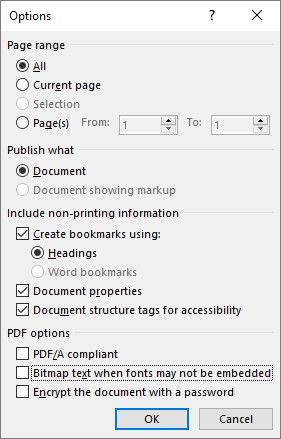 Start with a well structured, accessible word document or presentation.
Click the File tab and select Save as. In the Save as type field, select PDF (*.pdf).
Enter a file name in the File name field.
Click on the More Options button
The Save As window should pop up and you will click the Options button under where you can again edit the Filename
On the Options window, under "Include non-printing information" make sure the Create bookmarks using Headings and Document structure tags for accessibility checkboxes are checked.
Under PDF options, make sure Bitmap text when fonts may not be embedded is NOT checked.
Click OK.
Click Save. This will tag all of the text formatting so page headings and lists are correctly interpreted by a screen reader.
Scanning to PDF
You can scan with the fancy Knowledge Image Center kiosks in each PCC library or in the Faculty Production lab on your campus.

Scanning with Knowledge Imaging Center (KIC) kiosks in the library:
Place the document on the scanner bed.
Touch Scan on the interactive touch screen. Then answer the copyright notice/question.
An image of the scanned page will be displayed on the screen.
For multiple pages, repeat steps 1 through 3.
With the default settings, the KIC scanner will create an accessible (and searchable) PDF.
There are multiple options to output the document:

Save to USB Drive: To save the document to a flash drive.
Send via E-mail: To send the document to yourself or other recipients.

NOTE: When select, a virtual keyboard will be displayed on the touch screen for you to enter the email address. To send multiple email addresses, add a semicolon (;) to separate between each email address.
(This information published in the KIC Help Desk Guide.)
Scanning with the Scanners in the Faculty Production Labs
Open Adobe Acrobat Pro.
Under the File menu, select Create > PDF from Scanner and choose Auto-detect Color Mode.
Follow the instructions from the pop-up window and select your choices (repeat the steps for multiple documents).
When done, click OK.
After scanning the document, run optical character recognition on it so the text is readable by screen readers. You can run optical character recognition using Adobe Acrobat Pro (not Acrobat Reader). Optical Character Recognition (OCR) makes the text readable with assistive technology. It also makes your PDF searchable!
Using Adobe Acrobat Pro to make your PDF accessible
If for some reason your PDF isn't accessible and you don't have access to the source file, you can make it accessible using Adobe Acrobat Pro.

Running the Make Accessible Action Wizard
Open your PDF file.
Open the Tools panel (click "Tools" in top left) and choose "Action Wizard" within the Customize section.
The Action Wizard tab will now show on the right hand side of your document.
Click the Start button

Description — Enter a descriptive document Title. Other fields are optional.
Recognize Text — If your PDF contains images of text, it will be converted into true text during this step.
Detect Form Fields — Skip unless your page contains fillable forms.

Set Tab Order Property — Runs automatically

Set Reading Language
Set Alternate Text — A window will appear that allows you to add alternative text to images. Use the arrows to move between images and check Decorative figure if the image should be ignored by a screen reader.
Run Accessibility Full Check- This checker will show additional issues.

Right click errors and warnings and select Fix to address the issues, Skip Rule if the issue has been addressed, and Explain to read online help. You can also run an on-demand check under Tools > Accessibility > Full Check.
Correcting OCR Errors with Adobe Acrobat Pro
In the Tools panel, under "Recognize Text", click on "Find First Suspect"
Acrobat will now go through and identify any word conversion it is unsure of and allow you to manually correct them.
The pop-up window shows you the picture of the suspected word.  The text on the page shows you Acrobat's interpretation of the suspected word. To fix spelling, click on the word in the page, enter the correct text, and then click Accept and Find to move to the next suspect.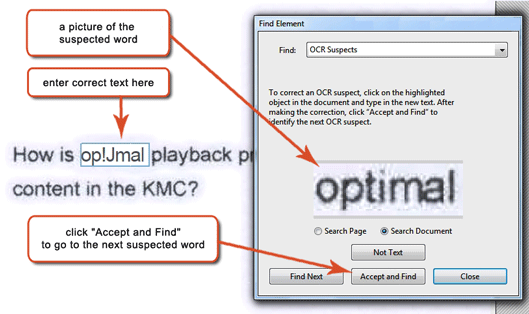 To save as a PDF, go to File > Save.  For other file types, go to File > Save As and choose from Word, HTML, plain text, and others.
Accessibility checkers
If you don't have Adobe Acrobat Pro, check out the free PDF Accessibility Checker from Access for All.
Adobe Acrobat Professional
Adobe Acrobat Professional has a built-in accessibility checker.
If you have Adobe Acrobat Professional, run an accessibility check on your PDF. You can find the accessibility checker within the Tools area located near the upper left hand corner of Acrobat Pro.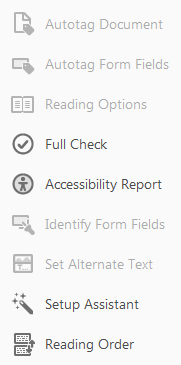 Click the Tools tab
Click on "Accessibility" to open the Accessibility panel on the right hand side of your document.

If you don't see the Accessibility section there, click the View menu and select Tools > Accessibility.

Select the Full Check button under Accessibility..
The Accessibility Full Check window will open.

On the Report and Comment Options:

Check on Create Accessibility Report and Include repair hints in Accessibility Reports.

On the Checking Options section:

Name: Adobe PDF
Select All items to be checked.

Click on the Start Checking button.
The Accessibility Report will display.
Adobe Acrobat Reader
Even in the free Adobe Acrobat Reader software you can do a Quick Check on the accessibility of your document. (PDF courtesy of JiscTechDis).
Other things you can do to check accessibility with Adobe Acrobat Reader:
Use Reflow view to quickly check the reading order of the document.
Use Read Out Loud to experience the document as readers who use the text to speech conversion tool experience it.
Additional Resources