Automated Accessibility Checkers
A Word of Caution
Automated, accessibility testing tools provide a good baseline check for accessibility of HTML web pages, PDFs and Microsoft Office 2010 documents, but the documents still need a human to check the pages and ask these questions:
Are headings used to give the document structure?
Are embedded media and any interactive widgets on the page, keyboard accessible?
Does the ALT text for images and graphics clearly represent the meaning the instructor wants to convey with the image?
Is the navigation easy to follow and understand?
How to Check Accessibility in Microsoft Word & PowerPoint 2010 and 2013
Microsoft Word 2016 and Microsoft PowerPoint 2016 for Windows have built-in accessibility checkers. It's a great way to do a automated check on your document, but it doesn't catch everything. It can't think, so it can't tell you if something should be formatted as a heading for example. So make sure to do a manual check in addition to using this tool.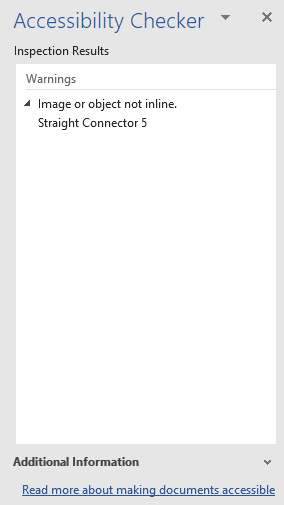 Microsoft Office 2016 Accessibility Checker
Please Note: The accessibility checker only checks .docx files
Go to the Review tab.
Select Check Accessibility within the Accessibility section.
Click on the Check for Issues button.
Select Check Accessibility from the drop-down list.
The Accessibility Checker panel will open to the right of the document. The accessibility checker provides you with a list of errors, warnings and tips. When you click on an error or warning, instructions on how to fix it appear below in "Additional Information".
Accessibility Check for Google Docs
Grackle Talks is a new Google add-on that checks your Google document for accessibility.
Testing webpages with a screen reader
Claws Screen Reader Emulator: (Firefox add-on) Claws will show you in a text format how a screen reader will read the page.
Checking Adobe PDF Accessibility
If you don't have Adobe Acrobat Pro, check out the free PDF Accessibility Checker from Access for All.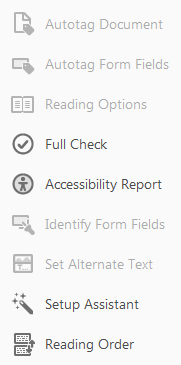 Adobe Acrobat Professional
Adobe Acrobat Pro DC has a built-in accessibility checker.
If you have Adobe Acrobat Pro DC, run an accessibility check on your PDF. You can find the accessibility checker under the Tools panel on the right hand side.
Click the Tools tab near the top left of Acrobat Pro DC..
Click on Accessibility within the Protect & Standardize section
Select the Full Check button.
The Accessibility Full Check window will open.

On the Report and Comment Options section:

Check on Create Accessibility Report and Include repair hints in Accessibility Reports.

On the Checking Options section:

Name: Adobe PDF
Select All items to be checked.

Click on the Start Checking button.
The Accessibility Report will display.