Step-by-step guide to accepting your award
Step one
Log in to MyPCC and go to the Paying for College Tab.
Review the financial award information in the dashboard. It's a good idea to click on options available to you and consider your long term financial needs.
After you've reviewed this information, click Accept or decline your award.
Step two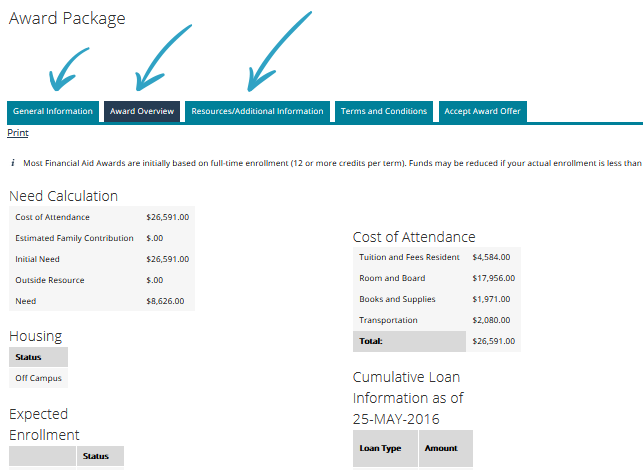 There are five tabs at the top of the Award Package page.
Click on the General Information, Award Overview, and Resources/Additional Information tabs and carefully review the information.
Step three
Review the Terms and Conditions tab.
If you want to use your financial aid to pay for books and materials from the PCC bookstore, check the box for yes next to Authorization to Deduct Charges at the bottom.
Click the Accept button at the bottom of the page. Once you accept the terms and conditions the Accept Award Offer tab will turn gold.
Step four
Click on the last tab, Accept Award Offer. Review your award package.
Grant funds don't have to be repaid, they are automatically accepted.
You can accept all, part or none of the loans offered to you. Carefully consider how much money you need to borrow in student loans.
If possible, try to avoid Unsubsidized Loans.
Do not leave any part of your award Undecided. If you do, we cannot release your award package. So, make sure each part of your award package is either accepted or declined.
Click the submit button to accept your award.