Foundations of Clinical Research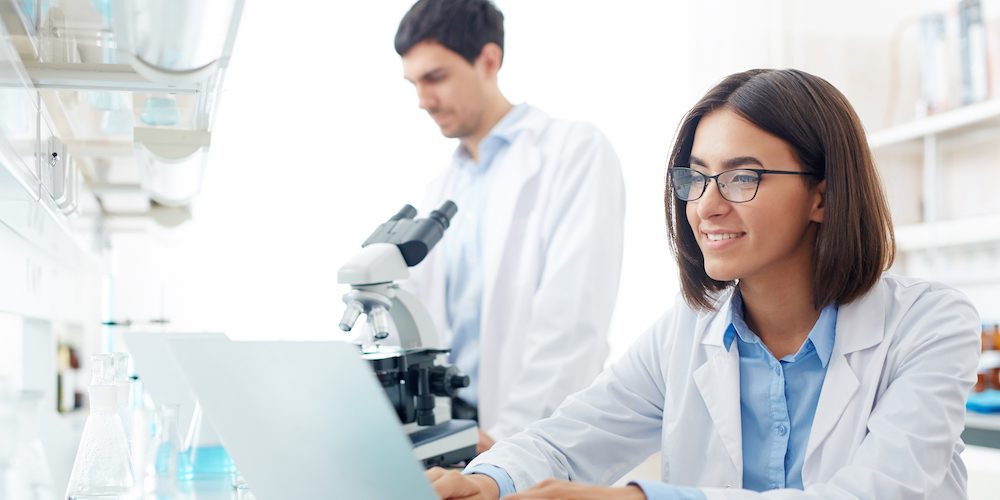 Help advance medical knowledge and patient care through a career in clinical trials.
Clinical research skills and knowledge are used in research sites such as medical centers and hospitals, pharmaceutical, device or biotechnology companies, or in contract research organizations.
In Foundations of Clinical Research non-credit certificate program at PCC Institute for Health Professionals, you will learn will the ethical, regulatory, historical and operational, recruitment, reporting, and other principles that support successful clinical trials.
The Program
Curriculum developed in partnership with: OHSU, Kaiser Permanente, Providence Health and Services, and Legacy Health
Live-taught, dynamic online program. You will attend class once per week in the evening from anywhere you want. In total, the program is 60 hours of live instruction and discussion, plus self-directed study.
Learn the foundational terms, concepts, and elements of designing and implementing clinical research in 6 months.
Non-credit certificate. Upon successful completion, students will receive a non-credit certificate from Portland Community College in Foundations of Clinical Research 1 and 2.
Taught by seasoned practitioners in clinical research who are available throughout the program to share their expertise and answer your questions. The program also includes a "flipped" classroom, in which participants read assignments and prepare ahead of time for the classroom discussions, inviting better understanding, integration, and application of the materials.
Get job ready. Graduates of this program are prepared to work as Clinical Research Coordinators/Assistants/Specialists in the fields of oncology, lab pharmaceutical, treatments, prevent, screening, diagnostics, genetic, epidemiological, devices, and biologics.
IRB meeting experience. Students will be expected to attend an IRB meeting in their local vicinity prior to and upon completion of the instructional portions of the program. You should allow 2-3 hours per meeting.
Who Should Enroll?
Health professionals (e.g. nurses, phlebotomists, paramedics, medical assistants, dental assistants/hygienists, physician assistants, pharmacy technicians, and others) looking to supplement their income through clinical research, or looking to switch careers in the health field for a more balanced work schedule.
Individuals with a bachelor's degree in biology, chemistry, research, and/or health sciences interested in a career in clinical research.
Sample Schedule
Section 1: History and High-Level Regulation
Mandatory Orientation Session
1.0 Introduction and history; research terminology
1.1 Federal, state, and institutional policies: laws and regulations
1.3 GCP; Ethical oversight; Scientific Integrity, Privacy
1.4 Good Clinical Practice (GCP), con't.
1.5 Overview of Study Design – Methods, Types, and Drug Development Process
1.2 Library and research 1.6 Overview of Protocol
Section II: Study Protocol and Team
2.0 Study Team Roles and Responsibilities; Quality control and assurance
2.1 Introduce sample study protocol study
2.2 Data definition and collection planning
2.3 Regulatory Submission and Review Process
2.4 Essential Documents
2.5 High-Level Project Management Review
Section III: How to Run a Specific Study
3.0 Study Operations
3.1 Drug Supply Management and Accountability
3.2 Preparation for Research, Recruitment of Research Study Participants
3.3 Scheduling, Preparing for, Conducting and Following up on a Study Visit
3.4 Monitoring, Auditing, Study close-out 3.5 Data analysis and publication
3.7* Regulatory documentation and reporting 3.8* Subject Interactions
3.6* Business Management; CTMS; Funding types 3.9 Study procedures and data collection
4.0 Data: Management, Safety, Monitoring and Reporting
The Investment
Time:
The Foundations of Clinical Research is a 6-month, online, non-credit certificate program that includes 60 hours of live instruction and discussion, plus self-directed study.
Online classes will be held on Thursday nights, 5:00-7:00 or 7:30pm PST, unless otherwise noted (a detailed schedule will be provided at the beginning of the program).
All students must attend one IRB meeting of their choosing during the program (details will be provided after the program begins)
Tuition:
$1,199
PCC offers an interest-free 6 month payment plan. The 1st month is 20% down, then 5 months of equal portions of the remaining balance. To set up the plan, contact Lynne Baxter.
The Instructors
FAQs
Will this program help me get a job or prepare me for a career in Clinical Research?
Clinical Research is a growing field; individuals trained in clinical research are in demand, whether for entry-level positions or for RNs looking to change their professional focus.
This program is designed to for you to learn the foundational knowledge and application for working in Clinical Research. You will gain the knowledge, skills and abilities to coordinate clinical trial activities, and will understand applicable laws and standards inherent in Good Clinical Practice (GCP).
Our program was designed by an Advisory Board of Clinical Researchers at Oregon Health Sciences University (OHSU), Providence Medical Systems, and Kaiser Permanente. It prepares graduates for entry-level employment in a variety of venues such as: research sites in medical centers, hospitals, pharmaceutical and biotech companies, or contract research organizations (CROs).
Do I have to be online during the live Thursday classes?
You want to be present during live lectures. Class is dynamic and your interaction with the instructor and your classmates will make the learning far more meaningful. We expect participants from many time zones and know that life will preclude live participation for some sessions. Therefore, we record each live session for participants to view later. This also allows participants access to review topics/discussions at any time.
Also, in between some of the live-streamed classes, participants may be required to engage in discussion boards with each other and the instructor.
Are there any prerequisites to the clinical research program?
This program is ideal for individuals who hold some health or science education and/or are already working in the health field, though people without healthcare experience can still make good candidates.
Though not required for this training program, industry expectations are that applicants have completed a Medical Terminology course in preparation to work in the field. Completion of an Anatomy and Physiology is also highly recommended.
I work in a private practice doctor's office. Will this program prepare us to participate in Clinical Research studies?
Yes, this program is ideal for you to learn the essential elements of participating in larger Clinical Trials as part of an independent medical office. You will learn the required elements of a study protocol, including
Study Operations;
Regulatory Documentation and Reporting;
Subject Research/Recruitment/Enrollment/Retention;
Data Management, Safety, Monitoring and Reporting; and
Business Management within a clinical trial
Clinical trials research can be a profitable option for medical clinics, and can be a way for doctors to help clients and/or support research in their field.
Will I earn Continuing Education Units (CEUs)? How many?
Yes, all participants will be awarded CEUs for program completion. The Foundations of Clinical Research program awards a total of 60 CEU hours.
Can you tell me more about your Clinical Research faculty?
Our Clinical Research faculty have all worked in the field for many years; some are employed in hospitals, while others are educators and consultants. Each faculty member is passionate about Clinical Research, and about helping participants gain the foundational knowledge necessary to work in this exciting and growing field! For more on each:
How is the program structured? Is there any compulsory on campus requirement?
The program is delivered online, with live classes on Thursday evenings at 5:00 pm PST. All courses are designed to be interactive and very user friendly. Classes are live-streamed and students engage these live, interactive discussions. Each live session is recorded for those who are not able to attend live and/or for participants to review topics taught. Better learning occurs in the live instructional time, so you are encouraged to make every effort to attend each class session. In between the live streamed classes, participants will engage in discussion boards with each other and the instructor.
The program will be taught using the "flipped classroom." That means you will come prepared to each online class having read the basic concepts of the session. The class time will be used to ensure understanding and to apply what you've learned in real-life scenarios. In this model, the instructor serves as the facilitator of learning and takes you beyond the advance reading or other assignment.
Additionally, each participant will be required to attend one Institutional Review Board (IRB) meeting at the end of the program.
Do I need special software or equipment to participate in this program?
All participants will need a computer with high speed internet and a headset with microphone (there are call in options for using your phone if necessary) to participate in the live classes. The program is delivered through web-based software, Desire2Learn (D2L) so it can be accessed from anywhere.
Prior to the first class, participants will receive detailed instructions and tutorials for using the software. In the meantime, you can learn more here. Students are highly encouraged to access D2L several days prior to the first class. If there are any questions about either program, you will have time to connect with PCC for answers and not take instructional time due to technical issues that could be managed in advance.
Can I earn college credit through this program?
College credit is not available at this time. We are investigating partnerships to award college credit for future program participation.
Is this program eligible for FAFSA funds/financial aid/scholarships?
Because the program is a non-credit college program (not a for-credit degree or certificate), no scholarships or financial aid are available. Upon registration, a student can make arrangements for payments through the Student Accounts Office, or view other payment options here.
Upcoming Special Topics Courses
Loading...
Apply Today
The next program begins during Spring term. For upcoming course dates, check the Special Topics schedule.
All students in the Foundations of Clinical Research program must attend one Institutional Review Board (IRB) meetings of their choosing during the last few weeks of the program (information on finding a meeting and the timeline for attending meetings will be provided after you have registered).
Though not required for this program, industry expectations are that job applicants have completed a Medical Terminology course. Completion of an Anatomy and Physiology is also highly recommended. Contact us for more information.
How do you register? Create a PCC account (if you don't have one) and follow the noncredit registration prompts here.