Sterile Processing Technician
S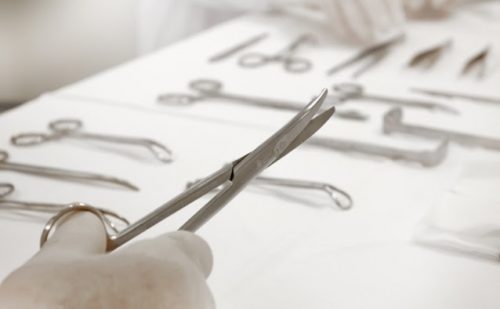 tart your future in healthcare as the first line of defense against infection.

Are you meticulous, detail-oriented, or a self-professed clean freak?
Do you want a career keeping medical environments safe for patients and medical staff?
Are you excited about the idea of working in a variety of medical settings, including general hospitals, public health clinics, private doctors' offices, and specialized surgical centers?
Help keep patients safe by ensuring a clean, well-prepared medical environment.
The Job
As a sterile processing technician, you will:
Stock, sterilize, package, and prepare tools and equipment used in surgery
Take inventory of surgical tools and instruments
Ensure the cleanliness and safety of operating rooms, tables, and equipment
The job market for Sterile Processing Technicians is expected to grow by 20% from 2012–2020, according to the Bureau of Labor Services.
Begin a rewarding career assuring pristine medical environments by enrolling in our Sterile Processing Technician program.
What to Expect
The Institute for Health Professionals' Sterile Processing Technician program lasts 2 terms. Term I includes 42 hours of self-directed study and in-class training, which will prepare you for an 80-hour clinical during Term II.
In Term I, you will learn the basics of sterile processing, including:
Infection control and prevention
Decontamination, cleaning, disinfection, and sterilization
Surgical instruments and storage
Distribution and inventory control
Microbiology
Medical terminology
Anatomy and physiology
During Term II, you will be placed in an 80-hour clinical, within a hospital laboratory or outpatient facility approved by PCC Institute for Health Professionals. The skills learned in Term I will be put to the test in the real world, where you will shadow sterile processing technicians at a local area hospital and gain hands-on experience.
Certification
After working in a sterile processing department for at least a year, and meeting a minimum number of hours performing various duties, you may become certified through the Certification Board for Sterile Processing and Distribution, Inc. (CBSPD) and the International Association of Healthcare Central Service Materiel Management (IAHCSMM).
Who should enroll in the Sterile Processing Technician Program?
A career as a Sterile Processing Technician may be right if you are the type of person who:
Isn't bothered by blood or bodily fluids
Recognizes the chain of command and follows company policies
Demonstrates ability to work under direction, yet independently as needed
Has strong verbal and nonverbal communication skills
Can build relationships in customer service with operating room staff and vendors
Wants to gain mastery of best practices in all areas of sterilization
The Investment
Time: 2 terms
Term I: 42 hours of online and in-class training
Term II: 80 hour clinical practicum
Tuition: $1,799, excluding book
Tuition is due at the time of registration, or students may set up a 3 month payment plan with the Portland Community College Business Office. For Information about the payment plan, please visit the PCC Payment Plan webpage.
Meet your Lead Instructor
Jerry Hutchison is currently the Manager of Central Sterile Processing at Legacy Good Samaritan Medical Center. He has 20+ years of leadership experience, mostly in healthcare. He considers himself a patient advocate, continually seeking to prevent harm to patients and teaching students to do the same. In his spare time, Jerry loves to travel, go to the beach, work in his garden, and entertain family and friends at home.
Upcoming Schedule for Sterile Processing Technician
Loading...
Apply Today
Mail or deliver a complete Application Packet. Make sure you include the required documentation.
Summer term application is being accepted from: March 1 to June 1, 2018
Attn: Sterile Processing
PCC CLIMB for Health Professionals
1626 SE Water Ave, Room 114
Portland, OR 97214
Frequently Asked Questions
Can I use federal financial aid?
No, federal financial aid does not apply to non-credit courses. Students are required to pay in full once they are notified of their acceptance into the program.
Is there a clinical or internship available?
Successful completion of term I leads to 80-hours of clinical practicum in term II. You will be placed in one of the local area hospitals to shadow sterile processing technicians, as well as get hands-on experience.
How long does this course take to complete?
Two terms. Term I is 42 hours, and Term II is 80 hours.
Will this prepare me for a national certification exam?
Once you have worked in a sterile processing department for 1 year, and meet a minimum number of hours performing a variety of tasks within Sterile Processing, you may obtain certification through the Certification Board for Sterile Processing and Distribution, Inc. (CBSPD) and the International Association of Healthcare Central Service Materiel Management (IAHCSMM).
What vaccinations do I have to have?
Titer test result that shows Hep. B immunity" or complete Hep. B series in the last 10 years
Tuberculosis Testing (PPD or X-ray for the current year)
Influenza Vaccine for current season
MMR with second dose Measles
Varicella with second (post childhood) titer or immunization
Tetanus within last 10 years
Do I have to submit to a drug screen and background check?
Yes, students tentatively selected for the course will be asked to submit a background check to receive final approval and acceptance into the course. Approximate cost to student will be $68.00.
Will incomplete applications be accepted?
No, we will not accept incomplete applications.
Questions?
For more information, please contact Bem Hanamoto.