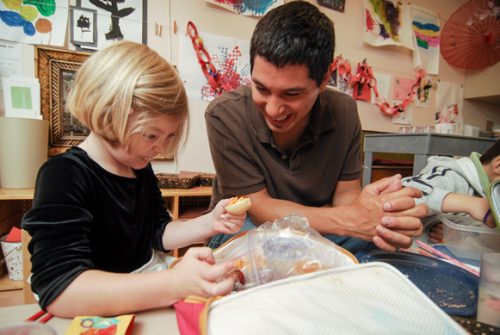 Get help paying for child care
ASPCC scholarship
Current students can apply for a scholarship to help cover the costs of childcare.  See more here: Student-Parent Scholarship.
CCAMPIS grant
CCAMPIS (Child Care Access Means Parents in School) is a federal department of education grant that supports the participation of low-income parents in post-secondary education through the provision of campus-based child care services. For more information, contact Diane at dlthornt@pcc.edu.
Sylvania
 CDC 102 | 971-722-4424 | childcare.sy@pcc.edu
The Child Development Center is licensed by the state of Oregon and accredited by the National Association for the Education of Young Children. The center is planned and staffed to provide a training facility for the Early Education and Family Studies department students and a sound educational program for young children.
Southeast
971-722-6383
The team at YMCA offer state licensed care with incredible convenience found right here at the Southeast Campus. The PCC Southeast Campus YMCA Child Development Center serves children ages 6 weeks to 5 years old and the flexible schedule available to parents is certain to meet the needs of our community. Center hours are from 7am to 6:30pm Monday through Friday. To find out more about the new child development center visit the YMCA website or contact the center director at 971-722-6383 or at pccsecdc@ymcacw.org.
Financial assistance is available in multiple forms for students. The Southeast Campus ASPCC offers a Childcare Grant to students and is also participating in a college-wide CCAMPIS (Child Care Access Means Parents in School) grant funded by the US Department of Education. For more information about both of these options call ASPCC at 971-722-6262 or email childcare.se@pcc.edu.
The YMCA also offers financial assistance.
Cascade
Applicants must qualify for Head Start, a federal early childhood development program as determined by Albina Head Start.
Rock Creek
Parenting club
The Rock Creek Women's Resource Center facilitates a Parenting Club and also maintains lists of useful resources. You may contact Kristen Martin at the Rock Creek Campus Women's Resource Center at 971-722-7448.