Certified Nursing Assistant 1 (CNA 1)
Note: CNA1 is not currently accepting applicants. Sign up using the form on this page to be notified when registration opens again. 
Kickstart your healthcare career by becoming a Certified Nursing Assistant.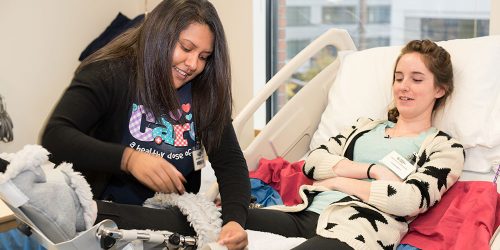 Are you looking for a stable, in-demand, entry-level job in the healthcare industry?
Are you searching for a healthcare position that you can use to springboard into a career as a CNA 2, registered nurse, licensed practical nurse, or physician's assistant?
Do you want a job that will involve caring for and listening to others, often in vulnerable stages of life?
Learn the skills you need to provide patient care in a variety of health care settings, where you will work as an essential member of the nursing team.
With the baby boomer population aging, the importance of nursing's role in the healthcare environment is increasing, and the need for nursing assistants – those who assist nurses in caring for clients – is expected to increase dramatically. In fact, the Bureau of Labor Statistics predicts that between 2012 and 2022, the number of nursing assistant jobs will increase by over 20%, creating over 300,000 new jobs.
The Institute for Health Professionals' Certified Nursing Assistant (CNA 1) training program will teach you the skills you need to become certified in this fast-growing field.
Once students complete the program, they will be eligible to take the state board exam, which grants them certification and the ability to work as a CNA 1 in the state of Oregon.
The Program
Approved by the Oregon State Board of Nursing, the Institute for Health Professionals' CNA 1 training program teaches hands-on skills that students will use every day to provide patients with exceptional health care. After practicing these skills in a lecture and lab setting, you will put them to use in the real world during a clinical practicum at one of several Skilled Nursing Facilities (SNFs) in the Portland area.
After completing the program, you will be prepared to pass the Oregon State Board of Nursing exam, which allows you to work as a CNA 1 in the state of Oregon.
Part I: Lecture and Lab
Learn about the principles of health care, various diseases and body systems
Work with other students to practice skills like taking vital signs, dressing and undressing clients, and assisting with feeding
Part II: Clinical, 75 hours
After successful completion of the lecture and lab portion, you will move on to a clinical rotation.
Put your skills to work during 75 hours of real-world experience
Interact with patients and healthcare workers, and view the healthcare industry from the front lines
Portland Community College will place students in a clinical rotation; students will not need to arrange their own clinical internship.
You will learn to:
Pass the state board exam, which grants licensure as a Certified Nursing Assistant. Students will have the opportunity to attend a special session of the class upon graduation. This "mock skills" day will specifically focus on preparing you for the state exam and positioning you for future success.
Apply a working knowledge of a variety of human body systems, including the circulatory system, respiratory system, digestive system, nervous system, and more.
Understand and treat a variety of human disease processes, including cancer, heart disease, Alzheimer's Disease, strokes, and substance abuse, among many others.
Understand standard precautions and the importance of keeping a clean and sterile environment, as well as how to prevent and halt the spread of disease by maintaining cleanliness.
Perform a vast number of skills essential to the role of a CNA, including taking vital signs like pulse and blood pressure; helping with activities of daily living like feeding, dressing, or hair and nail care; and assisting clients with walking and range-of-motion exercises.
Gain insight into the psychological struggles of patients and clients, listening to, empathizing, and connecting with people.
Understand the rights and responsibilities of nursing assistants, including which tasks they are prohibited from, and how to earn and maintain licensure.
Network with nurses, doctors, physician assistants, physical therapists and others to provide total care.
Use effective time management to maintain a work-life balance.
Exercise professionalism, appropriate conduct, and other soft-skills that will help in finding, securing and maintaining long-term employment.
Who is the CNA 1 program for?
The CNA 1 course is ideal for those who are compassionate, understanding and interested in caring for others.
This course may be right for you if:
You are interested in an entry-level healthcare job
You want a position you can use as a stepping stone to become a:

CNA 2
Registered nurse
Physical therapy assistant
Other healthcare professional
You do not have to complete high school or high school equivalency to become a CNA 1, but establishing effective time-management skills and study habits are critical to the completion of this program.
Additionally, we recommend the class only to students who are highly proficient in reading, writing and speaking English.
The Investment
Time
Required orientation before class begins
80.5 hours of classroom and lab skills demonstration
75 hours of clinical practice in a skilled nursing facility
Tuition
$1,600, including lecture, lab, and clinicals
Other costs:

Background check and drug screen: $75
Textbook: roughly $60
CPR certification: $75 if taken at PCC CLIMB
An appropriate uniform, stethoscope, and gait belt
Additionally, after successfully completing the program you will have to pay an additional fee to the Oregon State Board of Nursing to register for and take the state board exam.
Costs are addressed in more detail during orientation, which is required for all students before the first day of class.
PCC offers installment payment plans, which may allow you to make smaller biweekly or monthly payment. To find out more, visit the installment plan webpage.
The Instructor
Coming Soon.
Upcoming Schedule for CNA 1
Loading...
Frequently Asked Questions
Program Requirements
Do I have to apply to this program?
No. The Nursing Assistant Training Program is open registration, so anyone can register once registration for the term opens. However, there are certain requirements you will need to fulfill once you are registered.
What is the minimum age for this program?
We do not recommend this program for anyone under the age of 17. Most nursing facilities only hire CNAs who are 17 years old or older.
Are there prerequisites for the CNA program?
No. There are no required prerequisites for the program; you do not need a high school diploma or high school equivalency to register. However, we do recommend that you be proficient in English, including reading, writing, and speaking.
What are the requirements I need to fulfill?
You must attend an orientation before the first day of class. Registration is not required to attend an orientation. You can view the full schedule of orientations in the CNA 1 brochure (located in the "Register Now" section). At orientation, you will learn about CNA training as well as other requirements that you will have to fulfill, including a background check and drug screen.
Orientation
I can't attend (or missed) the orientation that is scheduled before the class that I am registered for. But I can attend one that is scheduled after my class begins. Is that okay?
No. Attending an orientation is an Oregon State Board of Nursing requirement, and you must attend one prior to the first day of your class.
I want to go to an orientation now, but I can't take the program until next term. Will my orientation still meet the requirements for the next term?
Yes, attendance at an orientation is valid for one full year.
Class Information
When are classes offered?
Please refer to the program brochure for more information, which is available under the Register Now section on this page.
Do you offer online classes?
No, we do not offer online classes for the CNA 1 program. Students have a much easier time grasping the material in-person, and it better prepares them for the OSBN board exam.
The class I want to take is full. Can you override the class max to let me in, or add me to a wait list?
We must follow the OSBN regulations for student/teacher ratios, so we are unable to allow additional students into the class. We do not offer a wait list at this time, but suggest that you keep checking with registration up to the first day of class, to see if a space opens up. Spaces often open during the period after orientations begin but before class starts. If you are still unable to get registered, you can show up at the first day of class. If a registered student fails to show, or has not met all of the requirements, then we will fill the opening with an eligible student. You still need to have attended an orientation, however.
What is the completion rate for your program?
Approximately 85 to 90 percent of our students successfully complete our program.
CNA 1 vs. CNA 2
I see that there's both CNA 1 and CNA 2. What's the difference? Do I have to take both?
No, you do not have to take both. You can get your CNA 1 and start working as a CNA right away. The CNA 1 training allows students to obtain employment in many areas of the medical field, including: assisted living facilities (ALF), intermediate care facilities (ICF), and skilled nursing facilities (SNF).
The CNA 2 is an added level of certification that will let you perform additional, more complex skills, and thus work in acute care environment and earn more money. CNA 2 certification is required to work in a hospital, so if your ultimate goal is to work in a hospital environment you will want to eventually pursue a CNA 2.
Can I take the CNA 2 class directly after taking the CNA 1 class?
You must pass the OSBN state board exam before taking the CNA 2 class. Depending upon when you complete your CNA 1 class, how quickly you are able to get scheduled for the state exam, and if you pass on the first try, you may or may not be able to take our classes within consecutive terms.
We also suggest that you get a job prior to beginning the CNA 2 program, so that you have some job experience before applying for CNA 2 openings. By doing so, you will be more competitive in the CNA 2 job market, and better-equipped to do well in the CNA 2 program.
Other Questions
Does PCC offer financial aid?
The Nursing Assistant Training Program is a noncredit class, which means it is not eligible for financial aid. However, PCC does offer installment payment plans.
Can I use an older edition of the textbook?
Yes, you can use a previous edition of the textbook. However, we recommend that the edition you use is no more than one edition older than the current edition. If you are using an older edition, ask your instructor for the reading assignments from that edition. We will have reading assignments from the previous edition, but may not be able to offer assignments for older editions.
How much can I expect to make as a CNA 1?
Entry-level CNAs can make between $9 and $15 an hour, depending on prior work experience, employer, and clinical experience. Find out more by visiting the Oregon Employment Division website.
Will you help me find a job after I complete the program?
No, we do not offer job placement for our students. However, some students do get hired at our clinical facilities, and many other facilities in the area express interest in our students. We periodically receive job postings from area employers. These opportunities will be posted on the CNA job board in the CLIMB Center, and often we will share them directly with student.
I have other questions or would like more information. Who can I talk to?
Contact the CNA Program for more information.
You can also attend an orientation! Orientations are given by the program director and an instructor. They are free and open to the public, with no need to register for one. View the full schedule of orientations in the CNA 1 brochure (located under the "Register Now" section).
From the IHP Blog
Unlocking Your Healthcare Career with Medical Coding Opportunities

Thu, 19 Oct 2023
Are you considering a career change? The healthcare industry is booming, and there's no better time to start a career in healthcare. According to the Bureau of Labor Statistics, the next decade is set to witness significant growth in healthcare occupations, and one of the standout opportunities is in the field of medical coding. In…

Unlocking Your Career: Optician Assistant Training at PCC

Fri, 13 Oct 2023
In bustling Portland, a promising career awaits in the field of Optician Assistance. At PCC, you can kickstart your journey with just one term in our Optician Assistant Training program. By the program's end, you can even hand your resume to a potential employer.

Pharmacy Technician 101: Is it Right for You?

Fri, 26 Aug 2022
Updated March 1, 2023 Healthcare is a field that never goes out of style. With the rise in chronic illnesses and an aging population, the demand for healthcare professionals is only growing. Working as a pharmacy technician is an accessible and quick entry point into a fulfilling healthcare career. With flexible hours, a solid salary,…