Ryan Walker
Alumnus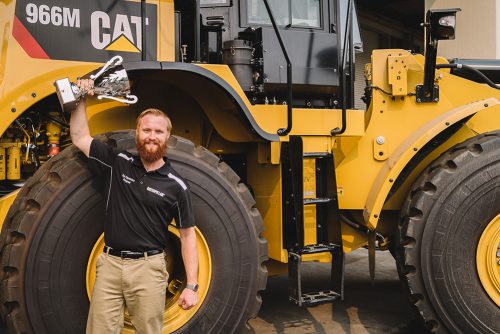 "The on-the-job training was invaluable. I could apply what I learned in the classroom immediately to the real world. There is so much support at PCC. It made it possible for me to succeed and I can't thank all of my instructors enough."
Ryan Walker, PCC alumnus and Western States Equipment field technician
Ryan Walker made history on the international stage in Melbourne, Australia last year. Walker aced Caterpillar Inc.'s Skills Olympics, a hands-on diagnostics test performed during a grueling five-day diesel service competition called Top Apprentice. Ryan won the grand prize.
Three years ago, he graduated PCC with an associate's degree from the ThinkBIG Program, a partnership between PCC and regional Cat Dealers. ThinkBIG is one example of more than 60 career technical programs that provide the highly trained workforce needed to sustain and grow the economic health of our region.
Since 2005, ThinkBIG has provided students with critical on-the-job training in diesel technology education. While participating in the program, students like Ryan work in internships at participating Cat Dealers throughout the Northwest. The program compresses into two years what typically requires six to seven years of on-the-job experience.
When students like Ryan graduate, they have the technical skills and onsite experience to stand out to Cat Dealers looking to hire for permanent positions, like Ryan's as a power generation technician for Western States Equipment in Tri-Cities, Washington.