Joshua Camacho
Student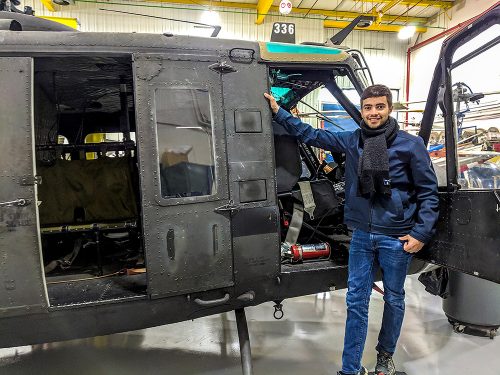 "I'm grateful to the PCC Foundation and everyone who believed in me and supported my dream to become a pilot."
Joshua Camacho, PCC Career Technical Scholarship recipient and future helicopter pilot
Ever since Joshua Camacho was a kid watching helicopters fight fires or transport injured people to safety, he knew wanted to be a pilot. Today, because of his PCC scholarship, his dream will soon become a reality.
When he was young, Joshua's family faced a number of hardships. His father was either truck driving to put food on the table or deployed with the Army. When he came back from deployment, he had a hard time adjusting to life at home. Adding to the weight of it all, Joshua's older brother returned from his own deployment and was depressed. Joshua carried a lot of responsibilities early in life. "I was the glue holding my family together. I feared what would happen if I ever broke down or left home," said Joshua.
With a lot of love and patience, assistance from the VA and mental health support, Joshua's father and brother have made huge strides. This change gave Joshua the courage to spread his own wings and move across the country to pursue his dream of becoming a pilot. With the support of his family and his dad's VA education benefits, he moved to Portland to become a PCC student.
Joshua quickly realized what it would take to live on his own and go to school and knew he needed additional assistance in order to focus on classes. His scholarship helped him finish up flight training, get a pilot's license, and in just a few months, complete his associate's degree. He's looking forward to giving his family a helicopter tour of downtown Portland.