PCC at a glance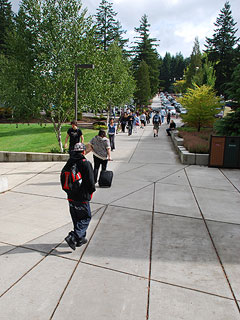 PCC is the most largest higher education institution in Oregon, enrolling over 70,000 full- and part-time students annually.
Access
More than 44% of credit students at PCC are the first in their family to go to college.
PCC is the most diverse institution of higher education in the state, with more than 30% students of color.
Career and technical programs
Over 190 certificates and degrees are offered in more than 100 areas of study.
Cost to attend
Estimated total for one term (full time for resident of Oregon or neighboring state): $1,255.
See tuition and fees website for detailed costs.
District area
The PCC district covers 1,500 square miles and 13 school districts including all of Washington County and parts of Multnomah County, Columbia County, Yamhill County and Clackamas County.
Good investment
According to a recent survey, eight out of 10 people in the community described PCC as the place to provide students with the skills to compete in today's economy.
For every dollar appropriated by state and local government, taxpayers will see a cumulative return of $7.10 over the course of the students' working careers.
PCC students will see their annual income increase, on average, by about $95 per year for every credit completed at PCC.
PCC Foundation
In 2017-18, the PCC Foundation awarded scholarships totaling $1.3 million to 1,300 deserving students.
The PCC Foundation's endowment grew to over $15.9 million for the year that ended June 30, 2018.