Faculty, Staff and Retiree Campaign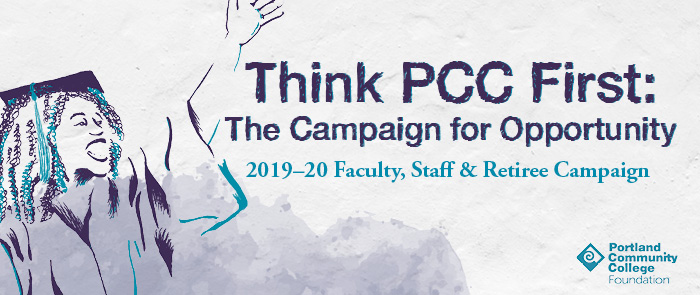 2019-20 Faculty, Staff and Retiree Campaign
As you know, there's so much that goes into supporting student success. You make opportunity possible for our students every day.
We hope you will join us this year for our special Faculty, Staff and Retiree Campaign as we conclude the PCC Foundation's first-ever comprehensive campaign, The Campaign for Opportunity. 
We are raising $30 million in financial support for much needed scholarships, the Future Connect program, workforce development enhancements and for emergency grants to students. When the campaign is complete at the end of June, our hard-working and eager students will have more opportunities to gain higher education and grow professionally, regardless of where they started.
Support the Campaign for Opportunity and Think PCC First
Support Student Dreams:

Through

scholarship

support, we can make higher education possible for students who would not otherwise be able to afford college.

Expand Access to Future Connect:

Through coaching and scholarships, we can help more first-generation, low-income students succeed in our nationally-recognized

Future Connect

program.

Ensure a Living-Wage Job for All Oregonians:

We can support the development and training of students who go on to earn family-wage jobs as part of Oregon's skilled

workforce

.

Help Students Focus on Their Goals:

By addressing hunger and houselessness, we can serve our students' most

urgent needs

so they can focus on their studies.
The impact of your gift
An example of what your gift would mean to one of our students:
$5/month

($60 annually)

funds an emergency grant to a student who needs to pay a utility bill.

$15/month

($180 annually)

supplies a student and their family with hygiene items for the year.

$29/month

($348 annually)

covers the cost of the College Survival and Success course for a Future Connect student.

$50/month

($600 annually)

provides a student with a book grant for one year.

$62/month

($750 annually)

covers the cost of tools for an automotive student.

$85/month

($1,020 annually)

funds a scholarship for a student.
Making a monthly gift through payroll deduction [pdf] or through your checking account [pdf] is convenient and helps sustain funding to our students throughout the year!
Many ways to give
Donate online
Our online form makes donating both fast and secure.
or

PCC payroll deduction
Payroll deduction is a great way to give. You can choose to donate one hour's pay or a specified amount each month.

One-time gift
Your gift can be made using a check or your credit card.

Via checking or savings account
You can also make a monthly gift from your checking or savings account.