Faculty, Staff and Retiree Campaign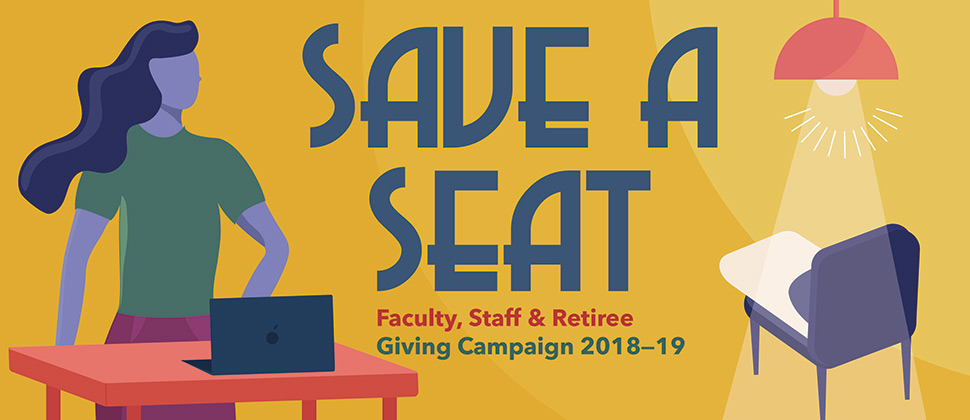 2018-19 Faculty, Staff and Retiree Campaign
"Save a Seat" for our students by participating in this year's Faculty, Staff and Retiree Campaign. As you know, there's so much that goes into supporting student success. When you make a gift, you help "save a seat" for students in the classroom, in the cafeteria and on the bus. Together, we can continue to support students where and when they need it most.
Join us and "Save a Seat"
So that students can afford to learn.
PCC Foundation scholarships make a PCC education possible for 1,300 students each year.
So hunger doesn't hold our students back.
The Panther Pantries ease the burden of students facing food insecurity by providing healthy, fresh and non-perishable food items and hygiene supplies.
So setbacks don't slow our students down.
Emergency grants help students on the verge of dropping out of school by providing them with funds to take care of unexpected expenses.
The impact of your gift
An example of what your gift would mean to one of our students:
$5/month ($60 annually) funds an emergency grant to a student who needs to pay a utility bill.
$15/month ($180 annually) supplies a student and their family with hygiene items for the year.
$30/month ($360 annually) provides an emergency grant to a student facing an unexpected car repair.
$50/month ($600 annually) covers the cost of books for one year.
$62/month ($750 annually) provides food vouchers to 150 students.
$85/month ($1,020 annually) funds a scholarship for a student.
Making a monthly gift through payroll deduction or through your checking account is convenient and helps sustain funding to our students throughout the year!
Many ways to give
Donate online
Our online form makes donating both fast and secure.
or

PCC payroll deduction
Payroll deduction is a great way to give. You can choose to donate one hour's pay or a specified amount each month.

One-time gift
Your gift can be made using a check or your credit card.

Via checking or savings account
You can also make a monthly gift from your checking or savings account.