PCC Big Give Day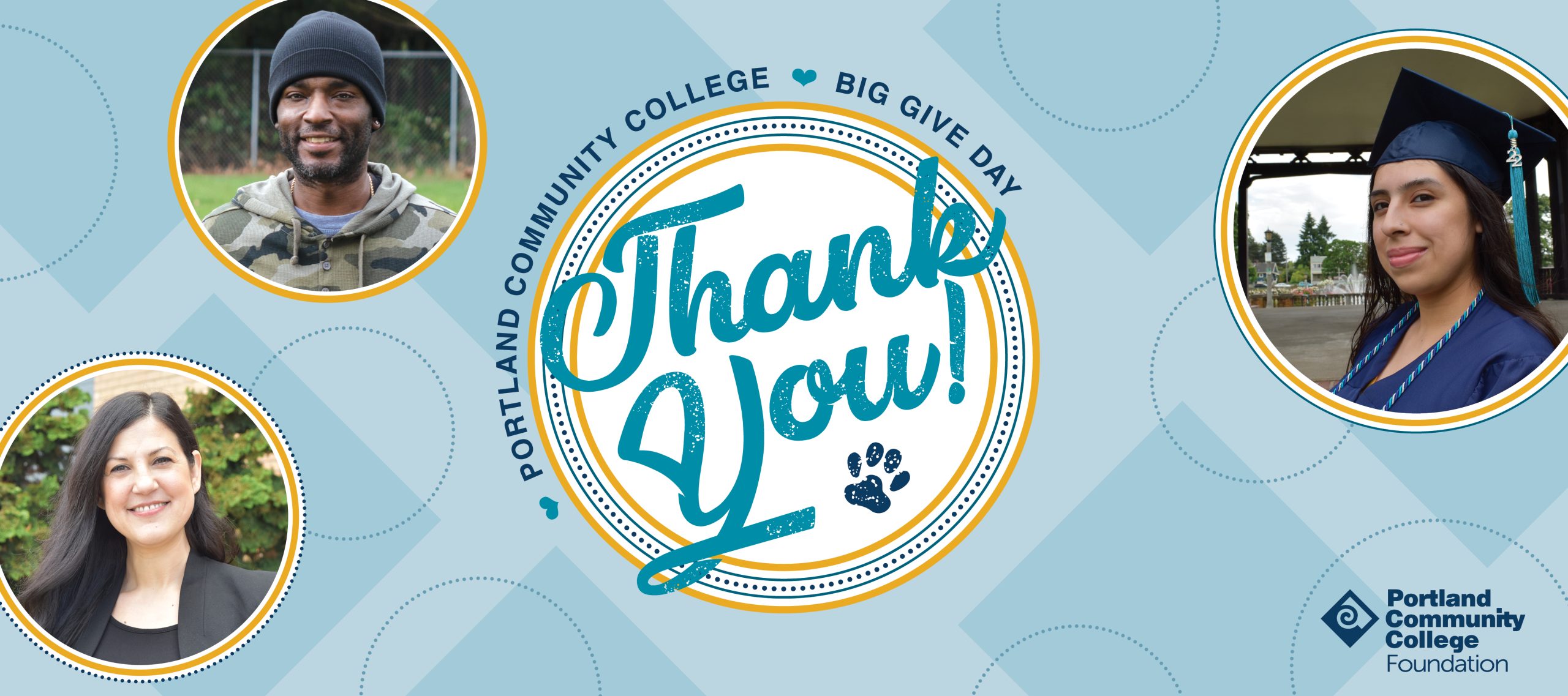 Portland Community College Foundation's 2022 Big Give Day
Thank you to everyone who helped make Big Give Day a BIG success. More than 487 donors contributed a total of $117,595 for scholarships and PCC programs! 
This year we want to thank our partners who generously matched donations for Big Give Day!
An anonymous donor for their generous unrestricted match of $10,000 

Jeffrey Lang and Ramona Svendgard – Food Insecurity Program 

The PCC Foundation Board of Directors –

PCC Student Scholarships

David Stout, Nerva Pfund  – ESOL

Tanya Kraus and Mike Guthrie – Exercise Science

Lisa Aasheim – Specialized Counseling Support for Students in Need

Mary & Bob Holmström – Cascade Festival of African Films

Don Brenneis & Wynne Furth, Ray & Jean Auel – PCC Student Scholarships

Debbie Boldrick – Gerontology

David Stout – HARTS

Cami Bishop & Bill Edwards and Joel Bradach – Kathleen Bradach Scholarship

Jenn Buman – Krista Davis Tonn Memorial Scholarship

Mark VanDomelen – Marie VanDomelen Memorial Scholarship

Heather Lang – Native & Indigenous Student Scholarship

Therese Debolock – CAMP

Therese Debolock, Councilor Nadia Hasan, John & Kathryn Stephens – PCC DREAMers

Sherry Kam – Rose Scholarship Endowment

Scannellaw – Tessa Conradi Memorial Paralegal Endowed Scholarship

Eileen Kravets – Food Insecurity Program

Alyson Lighthart – James Harrison Memorial Scholarship
When our community comes together, we can do BIG things. Your giving reaffirms our students' choice to pursue higher education. Thank you to all those who supported Big Give Day!
If you still want to make a gift in honor of Big Give Day, click the "Give Now" link below.
Questions about Big Give Day?
Call the PCC Foundation at 971-722-4382 or email your questions to pccfoundation@pcc.edu. We look forward to connecting with you!
Give to 2022 Big Give Day Now