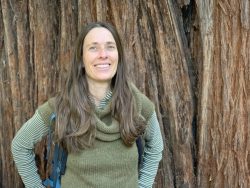 Hi all! My name is Taryn. I have been teaching environmental studies at PCC since 2008, and I love what I do.
My Background:
A Midwesterner at heart, I left Chicago when I was 17 to head west and start a new chapter of my life in Colorado. I graduated from the University of Colorado in 1999 with a BA in Environmental Science (hydrology focus). After a brief hiatus from school to take to the slopes in Tahoe, I headed back to Colorado for graduate school. I completed my MA in Physical Geography in 2005. My Master's thesis looked at the impacts of fire on the spatial and temporal variability of soil characteristics. I have since returned to take additional graduate classes in forestry and hydrogeology (University of Montana, 2006) and geology and environmental science ( Portland State University, 2019).
I have spent time working for the U.S. Geological Survey in Colorado, the U.S. Forest Service in Montana, and the Department of Environmental Quality here in Oregon. I started teaching at PCC in 2008. In addition to teaching, I also serve as one of the faculty coordinators for PCC's Community-Based Learning program. Please reach out if you are interested in learning more about community-based learning. I am also the faculty-lead for the Cascade Campus Green Team. We are a coalition of students, faculty and staff that work to make out campuses more sustainable. All are welcome to join!
Outside of work, I help to run the divestment team at 350PDX. I live in Portland with my two fabulous children, and a dog and a cat. I love hiking, camping, yoga, music, reading, photography, and knitting. And anything that gets me outside!
My teaching philosophy:
I strive to create a classroom community that is inclusive for all students. I recognize that individuals are unique and what works for one person may not work for another. I incorporate a variety of information and assignments into my classes in order to engage all types of learners. I aim to be flexible and open-minded while still providing an organized environment and structure for my students. Place-based and hands-on learning are especially impactful in my field, and I try to put these at the forefront of my curriculum. 
I believe that it is important to build curriculum through an equity lens; using Universal Design, providing culturally responsive content, and recognizing that every student has a unique history. I aim to highlight underrepresented groups in my teaching and give students space to explore what is important to them and their culture. As an instructor, I provide resources and materials to help my students to learn content and achieve course outcomes, but I also encourage my students to share their knowledge with me and with their peers so that we can all learn from one another.
Current Projects:
2021-2022 NCORE academy
Part of the 2020-2021 Equity Focused General Science Lab Improvement Grant
Creating an Antiracism in STEM Research Guide for the PCC library. I would love any feedback or additions!
Developing an OER reading list for all 3 of my science lab classes