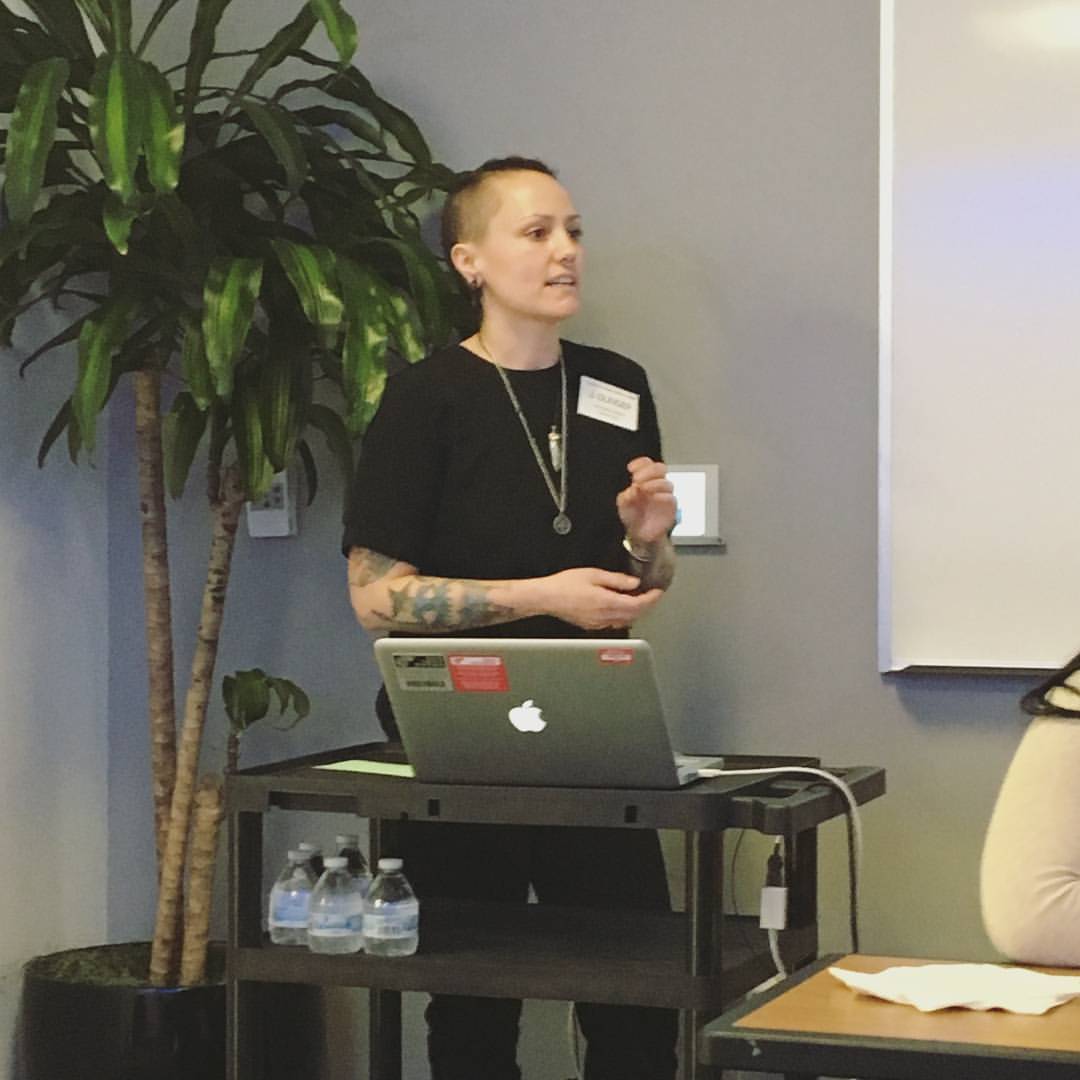 Education:
University of Dundee
Master of Design in Comics and Graphic Novels, 2016-2017
2017 Duncan of Jordanstone Comics Prize Recipient
Fully funded by the Principal's International Excellence Scholarship and the Discover Dundee Scholarship
Highest Distinction
Portland State University
Post-Baccalaureate Certificate, Comics Studies, 2016
Summa Cum Laude
Portland State University
B.S., Arts and Letters, 2014-2016
Minors: Medieval Studies, English and Art History
Summa Cum Laude
About:
Jay Olinger is an artist-scholar and  instructor of Comics Studies at Portland Community College. She graduated with Distinction from the University of Dundee with a Master of Design in Comics and Graphic Novels, fully funded by the University's International Excellence Scholarship. Her graduate thesis, Prompt(ed), explores media application at the intersection of fine art and comics, and was awarded the 2017 Duncan of Jordanstone Comics Prize. Residing in Portland, Or, Olinger researches Golden Age superheroines, creates short comics, and advocates for comics studies within higher education. She is also the program coordinator and graphic designer at Miss Anthology, a non-profit comics anthology and educational program.
Currently, Jay Olinger is working on developing programming, workshops, and community building with  Miss Anthology, a non-profit organization in Portland, Oregon that focuses on providing female and LGBTQIA2S+ youth with resources and materials. She is also developing hybrid and online comics courses, lesson plans, activities, and syllabi at Portland Community College. Olinger has previously presented on the formal qualities of Becky Cloonan's The Mire, and is continuing her research on the Golden Age heroine, Fantomah, which was presented at the 2018 Comics Arts Conference at San Diego Comic Con. She will be presenting "Poe-nography: From Gothic to Erotic" at this years Comics Studies Society conference in Toronto, and "Adapting Jane" at the Comics Arts Conference in San Diego. 
Current Courses:
Summer 2019:
ART 102 Understanding the Visual Arts, CRN 34450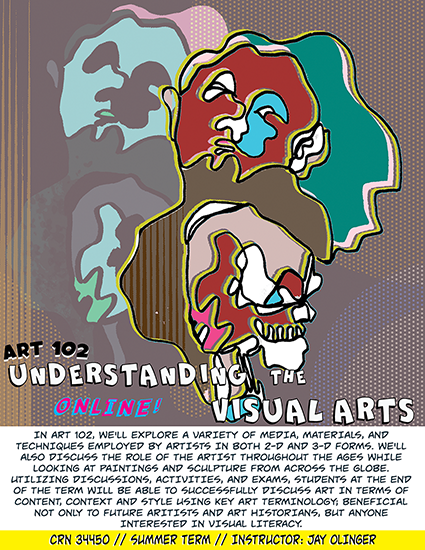 Upcoming Courses:
Fall 2019:
ART 102 Understanding the Visual Arts CRN 45829
Sylvania Campus, CT 212
M/W, 9am-10:50am
4 credits
---
Spring 2019 Courses:
ART 102 Understanding the Visual Arts  CRN 23883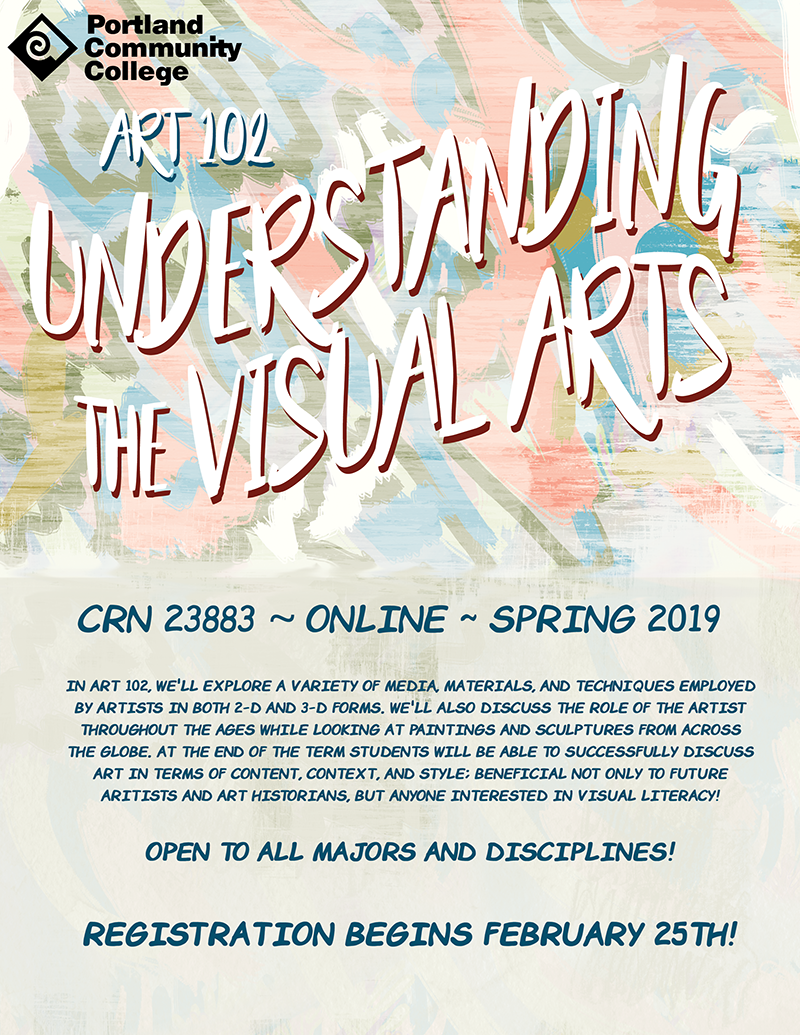 This online course explores the various definitions of art, what artists do and why they do it, explores various mediums from painting to knitting, and covers the basics of visual literacy in order to think critically about today's global culture. Perfect for any student looking to tap into their own inner creativity and learn about how art can explore themes of representation, gender, power, culture, and more throughout the ages.
ART 217 Comics Art & Literature , CRN 20714


What exactly is a comic? Do you have a definition?
This yearly course explores what constitutes sequential art and it's various definitions by examining both the history of the comic book and reading excerpts from contemporary comics scholars. Students will engage in visual rhetoric and analysis to examine assigned texts and explore the relationship between text and image. Spring 2019 will focus on banned/challenged books since WWI and will look at not only the visual components, but engage and think critically about the context, the culture, and why the selected work was challenged. Comics Art & Literature blends both writing and creative assignments with a special guest lecture from the Comic Book Legal Defense Fund.
Questions?
Feel free to contact me via email at any time!
Error: The image above does not have Alt Text