Online
Accessing eTutoring
Log-in to the eTutoring site using the following:
Username: same as your MyPCC username
Password: your PCC ID number or G# starting with a capital letter
*Note: You will need to update your password after using your G# for your initial log in.
What is eTutoring?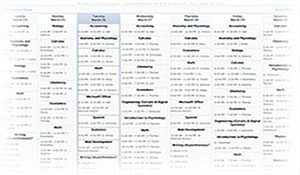 PCC is partnering with the Western eTutoring Consortium to provide free online professional tutoring to all for-credit PCC students. Subjects include:
Accounting
American Sign Language
Anatomy & Physiology
Biology
Chemistry
Computer Info Systems (topics include Computer Concepts I and II, Java, PHP Web Development I, Data Modeling, SQL Intro)
Computer Science and  (topics include, Intro to CS, Intro to Networks, Data Structures, Computer Programming I and II)
Economics
Math (Developmental through Calculus)
Microsoft Office
Physics
Psychology
Spanish
Statistics
Web Development
Writing (Live sessions available)
If you have questions about a subject, or need help finding an etutor, please feel free to contact the PCC eTutoring Coordinator directly.