Southeast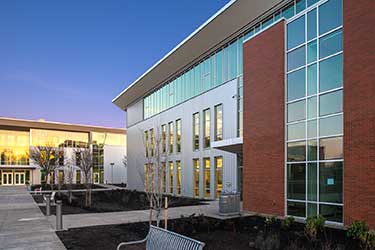 The TLC advances the mission of Portland Community College by providing resources for faculty and staff to continue to deliver accessible, quality education to our students. The TLC is most successful when faculty and staff are engaged in creating, facilitating, and attending sessions. The TLC provides meeting space, financial resources, and assistance in planning and implementing workshops, conferences, information sessions, and job-specific pedagogical training.
Facility information
The Southeast TLC is located in Mount Tabor Hall, Room 109. The TLC is a resource for faculty and staff on campus, whether you need a place to eat lunch, prepare for class, relax, meet with colleagues, or grade papers. You can also reserve the TLC for an event by emailing or calling Samm Erickson, the TLC Coordinator, at ext. 6011.
The TLC is available all hours the campus is open. If you need the door code to enter into Mt. Tabor 108, please check with your administrative assistant.
See resources available at Southeast Campus.
Events in the SE TLC
To see events scheduled in the SE TLC please visit the Southeast Teaching Learning Center (TLC) calendar. To schedule an event please check the calendar for availability and contact the TLC Coordinator to schedule.
TLC events feedback
Did you enjoy an event? Tell us to have more just like it. Was an event unbearable? Tell us how we can fix it. No events of interest? Suggest one. We are waiting to hear from you, so get in touch.