Collaborations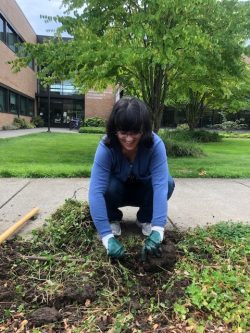 The Cascade Learning Garden collaborates with courses, resource centers, clubs, and student groups to engage our community in meaningful nature-based experiences.
Virtual Community-Based Learning courses
Garden-based learning can be an excellent way to integrate classroom learning into the real world for your class. Whether you teach science, math, health, arts, creative writing, physical education or any subject the learning garden offers an extension for learning.
Just how do we do this in remote operations with virtual classrooms and a closed learning garden? Cascade Urban Learning Garden Coordinator Jolie Donohue and Environmental Studies faculty Taryn Oakley have created and recreated multiple successful virtual Community-Based Learning (CBL) activities to meaningfully engage students. After a virtual tour of the Cascade Learning Garden, students worked in small groups on the following projects:
ESR 141 Introduction to Individual Sustainability
Define food justice in a community college setting and draft a mission statement for the learning garden that includes our four goals. This mission statement is now on our website and used in virtual tours.
Choose one vegetable from a list of 12 crops harvested seasonally in the learning garden and create an infographic with growing, nutritional, cooking, and cultural information. Draft infographics in languages in addition to English. These infographics will be distributed to students via social media, garden signage, and in panther pantry produce bags.
ESR 171 Environmental Science: Biological Perspectives I
Identify how racism is prevalent in gardening and horticulture, learn about BIPOC gardeners and farmers, and create an equity statement for the learning garden. This information is informing the learning garden work to be actively anti-racist and equitable.
ESR 172 Environmental Science: Biological Perspectives II
Explore the impact of organic approved pesticides on pollinators and beneficial bugs. Choose one garden pest prevalent in the cascade learning garden, research recommended organic pesticide, identify the impact on pollinators and beneficial bugs, and create an infographic that explains alternative pest management solutions. These infographics will be used in garden signage and community education.
If you are interested in a virtual learning garden tour, community based learning activity for your class, or event for your resource center, please contact Jolie Donohue, Cascade Learning Garden Coordinator.