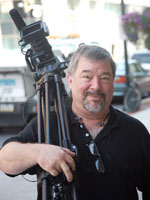 Seth Bloombaum, Video Production Instructor
in PCC's Multimedia Program
On location in Harrisburg, PA
Contact Info
ph. 971-722-5501
email seth.bloombaum@pcc.edu
Registration for Multimedia Classes
With the increasing recognition our program is receiving, it should be no surprise that Multimedia enrollment is higher than it's ever been, and is still going up!
Best advice: Register early, register often, avoid disappointment. Declare your Multimedia major, and be among the first group to register for MM courses. Stay in touch with the department, we're working hard for you, that's why we're here.
More departmental info at  pcc.edu/programs/multimedia/.
If you're unfamiliar with our program, I strongly recommend scheduling an advising appointment with Greg Walters or Darcy Demers for guidance on Multimedia and PCC.
Seth Bloombaum has over 35 years professional experience in TV broadcasting,
live event streaming, and for-client projects.
Awards have included Silver and Gold Tellys,
IABC's Gold Quill Award, and OMPA's Cascade Award.
He teaches video, audio, 360 film, XR, and drone classes.