Dr. Rebecka Rising Daye
P/T Instructor, Anthropology
rebecka.daye@pcc.edu

Welcome to my homepage!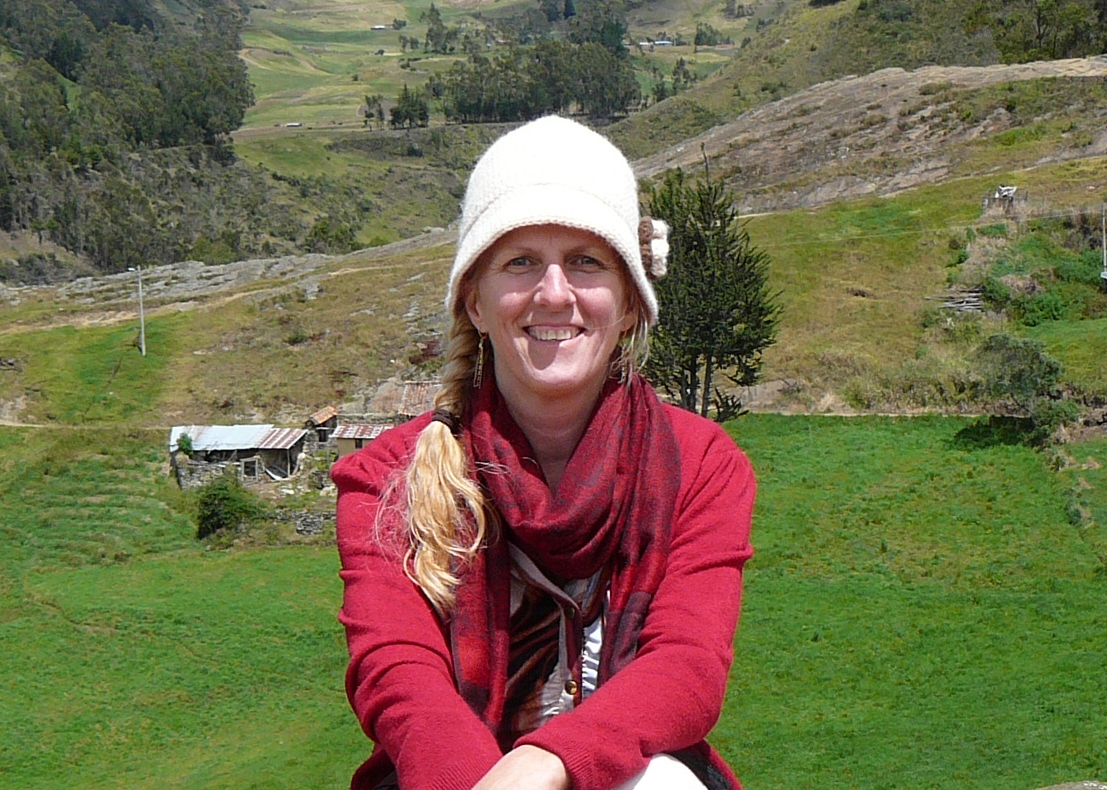 Photo of me taken during field research in Cañar, Ecuador 2013
Greetings! I graduated with my PhD in Applied Anthropology from Oregon State University in 2019. Thus, I am officially Dr. Daye, but you're welcome to call me Rebecka.
I have been teaching anthropology for 10 years in both on-campus and online formats. I am an applied cultural anthropologist with a focus on socioeconomics, social movements, sociolinguistics, social ecology and the political economy although my interests are quite broad. My research has focused on various aspects of alternative agrifood systems including food sovereignty in Ecuador, food democracy in Southern Oregon, GMO-free activism, environmental ethics and well-being in Ecuador and the United States. I have been teaching at PCC since 2018.
In addition to being an applied anthropologist, I also enjoy cooking, writing poetry, and reading on a variety of topics (historical fiction with a cross-cultural flare is a favorite genre). I love hiking and camping in the mountains. I am trained in various ballroom dance styles including Waltz, Foxtrot, American Tango, and East Coast Swing as well as Latin Ballroom Salsa and Cuban Salsa. Costuming and cosplay are favorite activities. I speak some Spanish and American Sign Language. The weirdest thing I've ever eaten is a hot dog.
Publications:
Daye, Rebecka R. (2020). Local Values and Motivations for GMO-free Activism in Rural Southern Oregon. In A. J. Willow & K. A. Yotebieng (Eds.), Anthropology and Activism (pp. 20). New York: Routledge
Daye, Rebecka R. (2020). Competing Food Sovereignties: Locating Food Democracy between GMO-Free Activism and State Preemptive Laws. Agriculture and Human Values, online (May 2020).
Daye, Rebecka R. (2019). Competing Food Sovereignties: Food Democracy and GMO-free Activism in Southern Oregon. (PhD Dissertation), Oregon State University, Corvallis, OR. Retrieved from https://ir.library.oregonstate.edu/concern/graduate_thesis_or_dissertations/4q77fx61t
Daye, Rebecka R. (2011). Alternative Agrifood Movements in an Age of Industrialized Agriculture: An Ecuadorian Case Study. (Masters), Oregon State University, Corvallis. Retrieved from http://ir.library.oregonstate.edu/xmlui/handle/1957/21147