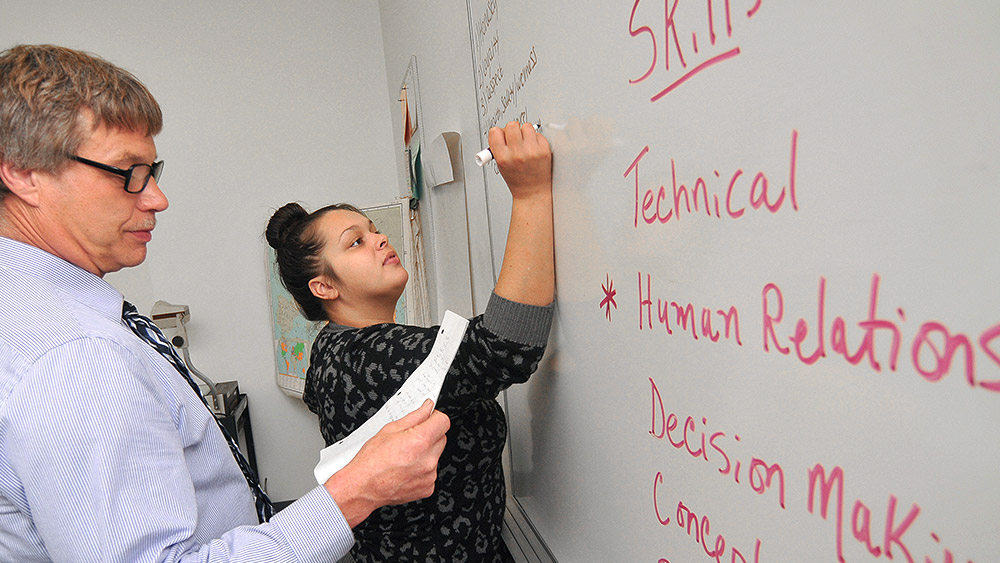 Why Occupational Skills Training at PCC?
PCC's Occupational Skills Training (OST) is a cost-effective worker training program using a worksite-based training model. Every year, our program helps hundreds of students train in their chosen occupational area, preparing them for employment. If you're looking for a way to get bottom-line results quickly, Occupational Skills Training is a great choice. Consider Occupational Skills Training as your first choice for training.
We are flexible and committed to your client's training needs! Occupational Skills Training regularly works with:
Disabled veterans
State vocational rehabilitation customers
Injured workers in both Oregon and Washington
Oregon Employment Department's Trade Act program
Our program is a Career Technical Education program training students to a career pathway. We invest time in our training plans, which range from 3 months to 2 years, and provide students with a long-term vocational path.
What does Occupational Skills Training offer?
Flexibility

Plans can start at any time.
We offer an open-entry, open-exit training model.

Variety

Occupational goals represent nearly every industry.
Call us if you seek training for something unique.

Individualized plan and curriculum

Every plan can be customized.

Location

We work throughout Oregon, Washington, and beyond.
Call us for details.

Credentials

Students can earn Portland Community College certificates.

Less than one year certificate
One-year certificate
Two-year certificates are available.

Access

No academic prerequisites are required to participate in this program.

Hands-on and worksite-based training

Training takes place at an employer host site.
Occupational Skills Training is great for your clients who prefer hands-on, real-world experience.

Tuition-based pricing
You can count on the OST team to:
Prepare your clients for employment

Employers move applicants with hands-on experience to the front of the line.

Communicate

We remain in contact with students, host sites, and you throughout the training.

Document training and progress with timesheets, trainer reports, and quarterly reviews.
Bring expertise

Occupational Skills Training is the largest program of it's kind in Oregon.
Our team has over 30 combined years of experience, and this program has been helping students for over 20 years at Portland Community College.

Provide workers compensation coverage for each student while training at an employer host site.
Consult with you

Call us if you are having difficulty finding a host employer.

Bring results

Over 50% of OST students are offered employment at the host training site. Many others go on to find related employment elsewhere.
Wages average over $20 per hour.
Certificates
Degrees and certificates by number of terms to complete
Award
Length
Financial aid eligible
Currently accepting students?
Certificate: Occupational Skills Training
2 years

ban

Yes, contact us at 971-722-6127 or ost@pcc.edu to get started.
Certificate: Occupational Skills Training
1 year

ban

Certificate: Occupational Skills Training
Less than 1 year

ban
Locations
Next steps
Whether you're a host employer looking for an intern or a student looking for career training, it's easy to get started:
Interested in learning more? We would love to hear from you. Occupational Skills Training is a terrific option for your clients. We offer flexibility, customization, and measurable results. We welcome your email or call to discuss your particular case and how we can help. Please contact us today for a quick quote or more information at 971-722-6127 or ost@pcc.edu.