Therapeutic Horticulture Activity Specialist, Career Pathway certificate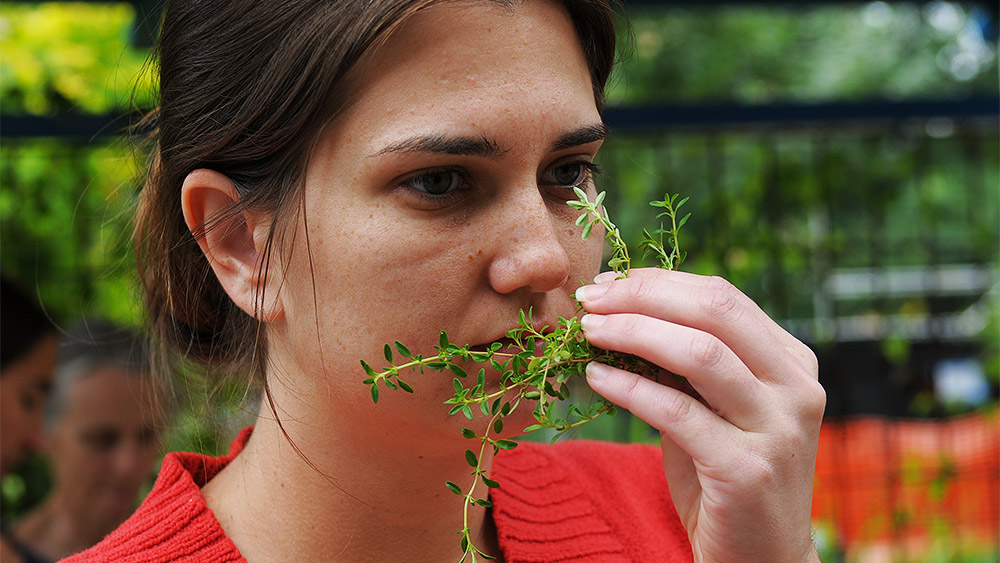 Why choose the Therapeutic Horticulture Activity Specialist Career Pathway certificate at PCC?
AHTA accredited horticultural therapy certificate program
Our Therapeutic Horticulture Activity Specialist (THAS) program is an American Horticultural Therapy Association accredited certificate program, which prepares students to apply for the Horticultural Therapist-Registered (HTR) designation.
PCC provides the core horticulture therapy requirements for registration as a horticultural therapist and a Therapeutic Horticulture Activity Specialist certificate for students not yet meeting the American Horticultural Therapy Association (AHTA) registered horticultural therapist requirements. This enables students to develop the knowledge and skills to utilize therapeutic horticulture with diverse populations in a variety of settings.
Internships
The THAS program offers HTR-supervised internship opportunities meeting AHTA standards. See the AHTA internship handbook for more information.[opens in new window]
Certificate students who are not seeking HTR registration can find suitable locations to gain therapeutic horticulture experience using the PCC Cooperative Education internship system, provided through the Gerontology program's GRN 280A internship credits (4 credits of internship are required for the THAS certificate, representing 120 work hours). Contact Melissa Bierman for details.
Therapeutic Learning Garden
PCC is in the process of developing our Therapeutic Learning Garden (TLG), the first healing and learning garden of its kind on a college campus. However, due to current budgeting challenges, fundraising and other development activities have been suspended until Summer 2019.
When completed, the garden will provide pioneering, replicable curricula for creating healing sanctuaries and vibrant learning environments. It will become a cutting-edge hub of natural and neurological innovation that will benefit PCC faculty, staff, and students, as well as surrounding neighborhood residents, the Portland Oregon metropolitan region, and beyond.
Sharing characteristics of all therapeutic gardens, this learning and healing garden will also offer:
A practicum site for PCC's horticultural therapy program.
Nature-Neuro: PCC's TLG has selected and embraced this term to capture the consilience of nature and neuroscience research.
A laboratory applying cutting-edge research to design healing spaces and enriching learning activities.
Formal and informal learning spaces for multiple disciplines and programs.
A training site for professionals applying therapeutic horticulture.
Demonstration areas for home, business, health facility, school, and park gardens.
A natural, calming setting for restoration, meditation, reflection, and movement.
Salary
Activity Directors and Life Enrichment Coordinators: $15 to $29 per hour or up to $60,320 per year
Recreational Therapists, Horticultural Therapists, and Program Coordinators: $17.70 to $29.74 per hour or $61,861 per year
Horticultural Therapy sequence
The core therapeutic horticulture courses, GRN 267-272, are now offered in 4 terms, online and remotely. The next sequence starts in Summer term 2021.
Sequence schedule: Summer 2021 through Spring 2022 detailed 2021-22 schedule)
Format: Online and remote delivery, with Zoom conferencing (recorded), videos, and other enhancements
Textbooks: THAS textbooks
Registration and further information: Summer term registration begins May 17. Contact gero@pcc.edu for additional information.
COVID-19 updates
This 4-term, 14-credit HT sequence will continue to be offered in an all-online/remote format, from the Summer 2021 term through the Spring 2022 terms (see detailed 2021-22 schedule). If on-campus class meetings become possible, they will be offered live and recorded to accommodate students living at a distance. Contact gero@pcc.edu to be added to our list of students interested in this sequence for additional information.
Award information
Degrees and certificates by number of terms to complete

| Award | Length | Financial aid eligible | Currently accepting students? |
| --- | --- | --- | --- |
| Career Pathway Certificate: Therapeutic Horticulture Activity Specialist | Less than 1 year | | |
Learn more about Gerontology and all 4 awards available »
What will you learn?
Students completing this certificate will be able to:
Work effectively with diverse populations in therapeutic gardens and therapeutic horticulture programs within pediatric, geriatric, psychiatric, offender, vocational and medical rehabilitation, educational, and other day or residential treatment facilities.
Design, implement, and evaluate therapeutic garden and therapeutic horticulture programs that meet the physical, cognitive, and psychosocial needs of clients or patients.
Complete the core therapeutic horticulture courses required to be registered as a Horticultural Therapist-Registered (HTR) by the American Horticultural Therapy Association.

When combined with a bachelor's (or other higher degree including 18 credits of human sciences and 18 credits of horticulture on the approved AHTA list) as well as an AHTA-approved 480-hour internship, the certificate prepares students for designation as an AHTA Horticultural Therapist-Registered (HTR).
Oregon State University's Horticulture BS degree offers a Therapeutic Horticulture option incorporating PCC's core THAS courses, GRN 267-272. OSU's BS degree is a great option for students who need a bachelor's degree for AHTA's HTR registration.

Enhance their skills of health and human services as a professional, with training and education in related fields of rehabilitation, treatment, therapy, and care.
Courses
Course listing for the 2021-2022 catalog year.
Course List
Code
Title
Credits

GRN 165

Basic Activity Director Training
2

GRN 166

Therapeutic Horticulture in Health and Human Services
1

GRN 234

Introduction to Dementia Care & Practice
4

GRN 267

Introduction to Professional Therapeutic Horticulture
3

GRN 268

Techniques & Adaptive Strategies in Therapeutic Horticulture
2

GRN 269

Therapeutic Horticulture Skills I
2

GRN 270

Therapeutic Horticulture Programming for Adults & Children
2

GRN 271

Therapeutic Horticulture Skills II
2

GRN 272

Therapeutic Garden Design, Maintenance & Programming
3

GRN 273

Interior Plants
3

GRN 280A

CE: Gerontology Internship 1
4

GRN 280B

Gerontology Internship Seminar
1

GRN 282

Gerontology Professional Seminar
2

PSY 236

Psychology of Adult Development and Aging
4

SOC 223

Sociology of the Life Course
4
Total Credits
39
| | |
| --- | --- |
| 1 | Certificate candidates who have related work experience with aging adults may petition to substitute one credit for every 70 hours worked toward the required internship credits, up to a total of three credits. |
What will you do?
Therapeutic horticulture activity specialists work with diverse populations in therapeutic gardens and horticultural therapy programs within pediatric, geriatric, psychiatric, offender, vocational and medical rehabilitation, and other day or residential treatment and care facilities and activity programs. General health and human services professionals may also integrate therapeutic horticulture into their practice. Horticultural therapists may also hold positions in rehabilitation, garden, farm, or other nature programming settings.
Their job titles may include therapeutic horticulturist, garden program coordinator, horticultural activity or life enrichment coordinator, school garden coordinator, or nature programming specialist.
For more information, download the THAS program brochure: Gerontology: Therapeutic Horticulture Activity Specialist (THAS) certificate. Note that PCC Human Sciences and Horticulture classes that meet AHTA standards are listed in this description.
The credits earned in this Career Pathway certificate apply toward the Gerontology AAS degree.
Next steps
Applying to PCC is free and only takes a few minutes.Apply now

Not quite ready to apply?
We can help you get the information you need.