Faculty
View all Exercise Science and Physical Education faculty.
Tanya R. Littrell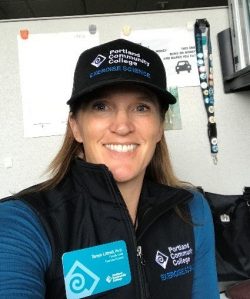 Tanya R. Littrell, Ph.D., EP-C, CWP, Exercise is Medicine® Credential Level II
Faculty Department Chair
Growing up as an athlete I always had an interest in fitness, sports, and the human body. I attended the University of Oregon obtaining a Bachelor of Science in Physical Education/Exercise and Sport Science and a minor in Biology. After graduation, I worked full-time for the YMCA in Portland. I directed personal training, aerobics, gymnastics, kids programs, and aquatic exercise. After teaching YMCA certification workshops, I decided I wanted to teach adults about the amazing human body full-time. That desire lead me to Oregon State University, a graduate teaching position, and two graduate degrees in Exercise Physiology (M.S. and Ph.D.). I'm so happy that I am now able to teach, coordinate, and share my health, fitness, and wellness passions with the PCC community!
I teach FT 204 Advanced Exercise Physiology, FT 202 Fitness and Aging, and FT 282B Professional Activities Older Adult Fitness, plus a number of PE classes. I am a physiologist, so many of my classes focus on basic exercise physiology background knowledge and theory that students need to become great fitness instructors, trainers, and/or further their education. Most of my time outside of PCC is spent managing our busy family life and home, plus having fun with my husband, children, and dog. I am a native Oregonian and I love to trail run, mountain bike, hike, snowboard, and be outside as much as possible!
My teaching and fitness mission: To share my passion and knowledge for the amazing human body and the benefits of exercise with my students, and then have them "pay it forward" with their clients, family, and friends.
Michael Boggs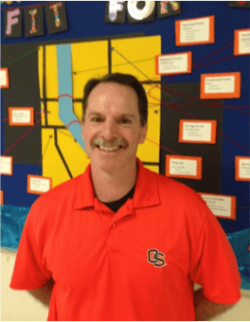 Michael Boggs, MBA, CSCS, USAW
Before coming to PCC, I spent 20 years working as a fitness professional for companies such as the YMCA, Providence Health System, Riverplace Athletic Club, and Norwegian Cruise Line. I went back to school and earned a Master's degree and started my own fitness business partnering with a group of medical professionals providing specialized fitness assessments and post-rehabilitation exercise. During this time I found that my fitness knowledge and experiences were also in demand at local colleges. I soon began teaching Fitness and Health courses part-time at Clark College, Concordia University, and PCC. When a position became available in 2010, I jumped at the chance to join the PCC teaching team full-time.
I've been with PCC overall since 2006 and in that time I've taught a variety of courses within the Exercise Science and Physical Education departments, such as FT 104 Fitness Assessment, FT 201 Advanced Fitness Assessment and Prescription, FT 203 Fitness Promotion and two of the Professional Activity courses, Weight Training and Team Sports. I also teach courses that are used as prerequisites for some EXS classes: PE 295 Health and Fitness for Life and PE 181 Weight Training. My current role at PCC includes being the Faculty Department Chair for the Physical Education Department. This has reduced my teaching responsibilities in EXS, however, I continue to stay current in the field and support all EXS and PE faculty.
My life outside of PCC revolves around my family, friends, community, and the beautiful Northwest. I live in the South Beaverton area with my wife and two boys and coach sports year-round particularly baseball, where I am involved in a baseball development program preparing players to play High School and College baseball. My family and I love to camp, hike, and fish and just enjoy traveling and exploring everything the Northwest has to offer.
My teaching and fitness mission: To share my knowledge and experiences with others and to be a positive role model for anyone interested in fitness and health.
Kelsey Deacon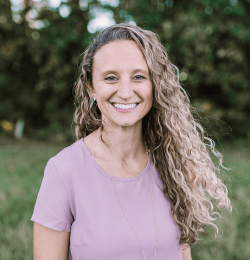 Kelsey Deacon, MEd, MS, E-RYT
My path to health and wellness started at a very young age. I grew up playing every sport possible and after playing college basketball I wanted to pass along my love for fitness to others. After undergrad, I attended Grand Valley State University and received my Master's in Higher Education, while working as a graduate assistant for the women's basketball team. After deciding I did not want to coach basketball, I took a position at Rosalind Franklin University as there Fitness and Recreation Director. For eight years I managed the fitness center, taught every fitness class possible, and hosted different health and wellness workshop. While at RFU, I fell in love with creating overall wellbeing that not only focused on fitness but also nutrition, and I finished my Master's in Health Promotion and Wellness in 2017. After 30 years of living in the Midwest, my partner and I decided to move to the beautiful PNW where I pursuing my dream of teaching yoga fulltime and passing along my love for nutrition and fitness at PCC!
At PCC, I teach FT 103 Nutrition for Exercise in the EXS program and Yoga/Pilates for the PE department.
Outside of PCC, you can usually find me on my yoga mat, playing on my SUP or hiking with my boyfriend Kyle, our daughter Emery and our husky Gunner. We love exploring the stunning PNW and any chance we get, we try to get out and enjoy it. I am also from Green Bay, WI so on Sundays, I will be cheering on the green and gold!
My teaching and fitness mission: To share my love and knowledge for healthy living with students, to inspire them to be advocates in the health and wellness field, to impact positive change on others around them.
Mike Guthrie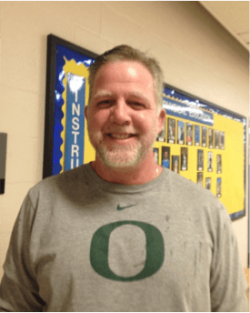 Mike Guthrie, MST, EP-C
As a child, I loved sports, PE, and movement, however, after high school, I didn't know what I wanted to do. I received my BA in Business Administration: Marketing from the University of Hawaii in 1985. After not being happy in my work, my wife said, "Mike, go become a coach or a PE teacher!" For the first time, I got excited about my career. I earned a Master of Science in Teaching (Exercise Science and Sports Studies) degree from Portland State University and taught college PE classes. I was the Athletic Director at the Mittleman Jewish Community Center for 6.5 years before landing my "dream job" teaching PE and FT at PCC. I hope to be here at PCC for the remainder of my career!
I teach or have taught the following courses in the Exercise Science program: FT 100 Emergency Response for Fitness Professionals, FT 101 Exploring Exercise Science Careers, FT 110 Injury Prevention, FT 180/280 Internship Prep/Internship, Professional Activities Weight Training, Professional Activities Aquatics, and FT 203 Fitness Promotion.
Yes, I have a life outside of PCC! I have been married to my wonderful wife, Dawn, for over 30 years. I have two awesome sons, who are both in college. I am very involved in activities at my local church. I still have a love for sports (playing and watching – love my Ducks, Rams, and Blazers!), fishing, and backpacking. My primary fitness activities revolve around road cycling and swimming. I train during the school year at the PCC Sylvania pool and the indoor cycling studio and then compete in open water swimming and/or road cycling events in the summer months.
My teaching and fitness mission: To provide an educational environment where students will succeed and therefore experience not only positive life change for them but more importantly, through them, affect positive life change in others around them.
Shannon Gaul
Shannon Gaul, MS, LMT, PTA
Beginning at the age of five, my dad had me playing sports. I enjoyed team sports and played college volleyball and softball. With my passion for athletics, I began the pursuit of my education in Health, Physical Education, and Sports Medicine at Adrian College. I fell in love with the mechanics of the body and how it functions in dysfunction, and that lead me to my Master's degree in Biomechanics and Exercise Science at the University of Toledo. I worked in corporate wellness at the Ford Motor Plant in Michigan with individuals who suffered from work-related injuries. After moving to Seattle, I worked at an integrative health clinic focusing on individuals with chronic disease. My passion for teaching grew and I knew that I wanted to teach at the community college level. I moved to Eugene, OR, and began my teaching career in the areas of Physical Education and Exercise/Movement Science. I taught and developed classes in Anatomy and Kinesiology, Injury and Prevention, and Therapeutic Exercise, just to name a few. My passion for teaching has increased over the years and I am excited to be a part of the team at PCC.
I have taught a number of the PCC Exercise Science courses, including FT 131 Structure and Function of the Human Body, FT 106 Analysis of Movement, FT 103 Nutrition for Fitness Instructors, and FT 105 Exercise Prescription. I have taught a variety of physical education courses, such as Core Conditioning, Boot camp, Walking, Jogging, and Weight Training. Currently, I am teaching part-time for PCC, specializing in an online mediation class for the PE department and I am a substitute for the EXS program.
I love to travel to other countries, learn about other cultures, and to be in nature. I am an avid reader of spirituality and the facets of becoming an involved human being on this planet. I enjoy outdoor team sports, playing board games, and just hanging out with friends.
My teaching and fitness mission: My mission is to be a facilitator of learning. I believe my role is to offer students the opportunity to grow and explore themselves professionally and personally through varied experiences and education methods.
Alma Eaton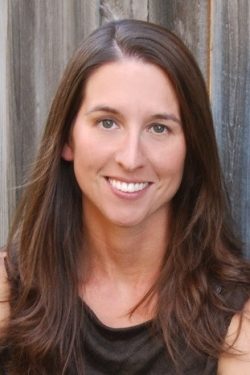 Alma Eaton, MS, CSCS
My path through the fitness industry began with directing the group fitness program for fitness centers on US Marine Corps bases in Okinawa, Japan. At that time I was just finishing my BS in Business Administration and had no idea what I wanted to be when I grew up. Shortly before then, I was first introduced to the world of fitness through a group fitness certification and quickly realized what I wanted to do. I continued my work with the Marines for nearly nine years, progressing into directing the health and fitness programs aboard MCAS Iwakuni where I provided education to Marines on strength and conditioning, nutrition, weight management, and injury prevention. During that time I chose to complete an MS in Exercise Science and Health Promotion so that I could be better at my primary role – educating Marines on how to best improve their physical performance. After nine years overseas, I decided it was time to come "home" to the Portland area. In 2013, I moved across the ocean to start teaching as a part-time faculty member at PCC. From 2013 to 2017, I also directed fitness programs at some local private athletic clubs.
I teach a number of PE classes at PCC, ranging from yoga and Pilates to weight training and boot camp. In the Exercise Science program, I teach Professional Activities Group Fitness and Professional Activities Weight Training, FT 101 Exploring Exercise Science Careers, and FT 180 Internship Prep.
My free time can be broken into two areas: being active outside or creative inside. You will often find me hiking on the weekends as I enjoy the beauty of the Pacific Northwest. I also do a lot of biking and gardening throughout the summer months. Indoors, I spend a lot of time creating anything I dream of: cooking, canning, baking, sewing, beading, or whatever crazy idea I come up with.
My teaching and fitness mission: To effect positive change in the health of others by mentoring and inspiring future fitness leaders.
Valerie Limbrunner-Bartlett
Valerie Limbrunner-Bartlett, MPH, BS, ACSM Autism Exercise Specialist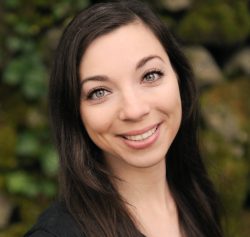 As a former professional ballet dancer, health and wellness were always paramount in my personal and professional lifestyle. After retiring from a career in dance, I found that the transition into teaching health and fitness came naturally, keeping my passion for wellness alive in various new ways. Health involves more than only exercise and it brings me great joy working with students to bring balance and wellbeing with a holistic health approach.
After graduating from the Exercise Science program at PCC, I earned a Bachelor of Science degree with a triple major in Exercise Science, School Health Education, and Community Health.  I continued on to earn a Master's Degree in Public Health, with a focus in Health Education and Health Promotion. I regularly attend workshops and earn certifications to continue my education and growth in our exciting and ever developing field!
I have taught a wide range of classes at PCC for over 10 years in lecture and laboratory format in the Physical Education, Health Studies, and now the Exercise Science department. In Exercise Science I teach FT 202 Fitness & Aging. Some of the PE classes I teach include Core Fitness, Weight Training, Ballet, and Health & Fitness for Life, to name a few.
In my free time I enjoy hiking, baking, reading, and spending time with my family.
My teaching and fitness mission: To actively engage with students, meeting them at their own current level of health, wellness, and education in a non-judgmental way, so they feel empowered to make the best choices that fit their personal, professional, and wellness goals.
Jane Loverin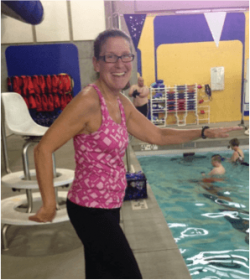 Jane Loverin, MST
My educational background includes a BA in Physical Education, Health, Recreation & Dance from Pacific Lutheran University and an MS in Teaching Physical Education from Portland State University. My previous work experience includes private club fitness and aquatics, YMCA director and fitness programming, corporate fitness, and teaching high school health and physical education and teaching and managing aquatic/fitness facilities. In 2007, I began working at PCC teaching a wide variety of classes such as Aquatic Fitness, Core & Strength Fitness, Indoor Cycling, Circuit Training, Swimming, Swim Conditioning, Boot Camp and more. I love teaching at PCC, the students/faculty are wonderful and I enjoy helping others reach their full potential!
As a member of the Exercise Science Faculty team, I serve as an instructor for courses such as FT 203 Fitness Promotion, FT 104 Fitness Assessment, and FT 105 Exercise Prescription. Specifically for Professional Activities, I work with students who want to learn to teach aquatic fitness (ProAct Aquatics). I have also coordinated a program called Walk with Ease, which is a walking program designed for people with arthritis. I serve on the PE and Exercise Science curriculum planning groups and provide insight and feedback with the programs, equipment, and class activities that PCC offers.
I am a volunteer with my daughter's sports programs in Lake Oswego (water polo, swimming, cheer, and track and field). I am a substitute teacher for Sunday School at Our Saviors Lutheran Church. I enjoy walking, running, swimming, tennis, singing, and teaching/participating in fitness classes. I teach Water Exercise (year-round) and swimming for Stafford Hills Club (summers). I compete in the Hood to Coast and currently the Portland to Coast Relay Walking race event.
My teaching and fitness mission: To help others meet their set goals and to strive to be healthy and fit (physically, mentally, and spiritually).
Jill Tuleya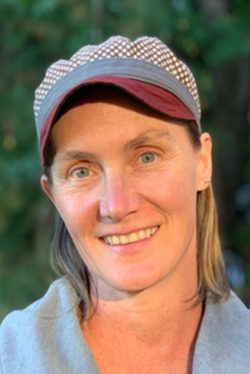 Jill Tuleya, MA, E-RYT, C-IAYT
My higher education career began as a first-generation college transfer student at Portland State University. As I pursued my MA in English Literature, I also mentored University Studies where I fell in love with teaching and student advocacy. This work led to other student support roles at PSU through classroom-based student success programming, grant writing, and grant program administration. After graduate school and at the end of one particularly large grant project, I left PSU to raise my family and manage my health. It was during these years I found yoga and began what would become my second-wave career focus as a yoga and mindfulness teacher, trainer, and therapist.
In 2012, I was invited to PCC to teach PE 283: Professional Activities: Mind-Body Disciplines, a 2-credit Exercise Science course in which students are introduced to a number of mind-body practices and teaching techniques that may be applied in other group or 1:1 settings. I love it when students report back their successes in bringing these techniques to clients! I also teach Yoga, Meditation, and Back Care and have led several mindfulness workshops and trainings at PCC.
I have been married to my Mike for over 21 years. We have two daughters – one at OSU and the other at Grant High School. I love Portland and celebrate my time here via bike commutes, farmer's markets, walking or having tea with friends, cooking, and working in my garden. Away from the city, you can find me outdoors—hiking, camping, swimming, beachcombing, snowshoeing, and seeking hot springs. I am also a certified yoga therapist and provide bedside yoga to individuals whose physical health is compromised.
My teaching and fitness mission: To recognize and support students and clients as unique and whole to foster personal growth alongside intellectual and emotional development.
Jeff Perrault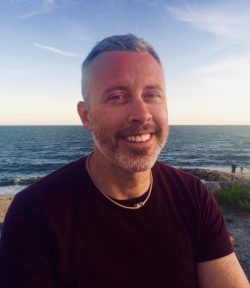 Jeff Perrault, MA
My educational background includes a Bachelor of Science from the University of Montana where I was on an ROTC Scholarship. After that, I was a commissioned officer in the US Army (Infantry) for eight years. I've been coaching basketball for 28 years and I've coached at the youth, high school, and college levels. I have a Master of Arts degree in Physical Education from Azusa Pacific University. In my working career, I've been in and out of corporate America and held a variety of positions in the fitness industry.
I've been at PCC since 2016 teaching Physical Education classes such as basketball, disc golf, weight training, and suspension training. In the Exercise Science team, I am currently teaching Professional Activities Weight Training. My goal is to provide adequate teaching methods and accurate content knowledge for our students to leave here better educated and informed regarding the fitness industry and exercise science.
Outside of PCC, I coach for a club basketball program nine months out of the year. I am a trainer for the Positive Coaching Alliance (Portland Chapter) and I also part of a consulting company in the organizational development/effectiveness field (industrial psychology). I like to work out daily, attend concerts, play my guitar, and hang out with my family.
My teaching and fitness mission: I believe that I am here to serve and educate all students in and out of the classroom. I strive to engage, inspire, and encourage each student to the best of my ability for them to be able to comprehend and implement all that is learned.
Arik Scott Wiest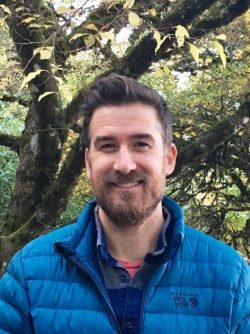 Arik Scott Wiest, MS, CSCS, NKT, FMS, KIEP
My college-level education started at PCC Sylvania over 20 years ago, and now I am proud to have come full circle – teaching what I love, for a place that helped start my journey, and to an audience of passionate like-minds.
After receiving my Associate degree, I continued and graduated from the University of Oregon with a Bachelor's degree in Exercise and Movement Science in 2001. During that time, I was a member of the University's Rowing team and was mentored by faculty and staff within the Athletic and Physical Education Departments. That led to an opportunity to become a Graduate Teacher Fellow and continue my education. In 2003, I graduated with a Master's of Science degree in Human Physiology, with a concentration in Biomechanics.
Although my undergraduate and graduate education are my foundation, I am forever indebted to those that have helped guide me to becoming an advanced certified Neurokinetic Therapist, Certified Strength and Conditioning Specialist (CSCS), Vector of Indication (VIOLA), Functional Movement Screen (FMS), Kinetic Integrations Exercise Practitioner (KIEP), SKOGG Kettlebell, and a US Rowing Level III Advanced Coach. These disciplines have helped me see the body and movement in a few lights.
In addition to the academic paths, we choose we are also a collection of our experiences. The fitness, health, and wellness industries have been my passion for over 15 years ranging from correctional rehabilitation, instruction, coaching, authoring, personal training, corporate wellness, exercise physiology, as well as business.
I teach FT 104 Fitness Assessment, FT 105 Exercise Prescription, FT 106 Analysis of Movement, FT 107 Exercise Physiology, and FT 131 Structure and Function for the Exercise Science Program.
My teaching and fitness mission: We cannot discover new oceans unless we have the courage to lose sight of the shore.