Work Based Learning
One of the changes with Perkins V is the focus from Technical Skills Assessment to Work Based Learning experiences. This includes broadening the scope of when and how students become aware of and learn about career options and opportunities and the expansion of work-based learning opportunities for all students. In order for these opportunities to be relevant and meaningful, the state has determined that four criteria need to be met. The continuum of learning and the four criteria are discussed below.
As Perkins V and Oregon move forward with providing students opportunities to "apply learning" in an authentic experience a framework has been developed to assist administrators and teachers understand what is required for students as they progress through their K-12 learning career. This includes becoming aware of the various career options open to them and the different work options in those career fields through career training or real-world work experiences. Below you will see how students will move through this continuum and how CTE teachers have an integral part to play in a student's career development.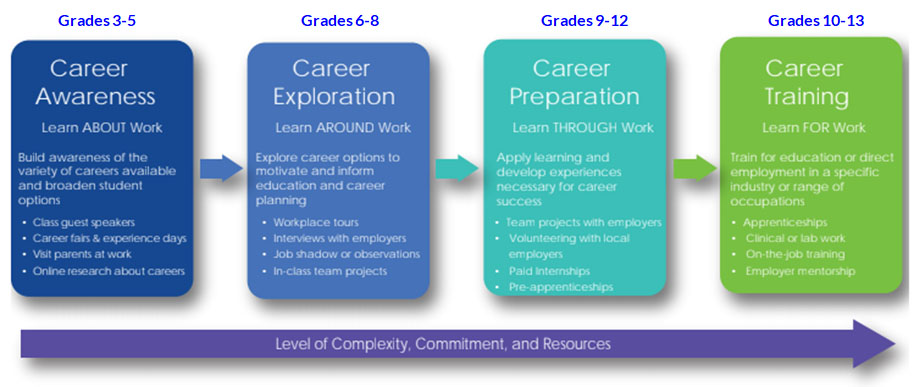 According to the ODE, "Work-based learning" (WBL) is a proactive approach to bridging the gap between high school and high-demand, high-skill, and high-wage careers in Oregon. Students build on classroom-based instruction to develop employability skills that prepare them for success in postsecondary education and future careers. Through experiences like internships, apprenticeships, and paid work experience, juniors and seniors (16 years or older) may apply their classroom knowledge and workplace ethics and skills through hands-on training. These opportunities can allow students to earn dual credit, develop their employability and technical skills, potentially earn a wage, and shape their postsecondary path upon completion of a secondary program. These options include, but are not limited to, pre-apprenticeship and apprenticeship programs, clinical practicums, cooperative work experiences, employment, internships, and on-the-job training."
In order to meet the above criteria, Perkins V has developed a rubric that describes the elements that need to be included in any valid WBL experience. These criteria are shown below. In order for any experience to be considered a WBL experience is must include all of the following: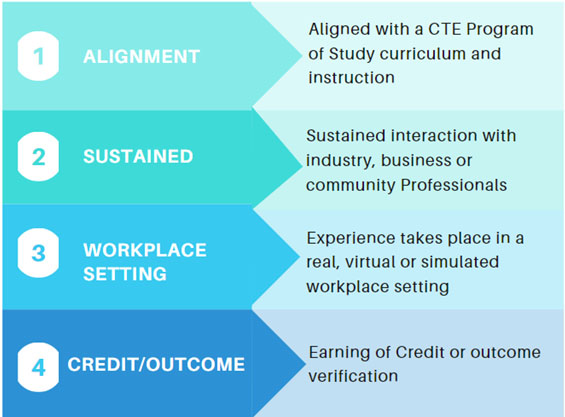 One of the primary avenues to the creation of opportunities for WBL for all CTE students is to develop relationships with the community business as partners and Advisory Board Members. Because of the importance that Perkins V has placed on these two elements of programs of study, PATEC has created and staffed the position of Work-Based Learning and Advisory Board Coordinator was created.
This position's task is to reach out to present and potential industry partners to participate, not only in designing the courses in programs of study but also, the expansion of work-based learning experience opportunities. Consortium CTE teacher members will be asked and welcomed to join the regional Advisory Boards in order to increase the support industry partners can provide in regard to maintaining relevant and current skills, equipment, and work-based learning opportunities.
References and resources from the state:
https://www.oregon.gov/ode/learning-options/CTE/resources/Pages/Work-Based-Learning.aspx
Error: The image above does not have Alt Text