As war rages in Ukraine, local refugees turn to PCC for much-needed dental care
Photos and Story by Misty Bouse
When war broke out in Ukraine this past February, staff and students in the Portland Community College dental programs felt helpless. The programs, which include dental hygiene and dental assisting, have a number of faculty and students who are either from Ukraine, or have family and friends there, and wanted to also support them in some way.
So, they were thrilled when one of their own reached out to the new Ukrainian immigrants coming to the Portland area.
Galina Voloshinov, who is both a 2010 graduate and a part-time dental hygiene instructor at the PCC Dental Clinic, came to the U.S. from Kyiv as a trained engineer in 1998. She spent this past summer organizing a day in August of free dental services. Because of this effort, seven Ukrainian refugees are able to smile more brightly thanks to the clinic. 
"The Ukrainians were so happy for the help and bussed and biked to downtown and they were all on-time or early to spite not knowing the city or English," Voloshinov said.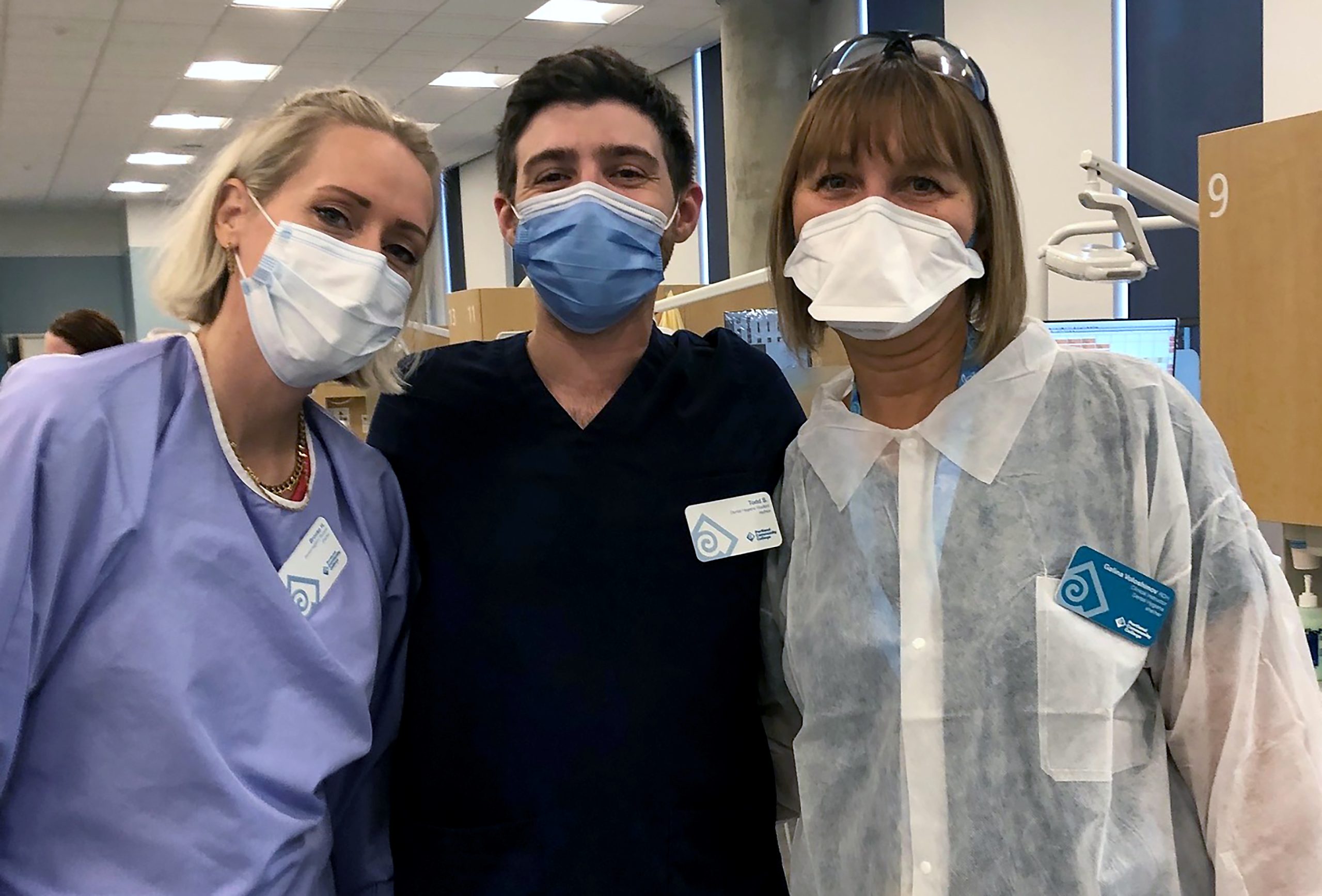 PCC Dental Clinic
PCC's dental clinic is located at the Vanport Building in downtown Portland (1810 SW 5th Ave., on the third floor). It offers low-cost dental care to community members who, by booking appointments with the program, help train the college's talented dental hygiene and assisting students. The cost is no more than $25 for a visit, and often less.
To make an appointment, call 971-722-4909 or email dentalclinic@pcc.edu.

The clinic offered free appointments with dental hygiene students along with both translation and cleanings and exams. This included a mother and her 10-year-old, as well as a teen and others. Several will return for more dental work like basic fillings.
"It feels so good to help those who need it and our students who need patients," said Voloshinov. 
With her background, she confesses she relates closely with PCC students. Once first settled here, she realized she preferred to work with people more than computers.
"I know students can make it because I did," said Voloshinov, who sought a new career path away from engineering after immigrating to the U.S. 
Before enrolling at PCC, she had found social work as a case manager serving refugees and families, while raising her own kids. But she decided a lifelong interest in medicine and teaching called to her. She worked to meet all the prerequisites for admission to the Dental Hygiene Program. But life intervened: She was expecting her third child and it would delay her first-year program admission. 
"Growing up in Ukraine, when it was the Soviet Union, we did not have much opportunity to get into college or much choice in careers," she said. "There were many, many tests and about only one opening for every 20 qualified students interested in fields like medical.
"I wanted to teach but my mother worried I wouldn't earn enough," Voloshinov said. "I chose to study engineering because so many students did not want to do the math and physics required."
There were pivots. However, she is grateful for PCC helping her find her path serving in dentistry. But now, with Ukraine at war, she is living both a nightmare and her dream.
"I have brothers, family and friends still there," she said. "But PCC students have been so kind and are helping me to get through. I am so grateful to the American people for their support and sharing this pain–and for helping Ukraine."
In her outreach, Voloshinov has posted on social media and works with the Ukrainian Foundation as well as Lutheran Family Services that hosts a welcome webinar in Ukrainian to assist refugees. She also liaisons with the Immigrant and Refugee Community Organization (IRCO) in hopes of receiving more patients like Afghan refugees.
The PCC dental programs provide degree options for in-demand career opportunities. PCC prepares graduates to enter the workforce as dental assistants or dental hygienists. Graduates are successful in finding employment in the dental field.
"The demand for oral healthcare professionals continues to grow nationwide and throughout Oregon," said Jessica August, PCC's new dental director.
Recent statistics are showing upward trends for employment growth as well as earning potential for oral healthcare providers. The average dental assistant salary in Oregon is $48,780 while its $94,420 for dental hygienists.
"About 150 students apply every year but only 20 get in so you feel lucky when you're here. But I did a five-year stint serving tater tots 'n beers before I applied," said Todd Schreiber who is the designated head of his second-year cohort and had once studied fine arts before switching to the dental sciences.
For more information visit https://www.pcc.edu/programs/dental-assisting/.