Please note: This was published over a year ago. Phone numbers, email addresses and other information may have changed.
Sylvania's new president said she is thrilled to be here
Story by James Hill. Photos by Vern Uyetake.
Lisa Avery joined the Portland Community College family this past summer to serve as president of the college's Sylvania Campus in Southwest Portland.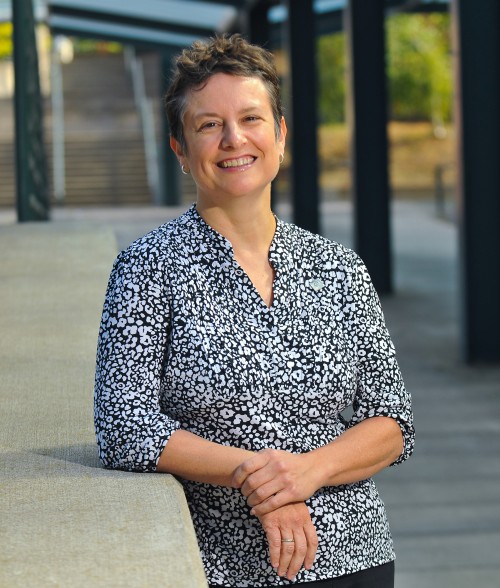 Avery came from the Community Colleges of Spokane (which includes Spokane Community College and Spokane Falls Community College) where she had been working as the district vice provost for strategic partnerships. Now, she is presiding over PCC's largest and oldest campus, which first opened its doors in 1968. With an enrollment of nearly 32,000 students, the Sylvania Campus is home to programs such as Automotive Service Technology, Nursing, Graphic Design, and the MakerSpace, a cross-disciplinary high-tech laboratory with rapid prototyping machines.
A first-generation college student and native of LaPorte, Ind., Avery obtained both her doctorate and master's degrees in social work from the University of Illinois at Chicago. Prior to this, she earned her bachelor's degree in research psychology from Ball State University.
Question: What attracted you to PCC?
Lisa Avery: As a repeat Portland visitor, I have had my eye on PCC for a long time, and was attracted to the diversity, size, and scope of PCC. Sylvania was a great fit for me because I have a liberal arts/social sciences background, but also experience with career/technical programs. My background is a nice blend of these areas, much like the campus.
Q: What have you been most impressed with at the Sylvania Campus?
Avery: I have been most impressed with the friendly, welcoming energy of the campus, and the dedication and pride that our employees have. The student-centered approach is something I have observed at all levels and in all buildings. Also, I have been fortunate to meet with student leaders and have been inspired by these discussions.
Q: Of the issues facing education today, which ones will impact what you do at Sylvania?
Avery: There are several issues that will impact my work at Sylvania. I'm pleased to see community colleges on the national stage (it's about time!). With that visibility comes a challenge for community college leaders to help guide their institutions to take advantage of the opportunities. Increased funding for our students is a huge issue, and hopefully we can leverage the completion agenda and need for skilled workers into more opportunities for our students to earn family wage jobs without mountains of debt.
Q: What's your plan for the new academic year?
Avery: Some of the key issues I will be working with the Sylvania Campus on include continuing our progress on diversity, equity and inclusion; collaborating with local/regional governments and our neighbors to help improve sustainable transit to Sylvania; and helping lead an important campus discussion on guided pathways to student success.
Q: How did you get into education and why?
Avery: Like many students, I was inspired by outstanding faculty members. Two instructors saw potential in me during my freshman and sophomore years and became my mentors. I was fortunate to benefit from a Pell grant and work study funds, securing campus employment in their offices. As a student worker, I helped at the office and gained an understanding into higher education from that perspective. Also, as a tutor, I was able to connect with other student leaders and also to learn the content more deeply through explaining it to others. Those experiences helped guide me into higher education and helped me focus on the ways to provide access to such mentoring and leadership for all students. Working as a leader and mentor in higher education is part of my way of paying it forward to those who guided me and helped clear my path.
Q: What makes an effective leader and how have you incorporated those skills?
Avery: In the current political and economic climate, I believe community colleges need transformational, adaptive leaders. I have focused my leadership development on team-building, innovation, partnership, and communication. Over time, I have tried to develop and improve these skills. I've made some missteps along the way (every leader does, and I encourage the Sylvania community to tell me when they think I have done so!) and have learned from those as well. Being approachable and accessible is an important leadership behavior, and I hope to continue exhibiting that in my busy Sylvania schedule.
Q: Who has inspired you the most on your journey to PCC?
Avery: On my journey to being Sylvania Campus president, I have been inspired by a number of people, including the faculty mentors I discussed earlier. However, the greatest inspiration and impact has been made by parents and grandparents, as well as my extended family (including my aunts, uncles and brothers). Neither of my grandmothers had the opportunity to finish high school – one because of her health and one because she had to help the family out at home instead. My parents were not able to go to college because they were focused on providing for our family. My parents and step-parents have modeled hard work, compassion, and integrity; the sacrifices they made, along with my grandparents' efforts, inspire me every single day.
Q: What do you like most about Portland?
Avery: I love being outdoors, and have been able to enjoy being outside with my daughter, Ella, on a daily basis since we arrived. We have visited many parks and trails already, and have much more exploring to do. The food is amazing, so I will have to stay active in order to keep taking advantage of the wonderful choices!
Q: How can members of the Sylvania Campus community best interact with you?
Avery: I am approachable and accessible in a number of different ways. Email works okay for quick chats (lisa.avery@pcc.edu), and I am active on Twitter (@AveryPCCSyl) and Facebook. I have an open door policy and encourage visitors to come by for coffee and conversation. Later this year, I'll be hosting some forums where I can get to know faculty, staff, and students but more importantly, I'll be attending many events so I can be an active, visible member of the Sylvania community. I love to talk with students, either individually or in small groups, so I am also happy to be invited to student events and even to visit classes. I'm looking forward to making many great community connections, and to getting to know the campus and college better.