Board Games for Checkout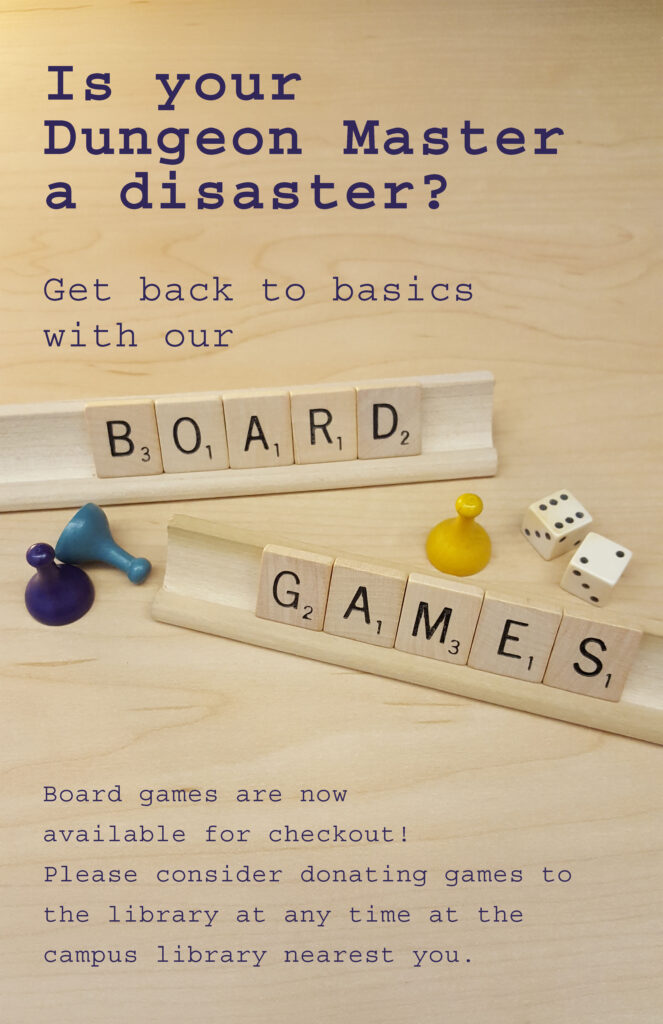 Is your Dungeon Master a disaster? Get back to basics with our board games. Board games are now available in the library for checkout!  Please consider donating games at any time at the campus library nearest you.
Why games?
The PCC Library's new games collection is intended to support a variety of student and curricular needs. Games provide relaxation, promote social interaction and collaboration, and often support student skills in logic, strategic thinking, vocabulary, and communication.
The anticipated users of the board games collection include students relaxing between classes, students checking out games to play elsewhere, clubs and groups using games as icebreakers or to promote teamwork, and instructors using games to support classroom learning.  The Library will assess the use of the collection to determine whether some categories of games are especially popular, and solicit recommendations from students, staff, and faculty as the collection continues to develop.
Will the collection be the same on each campus?
The Library has a core collection on each campus, but we are inviting donations from the PCC community at any time!  In general, donated games will stay on the campus where they're received, but in cases of duplication, we'll consider moving them to another campus that doesn't already have a copy of that game.
Here is an abbreviated list of titles that we intend to be part of the core collection: (Big thanks to all the faculty and staff in various departments and centers for suggesting titles!!!)
Uno
Ludo
Set
Scrabble
Dominoes
Dixit
Splendor
Connect 4
Loonacy
Code Names
Pictionary
Telestrations
Sorry
Kingdomino
Last Word
Loteria
Single Digit
And many more….
When will the games be available and what do I need to know before checking them out?
The core collection is now available at all campus libraries. All games can be checked out for 1 week. All members of the PCC community will be allowed to check them out. Games will be listed in our online catalog, but they will not be requestable, and they must be returned to the campus where they were checked out – just like our equipment collections.
How can I support this new service at the PCC Library?
Please consider donating games to the campus Library nearest you! We can't guarantee that we'll add all donated items to the collection, but we welcome any items that are complete and in good condition. If for some reason the Library decides not to add a donation to our collection, we will do everything we can to make sure the donated item finds a good home within the PCC community.