The Illumination Project is…
Service-learning
For students to learn effectively, they first need to be engaged.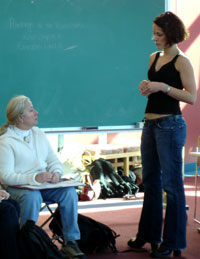 The Illumination Project augments "traditional" learning experience in the classroom with experiential learning in the form of community service. They do this through writing and performing plays, developing and producing all outreach materials (programs and posters) and educational materials (Ally Handbook) used by the program.
By taking the student created plays into the community of the campus or out into the larger community, the IP student gets to put classroom learning into action and thereby enhances their own learning while contributing to the community at large.
The Illumination Project's strategy is to create an environment that sets the stage for multiple ways of learning – the active discovery and synthesis of information into knowledge – that can be applied to success in school, careers and throughout students' lives.
The Illumination Project student learns about oppression and social change via service and experience – as well as through readings and classroom discussions. The Illumination Project's classroom is where students have the capacity to connect thought to action and theory to practice.
Tell me, and I will forget.
Show me, and I will remember.
Involve me, and I will understand.
Civic engagement
Portland Community College is committed to being an engaged campus.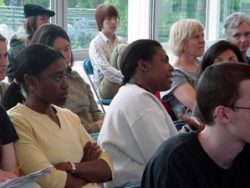 PCC is a college which emphasizes community involvement through its activities and its definition of scholarship. PCC is involved in: community relationships, community development, community empowerment, community discourse, and educational change.
The Illumination Project works to advance both the individual benefits of a college education and the ways that higher education serves the public good, preparing thoughtful, committed, and socially responsible students.
The Illumination Project helps students develop a commitment to participating in building more just and equitable communities. As well as, helps the community to see the connections between diversity issues on campus and the communities unfinished work of building a successful and inclusive democracy.