National Disability Employment Awareness Month
October 2021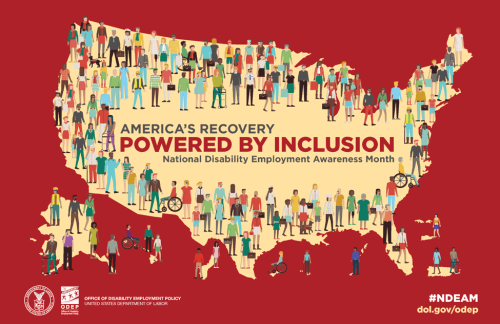 NDEAM is held each October to commemorate the many and varied contributions of people with disabilities to America's workplaces and economy.  This year's theme for NDEAM 2021, "America's Recovery: Powered by Inclusion," reflects the importance of ensuring that people with disabilities have full access to employment and community involvement during the national recovery from the COVID-19 pandemic.
PCC managers and employees may face several challenges as they prepare to return to the workplace after working remotely for an extended time.  Many employees are anxious to return full time to the work site, while others may be hesitant because they are now facing new physical and/or mental impairments resulting from or exacerbated by COVID.  With the appropriate support, both managers and employees can be successful when it is time for their department's return to the campus.
Creating an accessible workplace and culture
PCC has implemented a number of health and safety protocols in response to COVID.  Ensuring an employee's work environment is accessible and welcoming is also important for continued success for employees who have a variety of different abilities and needs.  It will also be important to consider accessibility when planning meetings and special events, another aspect of an inclusive work experience.  To learn how to create these inclusive spaces refer to the following resources:
Today's office technology has built in accessibility features, for ease of use by employees needing those features. Additionally, tips on how to make documents accessible are available in Microsoft Office and Google Docs to ensure written materials generated by your office are accessible.
Ensure email communications, correspondence or web sites are accessible by following tips offered in Creating Accessible Content.
Plan activities or events that are accessible to all participants: Accessible Event Planning Checklist.
Managers can also find additional information and training related to Supporting a Thoughtful Return by visiting the Training and Tools link on their MyPCC Manager Channel.
Training on MyCareer@PCC
Professional Organization and Development (POD) offers a number of online training opportunities for all employees, most which you can take at your own pace.  Following are a few selections that focus on accessibility and ADA rights and responsibilities in employment. By perusing the MyCareer@PCC website you can also find other training of interest.
Employment Rights Under the ADA
Employee Accommodation Training for Managers
Supporting Workers with Disabilities
This year, we are also offering weekly workshops to help employees to sharpen their skills for advancement opportunities.  Please see the information below to learn about the offerings.
NDEAM Activities for the month of October
The Committee for Accessible College Culture, in collaboration with staff from Human Resources, Disability Services, Career Services, and student leaders, invite you to attend our upcoming four-part event series in recognition of National Disability Employment Awareness Month (NDEAM), taking place each Friday in October on Zoom.  We will offer opportunities to enhance your job seeking skills, advocate for yourself, and learn about employment opportunities and resources. These four events are open to all in the PCC Community, including students, staff, and alumni, and will be presented through a disability justice lens. Speakers will include resource coordinators and specialists, as well as your own student peer leaders. Attendees are encouraged to submit questions through our pre-survey as well as during meetings. Find Zoom links for all the events. We hope to see you there!
Resources