Golf Invitational Founding Sponsors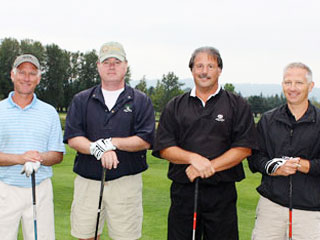 A day on the links sounds like the perfect weekday getaway, but for players in the Portland Community College Foundation Golf Invitational there's more to it than hoping to sink a hole in one.
In 2007 the event netted over $72,000. Each year, a portion of the proceeds went toward general student scholarships as well as an endowed scholarship fund for PCC Building Construction Technology students.
Such an event wouldn't be possible without dedicated partners. Walsh Construction, Emerick Construction, Howard S. Wright Constructors and Skansa pulled together as founding sponsors and helped launch the tournament in 2004.
"My view of the work of the community college system is that it's vitally important, said Bob Walsh, president of Portland-based Walsh Construction. "The college is also a good returning step for those already in the workplace who need to improve their skills and marketability.
"All of these companies involved in the golf tournament have a passion for construction and the construction program at PCC," said David Osborne, golf committee co-chair and senior vice president for Skansa. "We took a look at what the PCC program needed to grow and then we responded."