Activity guide
View the activity guide
Activity guide text version
Page 1: Activity guide cover
PCC Tomorrow Together, presented by Comcast
Saturday, April 10, 7-8pm
Broadcast at pcc.edu/tomorrowtogether and on KOIN 6
Page 2: Settle in and make a Tomorrowtini
Ingredients:

4 fluid ounces gin
1⁄2 fluid ounce dry vermouth
2 tablespoons freshly-squeezed pink
grapefruit juice
1 tablespoon simple syrup
1 teaspoon freshly-squeezed lemon juice
Ice cubes
2 wedges pink grapefruit
Pre-sugared martini glasses

Instructions: Combine gin, grapefruit juice, vermouth, simple syrup, and lemon juice in a cocktail shaker. Add ice cubes, cover, and shake until very cold. Strain into two chilled martini glasses. Garnish with fresh grapefruit.
Mocktail option: Skip the gin and vermouth. Instead, use equal parts fresh grapefruit juice and club soda. The rest of the ingredients stay the same.
Page 3: Build together
Grab a sheet of paper and draw what tomorrow looks like to you.
Pages 4-5: Heal together
Create an origami heart bookmark using any square piece of paper.
Instructions
View the origami instructional video »
Fold the paper point-to-point to create an X with the colorful side of the paper facing the table. Open the paper back up and flip over.
Fold the paper side-to-side with the interior facing the table and the colorful exterior facing you. Open the paper back up.
Press in the center to pop the fold, and fold in the two side triangles. This will create a "mountain fold."
Fold the lower right point to the center of the triangle. Repeat on left side.
Fold them back down.
Pull up the horizontal edge of the paper to the center point and create a horizontal fold. Bring the lower right point up to the center point. Repeat on left side.
Take the full rectangle and fold it down towards you.
Fold the rectangle in half.
Open the right side of the rectangle and push in to create a new triangle. Repeat on left side.
Fold the small center squares on the left and right.
Fold the small points up.
Fold the rectangle shape over to form a heart.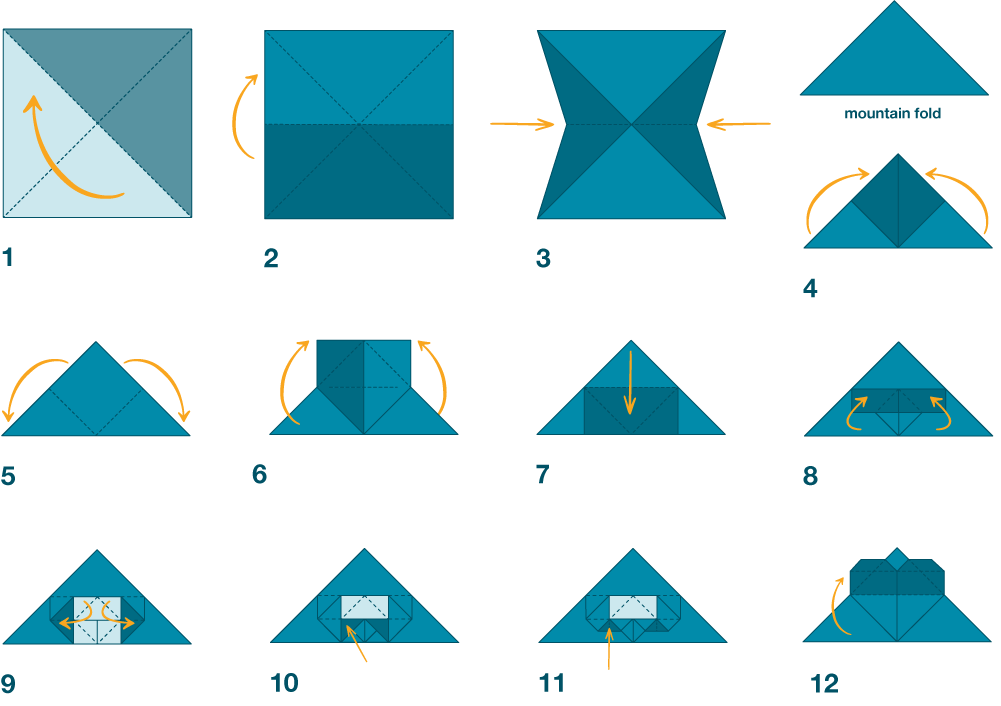 Page 6: Grow together
Be a Gardener
By PCC's Poet-in-residence Justin Rigamonti
When the world is on fire, be a gardener. When thunderclouds of flame blister the hills and dim our future, when smoke and worry whirl over head, do something tender. Go to the garden bed and press a seed into the soil. Give it water, give it light despite the rising heat, despite the fruit it might not ever make. Help someone reach for the life they thought they couldn't have, a life bright with leaves. A blue horizon. Don't wait until the time is right, don't let fear draw you backward from the garden bed. When the world is on fire, be a gardener. Defy the rising darkness, and plant a seed.
Pages 7-8: Dance together
Get off your couch and dance along with DJ Anjali and the Incredible Kid.
Bhangra is a traditional folk dance created centuries ago by Punjabi farmers to celebrate the harvest season.
Dance moves
View a video of the dance with instructions »
The basic Bhangra step is back and forth, shifting your weight side-to-side.
Arms move into a "V" shape. Pull arms in and down at the elbows.
Arms move down to an inverted "V" shape.
Throwing the seeds: Arms move back up to an "L" shape while hands are "throwing the seeds."
Arms move to a diagonal shape, still throwing the seeds. Then arms come together in the center when you switch the diagonal.
Arms lower and extend straight out from the body, while hands move in an inward curl shape.
Arms move up and straight forward while hands are clenched with your index fingers pointing upward. Slightly pull in at the elbows.
Arms swing up over your head while hands are throwing seeds side-to-side. Then arms swing down in front of the body, while hands are throwing seeds side to side.
Arms move to a diagonal shape while hands are throwing seeds. Then arms stretch out straight and to the sides. Hands are throwing seeds and while pulling elbows in slightly. Arms move back to the diagonal shape. Turn in a small circle.
Rock your hips: Move one hand to your hip while the opposite arm extended upwards. Foot kicks out as you rock the hips. The hand in the air rotates in and out. Then bring both arms straight forward. One arm remains straight while the other bends at the elbow, then reverse back and forth.
Wheat blowing in the wind: Arms are lowered and move straight across the body, then swing up over your head. Arms move side to side, and then are lowered to move side to side across the body. As you move, the opposite leg bends at the knee and the foot kicks back.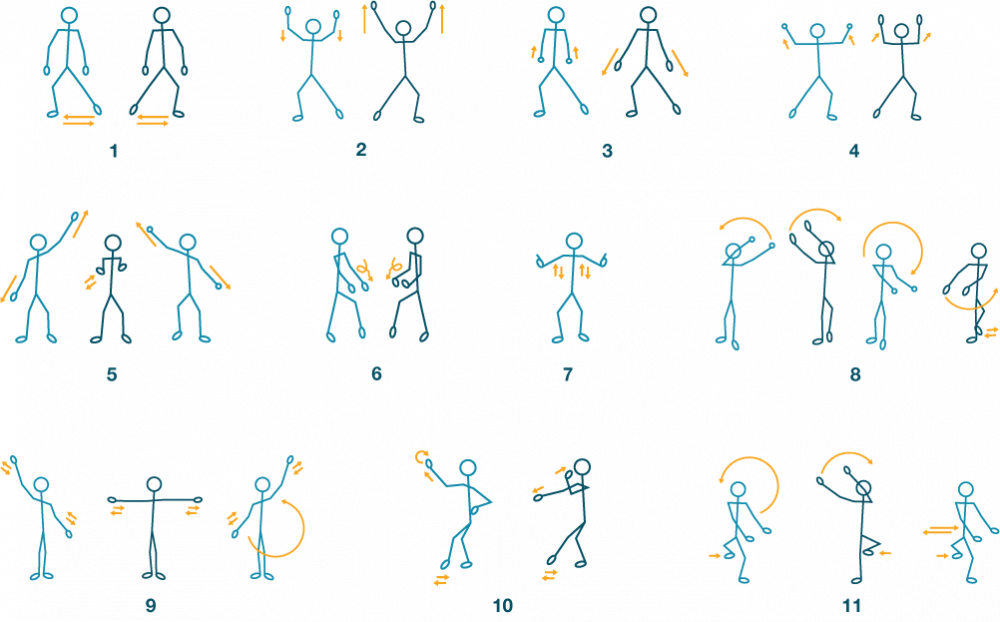 Page 9: Color by number
Download a PDF of the color by number so you can print it »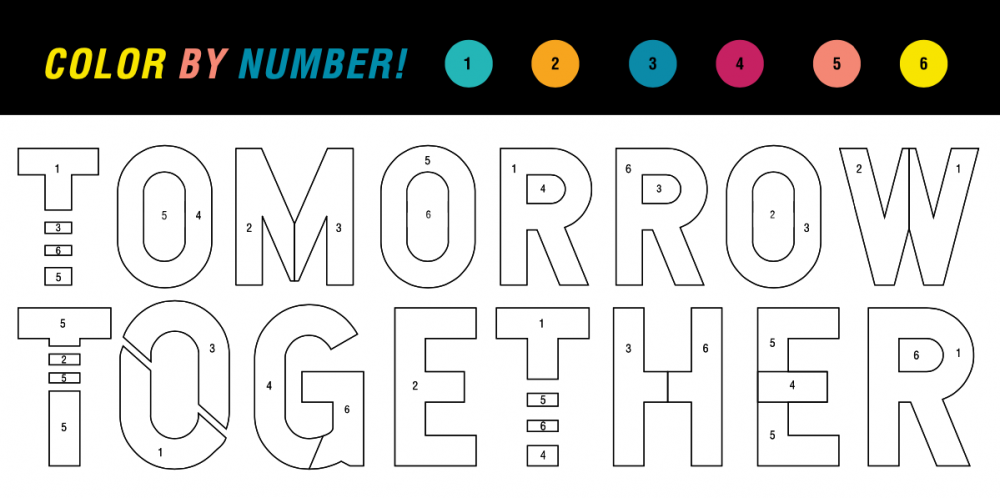 Page 10: Create together
Grab a sheet of paper and write how you hope to see our city thrive post-pandemic.
Page 11: Change together
Watch a conversation between past, present, and future PCC changemakers rooted in social justice.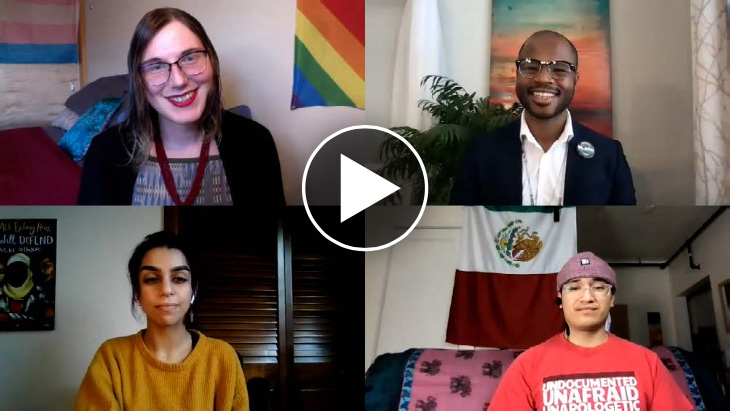 Page 12: Better together
Sing with us!
Better Together
Lyrics and arranged by Julianne Johnson Weiss, music by Grant Richards.
Oo, oo, oo oo
Heal the people
Yes we can
Oo, oo, oo oo
Heal the nation
Make a stand
Dance, dance, dance, dance
Raise up your hands
Dance, dance, dance, dance
Take a stand
*Chorus
Everybody heal (one another)
Everybody grow (help each other)
Everybody build (toward the future)
Our time is now
Building stronger building better
Be the change in our land
Create our future one heart at time
A new way to understand

Building stronger building better
Be the change in our land
We can get there tomorrow together
Better together
*Chorus
We can get there if we try
Better together oh
Hand in hand we're flyin high
Lift up your hands and say
We can get there we know how
We're better together oh
Be the change
The time is now!
Page 13: Thank you to our participants
Mohamed Alyajouri
Hannah Alzgal
DJ Anjali and The Incredible Kid
Jeb Baldridge
Leslie Barnum
Erin Beaty
Ken Boddie
Heriberto "Eri" Bolaños
Sara Boone
The Honorable Margaret Carter
Yao Cheng
Tom Cook
Matthew Dickman
Kendi Esary
Elizebett Eslinger
Adi Velazquez Espinosa
Brad Fox
Ebony Frison
Christian Gaines
Jenny Hansson
Mitchell S. Jackson
Julianne Johnson-Weiss
Karen Kervin
Fran Kohler
Thomas Lauderdale
Kathryn Lopez
Sharli Love
James Lovely
Latoya Lovely
Misty Marquam
Mark Mitsui
Sasha Moore
Anne Naito-Campbell
Brea Nazareno
Rebecca Petchenik
Justin Rigamonti
Tera Roberts and family
Sebastian Schoelen
Antonio Servin-Gonzalez
Rebecca Skloot
Maia Vasconez-Taylor
Sofia von Trapp
Poison Waters
Cameron Whitten
Page 14: Thank you to our sponsors
Presenting sponsor: Comcast
We believe success starts with opportunity. Comcast is proud to support the Portland Community College Foundation and PCC. Together, we are creating opportunity for our communities. #pcctomorrowtogether
Follow Comcast on Twitter @ComcastORSWWA, or visit www.corporate.comcast.com/values.