Sylvania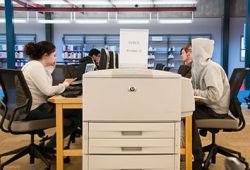 Lab layout
The Sylvania Lab has the computers and software to support most students' academic needs. There are 132 Dell Optiplex 9010 and 12 Apple Intel iMac computers available for student use.
Available software
Microsoft Office 2016
Microsoft Access
Microsoft Excel
Microsoft OneNote
Microsoft PowerPoint
Microsoft Publisher
Microsoft Word
Adobe CC 2019
Adobe Acrobat DC
Adobe After Effects 2019
Adobe Adobe Animate 2019
Adobe Audition 2019
Adobe Bridge 2019
Adobe Character Animator 2019
Adobe Creative Cloud
Adobe Digital Editions 4.5
Adobe Dreamweaver 2019
Adobe Illustrator 2019
Adobe InCopy 2019
Adobe InDesign 2019
Adobe Lightroom Classic
Adobe Lightroom
Adobe Media Encoder 2019
Adobe Photoshop CC 2019
Adobe Prelude 2019
Adobe Premiere Pro 2019
Adobe Premiere Rush
Geography
ArcGIS 10.7.1
ArcGIS Pro 2.4
DNRGPS 6.1.0.6
Google Earth Pro 7.3.2
MapTiler Desktop 10.1
QGIS 2.3.8.2
Trimble GPS Pathfinder office 5.85
Agisoft Metashape Pro 1.5.5
ENVI 5.5.2
Brackets 1.13
Python 3.7
DNRGPS 6.1
Math
Maple 18
MATLAB R2016B
GeoGebra Classic 6.0
MiKTeX 2.9
Logger Pro 3.15
Graphics and media players
Inkscape 0.92.1
IrfanView
Gimp 2
VLC Media Player
Windows Media Player
File transfer tools
Psychology
Tutoring
Tutoring for CAS students is available in the Lab most weekdays. (CAS tutoring is also available in the SS-202 lab and CS/CIS tutoring is available in the TCB-308). Please see the current tutoring schedules.