Swan Island Center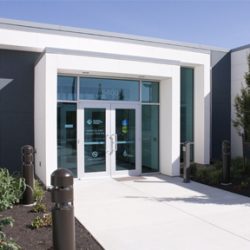 The Swan Island Trades Center is a 20,000-square-foot facility that provides exceptional opportunities for students pursuing career technical education (CTE) and professional development classes.
PCC bought the former Oregon Motor Pool property in 2010 with a vision of creating a trades facility within the industrial core of Swan Island in order to meet the needs of the businesses there. In 2012, the State Legislature authorized $1 million to augment the $7.3 million earmarked from PCC's 2008 voter-approved capital construction bond for the land purchase and construction of the new center.
Construction was completed in 2014 and today the center houses PCC's Apprenticeship and Trades department (Facilities Maintenance Technology – HVAC/R). The center and the nearby Cascade Campus, along with expertise from PCC's CLIMB Center for Advancement, coordinate continuing education, and training/retraining for Swan Island firms at this location. Combined with additional CTE programming offered at campuses and centers throughout the college, PCC provides skills and job training for more than 20 occupations in the trades.
Individuals seeking to further their capabilities in management, budgeting, leadership, finance and other workplace skills will find a number of diverse offerings for continuing education.
Construction
In summer 2013, PCC selected JE Dunn Construction to build its new Trades Education Center on Swan Island. JE Dunn Construction was selected based on the company's history of workforce diversity and community stewardship. Direct construction costs for the first phase of development is approximately $3.6 million. Construction is scheduled to be completed in August 2014.
In an effort to expand upon the PCC Phase I career technical education (CTE) project, the college will pursue development of a Phase II project at the Swan Island property. It is anticipated that Phase II will consist of a new building to house additional CTE classrooms and labs. This project will add four to five new lecture classrooms and four new CTE shops, as well as storage and swing space for career technical education programs. Although the design and intended use of this Phase II structure are undefined at this time, it will likely be a single story building of approximately 25,000 SF. This additional space will be a potential resource for a wide array of technical training courses as well as programs geared toward technology and project management. Funds have not yet been identified to support the larger Phase 2 vision, but could come through private fundraising, state capital, or a future voter-supported bond program.
Recent news
June 21, 2019
The cavernous skills gap in the Northwest's manufacturing sector was front and center at a recent PCC event, where representatives […]
May 29, 2019
From near death to a PCC graduate, Jess Kurtz relishes student speaker role
February 20, 2019
Contractors who qualify as MWESB and SDV – minority, women, emerging small businesses, and service disabled veterans – are invited to participate in a workshop hosted by Portland Community College on Thursday, Feb. 28, from 5:30-7:30 p.m. in the Community Hall Annex at the Southeast Campus