Rock Creek Campus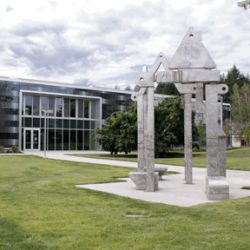 Thanks to the 2008 voter-approved capital construction bond, PCC has invested more than $64 million to build, renovate and upgrade the Rock Creek Campus, which has been open since 1976.
The 256-acre campus accommodates more than 22,000 students annually and is located in the rapidly growing Beaverton-Hillsboro area. The campus sits in the heart of Oregon's high-tech corridor and is also nestled amid some of the state's most productive farm land. This location provides excellent opportunities for students to learn skills that are in high demand in these industries.
The bond-funded improvements included major additions to two buildings and upgrades and renovations to several others, adding new classrooms and greatly enhancing the student services that are key to meeting the growing educational and workforce training needs of both Washington and Columbia counties.
In addition, Rock Creek's highly coveted Veterinary Technology Program gained several improvements to the facilities that support its working farm on the west side of campus. Also, students in the Landscape Technology Program had the unique advantage of using the bond work as a living laboratory, observing first-hand the design process and installation of the landscaping.
Still to be completed is the construction of the campus' new childcare facility, which is expected to be substantially complete by late 2017.
Objectives
Add and Renovate Workforce Training, Instructional Facilities
Add space to offer allied health care nursing and training
Upgrade career technical areas
Add classrooms to offer more courses
Modernize arts instruction facilities
Renovate and Modernize Student Services Areas
Expand the child-care facility to serve more students
Add space for admissions, registration, advising, counseling, testing and financial aid to serve more students
Improve space for student resource and support centers
Increase access to food services
Make Health and Safety Upgrades; Increase Energy Efficiency
Install mass notification system for emergency communication
Upgrade fire and alarm systems and lighting in parking lots and walkways to enhance student and staff safety
Make electrical and plumbing upgrades, repair and/or replace roofs
Replace heating, ventilating and air conditioning equipment
Increase energy efficiency of buildings
Make improvements to increase access for students with disabilities
Project Manager
Zahava Jones
Zahava Jones joined the PCC Bond Program in 2013 as the furniture specialist and move manager. In 2014, Zahava became the project manager at the Rock Creek campus, where she leads multiple capital construction projects. Before coming to PCC, she worked with commercial design firms in both Oregon and Southern California on a variety of construction and design projects.
Zahava holds a Bachelor of Science in Interior Design from Western Carolina University located in the Great Smokey Mountains of North Carolina.
Email: zahava.jones@pcc.edu
Construction
PCC has contracted with Fortis Construction to lead construction management and general contracting (CM/GC) at Rock Creek. Fortis, in turn, is working closely to mentor its two campus construction partners, Northwest Infrastructure and Faison Construction, both of which are state-certified MWESB firms (minority, women and emerging small businesses). This working partnership among the three firms is a direct result of PCC's goals for the bond program – to reinvest bond dollars into the communities surrounding all of the college's campuses and centers, mentoring smaller construction companies and spreading the work and opportunity out to minority and women-owned businesses and local vendors.
Recent news
June 28, 2019
Nearly 25 years after he first climbed aboard a tractor at Portland Community College's iconic Rock Creek Campus farm, Terry Lookabill is riding off into the sunset
June 17, 2019
As a follow up to the budget forums in January and February, leadership wants to provide budget and legislative updates as it moves to adopt the biennial budget
June 10, 2019
Watch PCC's 57th graduation ceremony live online at 7pm