Downtown Center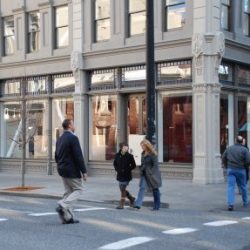 The Downtown Center is situated in the historic Yamhill District in downtown Portland. Located on the corner of SW 2nd Avenue and SW Yamhill Street, the building, called the Willamette Block, was built in 1882 and is listed on the National Register of Historic Places. The Willamette Block is one of Portland's first commercial buildings.
PCC purchased the Willamette Block in May 2009 from the Oregon University System and renovated it as part of the college's 2008 bond measure. Formerly home to UO academic programs, offices and the Duck Shop, the Downtown Center now houses PCC's Human Resources, Finance, Community Education and Affirmative Action offices.
The site is centrally located and adjacent to TriMet's light rail line, aiding in the college's sustainability objectives. The Downtown Center earned a LEED gold rating, and meets the highest standards for sustainability and energy efficiency for a remodeled structure.
Objectives
Renovate building, bought in May 2009, to house administrative offices in order to consolidate services and free space at campuses for more classrooms and labs.
Building will be LEED Gold certified
Project is scheduled to be completed at the end of January 2010 and be open to the public by mid-February 2010
Project Manager
Gary Sutton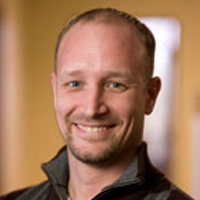 Gary Sutton joined the PCC Bond Program in 2009 to manage planning and construction for three new centers: the Newberg Center, the Willow Creek Center and the Downtown Center in Portland. All three centers have been completed, leaving Gary to focus all of his attention on a much-needed facelift for PCC's oldest campus – Sylvania. Prior to joining the bond team, Gary worked with a major general contractor in the Portland metro area for five years as a construction project manager.
Email: gary.sutton@pcc.edu
Construction
The Downtown Center, which opened at the end of 2009, is the home for PCC operations such as Human Resources, Finance, Community Education and Affirmative Action, among others. The historic building remodel was conducted by Fortis Construction Company. The structure's gold standard, meets the highest standards for sustainability and energy efficiency available for a building of its kind.
Recent news
February 20, 2019
Contractors who qualify as MWESB and SDV – minority, women, emerging small businesses, and service disabled veterans – are invited to participate in a workshop hosted by Portland Community College on Thursday, Feb. 28, from 5:30-7:30 p.m. in the Community Hall Annex at the Southeast Campus
February 4, 2019
The Fourth and Montgomery Building project will bring dental students closer to the community
October 12, 2018
By completing a simple survey, you can help PCC's sustainability efforts – and possibly win big, too!