Cascade Campus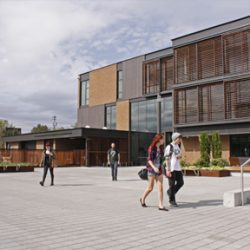 PCC invested $60 million from the 2008 voter-approved capital construction bond to add two new buildings and make other improvements to the Cascade Campus, which was established in urban northeast Portland in 1971. The enhancements have expanded and upgraded the 20,468-student campus as well as encouraged the vitality of the historic Killingsworth commercial district.
During Phase I, the Bond Program built a new academic building, Student Union, and the college's first underground parking facility. Phase II renovations occurred in several existing buildings, and the timeworn Student Center adjacent to the Library demolished. The removal of the old student center allowed PCC to create a large landscaped plaza, which opened the entire campus from North Mississippi to Commercial avenues. The plaza is now a center of activity where students and neighbors gather and campus and community events take place.
PCC also purchased two nearby buildings on North Killingsworth Street – the Paragon and the Kanjaya Building – for temporary office space and future use. Now that the bond work is complete, the Paragon serves as a printmaking classroom and art gallery. The future use of the Kanjaya Building is to be determined.
Objectives
Increase workforce training & instructional facilities.
Add simulation lab for first responder and allied health students
Add space for early childhood education program
Add space to expand instruction for careers in education
Add classrooms to offer more courses
Upgrade teaching and learning center facility that supports improvement of faculty instruction
Explore and implement parking solutions
Renovate and modernize student services areas.
Increase capacity of library to serve students
Add child care facility for student parents
Increase capacity of admissions, registration, advising, financial aid, and testing to serve more students
Increase space for student activities
Increase access to food services
Make health and safety upgrades; increase energy efficiency.
Install mass notification system for emergency communication
Upgrade fire and alarm systems and lighting in parking lots and walkways
Make electrical and plumbing upgrades, repair and/or replace roofs
Replace heating, ventilating and air conditioning equipment
Increase energy efficiency of buildings
Make improvements to increase access for students with disabilities
Project Manager
Rebecca Ocken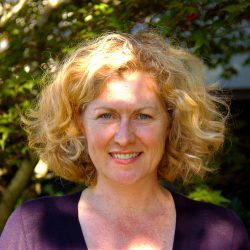 Rebecca Ocken joined the PCC Bond Program in early 2010 to manage campus and community planning and construction for the Cascade Campus in North Portland. Prior to joining the bond team, Rebecca was Executive Director of Vancouver's Downtown Association and Manager of the City of Gresham's Urban Renewal Program. She holds a Master of Urban and Regional Planning from the University of Oregon.
Email: rebecca.ocken@pcc.edu
Construction
PCC has contracted with Hoffman Construction Company to lead construction management and general contracting (CM/GC) at on the Cascade Campus. Hoffman, in turn, is working closely to mentor its campus construction partner, Pacific Mark Construction Company, a state-certified MWESB firm (minority, women and emerging small businesses).  This working partnership is a direct result of PCC's goals for the bond program – to reinvest bond dollars into the communities surrounding all of the college's campuses and centers, mentoring smaller construction companies and spreading the work and opportunity out to minority and women-owned businesses and local vendors.
PCC will be renovating or re-building Cascade's Student Center, building a Simulation Lab and a new academic building with classrooms, offices and a new child development center, renovating the library and other classroom space on the campus. By fall 2011, stakeholders from Cascade Campus and the surrounding neighborhood and business community agreed on two campus plan options. The predominant discussion among campus and community stakeholders throughout early fall and winter was the issue of parking. In weighing costs and impacts of several parking facility locations, the campus and community came to a near unanimous preference for building the college's first underground parking structure.
This solution will allow the new student center and academic building to be built in tandem above the underground parking structure; ultimately saving dollars and preserving a full city block, (now the site of the Public Services Education Building), for future college development. Many in the community were concerned about the option to build a new above-ground parking structure along Killingsworth Street. Both the college and the community felt that the underground structure would preserve the visual gateway to the Humboldt Neighborhood and Killingsworth business district; keep the future Michigan Avenue bike boulevard separated from the "garage"; and create greater campus/neighborhood integration with a new community plaza area to be built above the parking facility at the west end of the campus.
Throughout the winter months and into summer 2012 bond work centered on a city-required transportation demand management plan for Cascade Campus – in conjunction with the college-wide planning effort; internal space planning and early design concepts for the exteriors of the two new buildings; and initial in-depth assessment to redevelop the vacant college-owned Paragon building located on Killingsworth Street. After a thorough color and material selection discussion the bond program made preparations to submit design review to the City of Portland by early fall 2012.  The underground parking facility will be open for use while construction continues on the two new buildings. The new academic building is scheduled to be complete and ready for move in fall 2014.

Recent news
May 20, 2019
The Evelyn Crowell Center for African American Community History is a monument to both Crowell's extraordinary life and to the generations of African Americans
May 6, 2019
The PCC Foundation's fundraising initiative will give people like the Roberts family a chance at success
May 2, 2019
After nearly 15 years of planning and development, the Cascade Campus Learning Garden is, at last, open